If you're a true believer in fairytales, then you may find one in Belgium. Hailed as "The Venice of the North" the cobbled lanes, historic towers and picturesque canals 
of Bruges make it a quintessential, European town. A popular day trip destination from Brussels, it's no wonder that tourists flood into this large Flemish city, as the medieval architecture remains wonderfully intact. The pedestrian-only historic centre means one explore by foot, by bike or by boat. Read on to discover how you can spend 24 hours in Bruges, which will allow plenty of time to take in the sights and munch on waffles and
frites
before washing it down with a Belgian beer.
---
WHAT TO SEE & DO IN BRUGES IN ONE DAY
---
WHAT TO SEE
From the train station, it is approximately a 20-minute walk to the centre of town. On the way, you can view the Sashuis (Sluice House or Lock House), outside the gate to the Begijnhof (see my review of the Antwerp Begijnhof here). Continue towards the Church of Our Lady Bruges and behind the church, you'll find Bonifacius Bridge, a beautiful brick bridge that crosses a small canal alongside some charming wooden homes.
For the best views of the town's historic buildings, you're best to head to the canals. Some of the better photography points include: Jan van Eyckplein, Groenerei, Huidenvettersplein & Rozenhoedkaai.
Grote Markt pinpoints the centre of the town. It is surrounded by colourful medieval buildings with restaurants, Historium Brugge, Provinciaal Hof and Belfort van Brugge (the Belfry of Bruges). Nearby, you can stroll to Burg Square for an eye opening view of Stadhuis (City Hall) and Basiliek van het Heilig Bloed (Basilica of the Holy Blood).
After all this traipsing around town, you'll want to give your feet a rest. Head to Huisbrouwerij De Halve Maan to enjoy a Belgian beer in the courtyard.
WHERE TO EAT
The Gulliver Tree
A tiny corner café tucked just behind Market Place, The Gulliver Tree is a family run coffee and tearoom in a homey space that will make you feel as if you've walked into a friend's living room. Choose from the extensive coffee and tea list and nab a spot in the cosy lounge area opposite the fireplace. If you have an hour or so, select a title from the corner bookshelf and make yourself comfortable. Coffee selections other than the standard cappuccinos and lattes come in a plunger accompanied by an egg timer to tell you when it's time to pour and sip. Make sure to take a look at the mouth-watering selection of homemade cakes too!
Address | Cordoeaniersstraat 4, 8000 Brugge
Opening Hours | Tuesday – Saturday 9.00am – 5.00pm
Website | http://www.thegullivertree.be/menu/
Want waffles and toppings to suit? This is the place for you. The waffles are placed on a paddle-pop-like stick, smothered in chocolate and then sprinkled in confectionery. It's a technicolour dream and the krytonite for any sweet tooth. A fair warning, the waffles do not come hot unless you order them fresh. There are waffle sticks which you can purchase to takeaway. They come conveniently individually packaged so you can unwrap for a sugar fix later in the day.
Address | Breidelstraat 11, 8000 Brugge
Opening Hours | Daily 10.00am – 6.30pm
Website | Go.fre on Facebook
Oyya
This is the corner store where you can satisfy your dessert cravings day and night. Order your waffles fresh and hot with drizzled chocolate and topped with whipped cream and fresh strawberries. If it's a particularly hot day, we'd recommend a scoop of ice-cream in the perfectly crispy waffle cone. There is always a line out the door which speaks volumes of the calibre of their sweet treats!
Address | Noordzandstraat 1, 8000 Brugge
Opening Hours | Daily: November – Mid-March 11.00am – 7.00pm. Mid-March – June 11.00am – 10.00pm. July – August 10.00am – 11.00pm. September – October 11.00am – 10.00pm.
Website | http://www.oyya.be/
---
---
NOMAD
Located amongst a string of restaurants on the edge of town, NOMAD is a must for those who are serious about brunch. Minimalist decor provides the perfect canvas for hot plates that arrive looking like an art piece that you don't want to destroy after you've taken a zillion photos for your Instagram. It was quite crowded when we visited and we so we dined at the bar but this provides optimum vantage point to watch the waiters in action. If you miss the brunch menu, you can swing by in the evening for a cocktail.
Address | Het Zand 12, 8000 Brugge
Opening Hours | Monday – Thursday 9.00am – 6.00pm, Friday 9.00am – 10.00pm, Saturday 8.00am – 6.00pm
Website | http://nomadbrugge.be/
Bistro Christophe
A sleek, contemporary restaurant on the edge of town, nibble on complimentary carrot croquettes before feasting on chateaubriand with seasonal vegetables or the catch of the day. Suitable for a charming dinner date as well as groups, make sure to book in advance.
Address | Garenmarkt 34, 8000 Brugge
Opening Hours | Thursday 6.00pm – 11.00pm, Friday – Saturday 6.00pm – 1.00am, Monday 6.00pm – 11.00pm
Website | http://www.christophe-brugge.be/en/
TIP: When visiting in summer, check revised opening hours of cafes and restaurants. Owners will often be away on their summer vacation and this information is not updated on the likes of Foursquare and Google! (We were unfortunately left disappointed more than once when we turned up on the doorstep and found a 'Closed' sign).
WHERE TO SHOP
Sun Mae
With influences from Bruges' history as well as Parisian and Asian inspiration, Sun Mae offers handcrafted bespoke luxurious lingerie and corsetry for lovers of quality, elegance and luxury. Make an appointment with owner Nele Cattrysse to create your bespoke piece or check the website for store opening times to browse her collections.
Address | Hoogstraat 25, 8000 Brugge
Opening Hours | Monday – Wednesday – By Appointment. Thursday – Saturday 1.00pm – 6.00pm
Website | http://www.sunmae.be/
Gingko
Silver jewellery fans take note. If you're after a statement piece, Gingko has a wonderful display of necklaces, bracelets, earrings and rings. All pieces are hand-made and crafted with the utmost love. Sample silver rings are on hand for you to find your ring size and preferred style. Gingko also specialises in lost-wax technology and casting in sand moulds. You may see some scultural examples on display at each of the ateliers.
Address | Walplein 21, 8000 Brugge & Mariastraat 12, 8000 Brugge
Opening Hours | Walplein 21: Monday – Saturday 11.00am – 6.00pm. Mariastraat 12: Tuesday – Thursday 1.00pm – 6.00pm, Friday – Saturday 10.00am – 6.00pm
Website | https://ginkgojewels.weebly.com/
Le Comptoir Mathilde
There are so many chocolate shops in Bruges (try to get as many free samples as you can!) but this one I remember distinctly, as who doesn't want to gaze in awe at rows and shelves of colourful chocolate displays? Le Comptoir Mathilde is in fact a French business with multiple branches throughout France and a few stores in Belgium. Chocolate covered nuts, chocolate with fruit and nuts, chocolate slabs, chocolate spreads – you name it and this store will most likely have it!
Address | Breidelstraat 10, 8000 Brugge
Opening Hours | Daily 10.00am – 10.00pm
Website | https://www.lecomptoirdemathilde.com/fr/
HOW TO GET THERE
---
---
By train
We stayed in Brussels but spent most of our time in outer towns including one day in Bruges. The train ride from Brussels to Bruges is approximately one hour (60 minutes). Services leave from Bruxelles-Central every 15 minutes with Intercity or every 30 minutes with Belgian Railways (€29.40 adult return weekdays; €15.60 adult return on weekends). Eurostar and Thalys offer several services to Brussels on a daily basis from London and Amsterdam with fares starting as low as £29 and €19 one way.
TIP: If you've travelled to Brussels on the Eurostar, you can use the same ticket to travel to any other Belgian station FOR FREE within 24 hours of travelling on the Eurostar! Show the ticket inspector your mobile or printed ticket.
By car
Driving from Brussels to Bruges will take around 1 hour (95 kms/59 miles). The fastest route is via the E40. The use of motor vehicles is not recommended in the city centre. There are free designated car parks a short distance from the city centre; you may need to catch public transport or hire a bicycle to then reach the city centre. Alternatively, there is metered parking within the city centre or designated parking lots.
TIP #1: 24 hour car parking is available next to the train station and bus interchange for €3.50. This parking lot is called Parking Station Brugge Spoorwegstraat 10. If you choose to park here, we'd recommend catching the bus to and from the city centre. Show your carpark voucher to the bus driver; up to four (4) people can travel on the bus using one voucher – for FREE!
TIP#2: For further information, advice and recommendations, visit the official Bruges tourist website. It is super accommodating with options to view the website in Dutch, French, German, English and Spanish!
---
Have you visited Bruges in Belgium? Did you find a restaurant or a shop that we must know about? Let us know in the comments below!
LIKE THIS POST? PIN IT AND SHARE IT!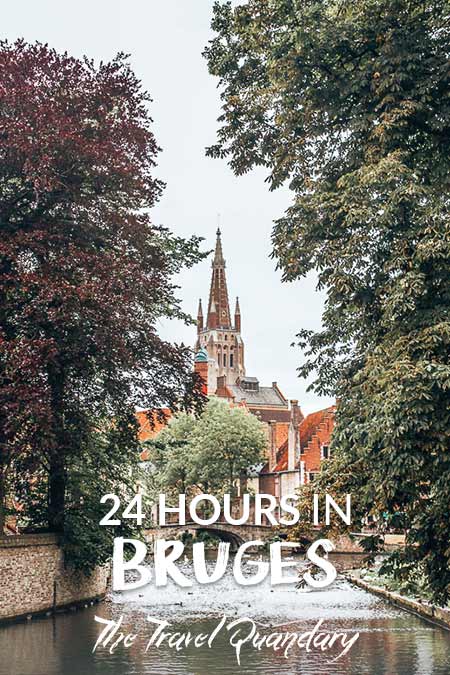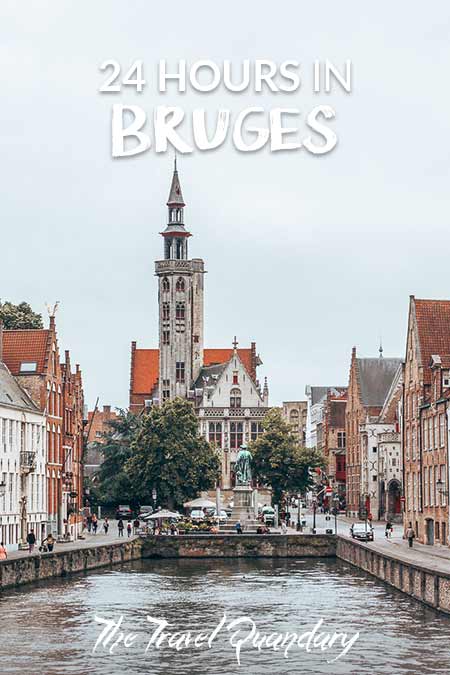 You might also like