For a first-time visit to the hilly Portuguese capital, we recommend at least 3 days in Lisbon.
Iconic tiled façades line steep cobblestoned streets. Corner tascas (tavernas) play melancholic fado music and top-grade restaurants serve tantalising dishes that go far beyond traditional bacalhau. You can b
e a king or queen atop a palace in Sintra for the day and traipse down to Belém to delve into Portugal's seafaring history. Hop aboard a trundling tram, watch the sunset from a miradouro and stuff yourself silly with Portuguese pastries. On top of all this, Europe's westernmost capital city gets more sunshine than anywhere else on the continent. What are you waiting for? Follow us this way…
---
THE BEST OF LISBON IN 3 DAYS
---
WHAT TO SEE & DO
Castelo de São Jorge
Castelo de São Jorge commands a majestic presence atop the highest hill in Lisbon. Offering sweeping views over the city and the Tagus River, this 11th-century Moorish castle was first a defensive stronghold. It was transformed into a royal palace by the Portuguese kings in the 13th century. Major restoration work conducted in the mid 20th century uncovered ruins of the castle and former royal palace. A permanent exhibition and archaeological site are now open to the public. Open 7 days a week.
TIP: Don't miss Miradouro do Castelo de São Jorge which offers the best views of the east of Lisbon.
Address | Rua de Santa Cruz do Castelo, 1100-129 Lisboa
Opening Hours | 1 November – 28 February 9.00am – 6.00pm. 1 March – 31 October 9.00am – 9.00pm
Admission | Adults €10
Website | http://castelodesaojorge.pt/en/
A Day Trip to Sintra
It's time to channel your inner Disney princess (or prince) with a visit to the medieval town of Sintra. If you do visit Lisbon for 3 days, it is well worth taking the 40 minute train ride from Lisbon. Spend a day frolicking amongst the fairytale castles, aristocratic palaces and vast woodlands. A return train ride from Rossio or Sete Rios station costs €10 return* (ticket machines accept card or cash).
Entrance fees to each attraction varies. If you only have a day to "see" Sintra, select a couple of attractions to visit as it would be impossible to see all in 24 hours. The bus company Scotturb operates the bus routes in the Sintra region. Lisbon Via Viagem and Carris 24hr passes are not accepted on Scotturb bus routes. The most popular bus loops are the Circuito da Pena (434) which costs €5.50 and a daily tour ticket which costs €12.00. Pay your fare to the driver upon boarding. Check this following link for further information.
TIP #1: If you want photos of Pena Palace like ours, you only need the Park entrance ticket. The Palace + Park entrance ticket includes entrance into the Palace where you will view restored palace rooms including furniture and artworks.
TIP #2: Make a pit stop at Casa Piriquita (Rua Padarias 1, 2710-533 Sintra) to sample the traditional Sintra pastry "travesseiro". The traditional flavour is almond but you can also choose between apple, cinnamon and chocolate.
Address | Sintra, Portugal
Opening Hours | Variable
Website | http://www.sintra-portugal.com/index.html
Visit Belém
Belém has a long history with seafaring Portuguese explorers, but it's the famous Portuguese custard tart, pastéis de nata or pastéis de Belém, that really have visitors flocking to the civil parish. The ancient recipe is said to have originated from the Mosteiro dos Jerónimos following the liberal revolution. A visit to the Pastéis de Belém restaurant and store is a must to savour one of the sweet flaky delicacies. Don't forget to dust with icing sugar and/or cinnamon.
Other than dessert, you can visit the Mosteiro dos Jerónimos (Jerónimos Monastery or Hieronymites Monastery), erected by King Manuel 1 in the 15th century. A glowing example of late Gothic Manueline style of architecture, its construction was funded by the tax on eastern spices. The UNESCO listed heritage site remains a burial site for kings and poets. Today, it welcomes visitors to admire the religious building, its artefacts and museums.
Make sure to walk along the edge of the River Tagus towards the Torre de Belém (Belém Tower). Another fine example of Portuguese Manueline architecture with hints of Moorish influences, the tower was built in the early 16th century as part of the defense system of the Tagus estuary. The tower is open to visitors to admire the intricately carved stonework and to watch the sunset over the horizon.
Belém is easily accessible by train (from Lisboa – Cais do Sodre; €1.30 one-way), by tram (route 15E; €2.90 one-way) or by bus (route 728; €1.85 one-way) from central Lisbon.
TIP: If you can't get enough pastéis de Belém, make sure to visit Manteigaria (Rua do Loreto 2, 1200-108 Lisboa) for another fix.
Address | Belém, Portugal
Website | https://lisbonlisboaportugal.com/belem-lisbon/belem-district-lisbon.html
Ride a Tram
Shake, rattle and roll your way over Lisbon's hilly, cobbled streets on one of the city's remodelado (remodelled) trams. You'll find the iconic sunflower-yellow trolley car on route 28 trundling from Martim Moniz in the Baixa to Campo Ourique in the west. Let this heritage tram transport you up the hill towards Portas do Sol before plunging down into Alfama. It will then chug across to the rich avenues of Chiado. Unfortunately, many of the yellow trams are now covered in advertising or graffiti but a ride along the tracks makes for a memorable excursion.
Travel early or late in the day to grab a seat on one of the old-school wooden benches otherwise you will be jostling with others for standing room. Hold on tight when standing for those downhill turns or sudden braking! Be aware that pickpockets target unsuspecting tourists on this crowded route.
Single fare is €2.90 but this excludes the funicular trams which cost €3.70 one-way. The red wooden tram is the official tourist tramcar and starts from Praça do Comércio. It travels along a similar route to tram 28 but costs significantly more with included commentary (approx €17 pp). The green tram is also a tourist tramcar that starts from Praça da Figueira and includes commentary. Cost is approx €9 pp.
Watch a Sunrise or Sunset from a Miradouro
With hills come viewpoints or miradouros. And Lisbon is not short of these. You'll likely come across more than one during your 3-day itinerary. Head to a miradouro early in the day to catch the sunrise without the crowds or take your bottle of vino to watch the sunset disappear over the horizon. Our favourite miradouros are Miradouro das Portas do Sol and Miradouro Sophia de Mello Breyner Andresen. We've included a list of the city's miradouros below.
Miradouro das Portas do Sol
Miradouro de Santa Luzia
Miradouro de Santo Estêvão
Miradouro Sophia de Mello Breyner Andresen
Miradouro de Santa Catarina
Miradouro de São Pedro de Alcântara
Miradouro do Castelo de São Jorge
WHERE TO EAT & DRINK
Sacramento do Chiado (Restaurant Sacramento)
This is a meal I won't forget in a heartbeat. Offering a modern twist on Portuguese cuisine, Sacramento do Chiado is housed in the old Valadares Palace between vaulted arches that house the restaurant, cafeteria and bar. Descend into its depths and sit in the main dining area, softly lit by red cellophane cylindrical chandeliers or the cafeteria-style area where red tassels dangle from above. Various breads with olive oil and fish pate are served as you peruse your menu (carb lovers take note – our bread was refilled!). We shared a delightful selection of cheeses and chorizo before moving on to our seafood mains. Scrumptious traditional bacalhau with potatoes and sprouts and lightly battered John Dory fillets on a bed of rice dotted with mussels disappeared within minutes. Dessert consisted of a crème brûlée and yoghurt cake with cream and berries. This was also perhaps the first occasion where a wine menu was not offered with the food menu. Instead, our waitress checked our taste preferences before offering a selection for us to choose from. Service is extremely efficient and we were most satisfied with our meal and experience (hence this long review!). Reservations highly recommended.
TIP: Restaurant Sacramento is unlikely to be a preferred option for vegetarians as the menu mostly features meat and fish.
Address | Calçada Sacramento 40 a 46, 1200-394 Lisboa
Opening Hours | Daily 12.00pm – 12.00am
Website | http://www.tablegroup.pt/en/sacramento.html
Heim Cafe
Situated west of the bustling city centre, Heim Cafe is a small corner cafe offering all day breakfast and brunch. Choose from a 'green, 'red' or 'yellow' brunch, melt sandwiches (five cheese recommended if you don't mind a bit of gorgonzola), salads or smaller snack-y foods. Green plants and old sketches decorate the inside among the simple wooden furniture. Indoor and outdoor seating is available but this cafe is best suited to smaller intimate meet-ups rather than large group brunches. Reservations are not accepted so be prepared to wait.
Address | Rua Santos-O-Velho, 2 e 4, 1200-109 Lisboa
Opening Hours | Monday 9.00am – 3.00pm. Tuesday – Sunday 9.00am – 6.00pm
Website | Heim Cafe on Facebook
Ground Burger
Walk uphill and work off the calories before reaching Ground Burger. This all-American burger restaurant is located a fair way out of the city centre but trust me when I say that your tummy will be glad that you made the trek. Choose your 100% Black Angus Beef burger, add fries seasoned with sea salt and rosemary and take your pick from a vast array of craft beers. Samuel Adams Boston Lager is the house brew but you have a choice of Belgian Ales, Stouts, Witbier and Ales too. For the sweet tooth, choose a milkshake instead. If it's comfort food you're after, Ground Burger delivers just this. Closed Sunday – Monday.
Address | Avenida António Augusto de Aguiar 148, 1050-021 Lisboa
Opening Hours | Sunday – Wednesday 11.00am – 12.00am. Thursday – Saturday 11.00am – 2.00am
Website | http://www.groundburger.com/
Nicolau Lisboa
Eaten too many pasteis de nata? Not possible (according to me anyway). But if you are feeling guilty and want to start detoxing, make your way to Nicolau Lisboa. When you step into this eatery, it will feel like you've been transported to LA. Ferns hang from the windows, palm tree wallpaper covers the back wall with a record player crooning some sweet tunes. Sit amongst vintage kusmi tin cans, glowing pineapples and retro telephones as you sip on a healthy smoothie and munch on one of Nicolau's breakfast bowls. The naughtiest thing you'll find on the menu is perhaps pancakes with mascarpone. Matcha, cinnamon, coconut and turmeric lattes feature and the coffee beans are from their friends at Fabrica Coffee Roasters just up the road.
Address | Rua São Nicolau 17, 1100-026 Lisboa
Opening Hours | Daily 8.30am – 8.00pm
Website | https://www.ilovenicolau.com/en/
---
---
Terrace Bar Esplanada
Don't you hate it when you've huffed and puffed to the top of a hill and all you want is a cold pint of beer? Yeah, us too. So if you want to be rewarded for hiking up and down the hilly streets, head to Terrace Bar Esplanada at Miradouro Sophia de Mello Breyner Andresen. Offering panoramic views of red rooftops and the water beyond, grab one of the tables and the waiters will take your order. Sit and enjoy your lager or vino as the sun drops below the horizon.
Address | Calçada da Graça, 1100-265 Lisboa
Mercado da Ribeira (Time Out Lisbon Market)
If you can't decide what to eat, then head to Mercado da Ribeira where you can sample a bit of everything. In 2014, Time Out Lisbon transformed half of the oriental dome-topped market hall into a city hotspot. With 35 kiosks, visitors have the opportunity to feast on cuisine whipped up by some of the city's top chefs without a hefty price tag. Pop down for a few drinks alongside a whiff of fish, croquettes, steak and desserts – whatever tickles your fancy. Don't forget to also pop next door. The city's best known and longest running market features vendors selling meat, fish, fruit and flowers. Open 7 days a week.
Address | Avenida 24 de Julho, 1200-479 Lisboa
Opening Hours | Sunday – Wednesday 10.00am – 12.00am. Thursday – Saturday 10.00am – 2.00am
Website | https://www.timeoutmarket.com/lisboa/
PARK Restaurant & Bar
Head to the Bairro Alto district where you'll find this cool rooftop bar atop the 7th floor of a carpark. PARK claims a 180 degrees sweeping view of Lisbon's rooftops and the 25 de Abril suspension bridge that stretches across the Tagus River. Come laze in the afternoon sun on the garden terrace encased by trees, shrubs and flower beds. Burgers and cocktails are on the menu, outdoor movie screenings and live music feature and make sure to hang around for when the in-house DJ pumps up the beats. Reservations are not accepted so don't arrive too late or you'll miss out on one of the best seats in the house. Closed Mondays.
Address | Calçada do Combro 58, 1200-115 Lisboa
Opening Hours | Tuesday – Saturday 1.00pm – 2.00am. Sunday 1.00pm – 8.00pm
Website | Park Bar on Facebook
WHERE TO SHOP
The Feeting Room
Expect only the highest calibre of products when you visit The Feeting Room. Despite a focus on footwear, the retailer also offers clothing, accessories and jewellery from national and international designers. Housed in an industrial area in the historical Chiado area, browse the carefully curated selection of high-end apparel and lifestyle items that you won't find in the chain stores. If you miss the store in Lisbon, the original flagship store is in Porto and a small selection of footwear is available online.
Address | Calçada do Sacramento 26, 1200-203 Lisboa
Opening Hours | Monday – Thursday 10.00am – 8.00pm. Friday – Saturday 10.00am – 9.00pm. Sunday 12.00pm – 8.00pm
Website | https://www.thefeetingroom.com/
+351
Named after the Portuguese dialing code, the brand characterises a relaxed day-to-day style with attitude. Designer Ana Costa draws inspiration from her life in the city of Lisbon and her surfing lifestyle. Sift through tees and sweatshirts in block colours and dark washes as well as an assortment of jeans and jackets. +351 garments are available for men and women, some unisex.
Address | Rua Poiais de S. Bento 18, 1200-348 Lisboa
Opening Hours | Monday – Saturday 10.00am – 7.00pm
Website | https://plus351.pt/
Shon Mott
A Spanish brand born in Barcelona only two years ago by two brothers, Shon Mott's minimalist design speaks to my style and aesthetic wholeheartedly. Premium quality materials in neutral block colours, clothing and accessories are designed for both men and women. I am delighted to have discovered this brand but was so disappointed not to have enough room in my carry-on luggage.
Address | Rua Dom Pedro V 43, 1250-083 Lisboa
Opening Hours | Monday – Friday 10.30am – 8.00pm. Saturday 11.00am – 8.00pm. Sunday 11.00am – 6.00pm
Website | http://shonmott.com/
Amazingstore (Principe Real)
Having sprouted as a family project in 2012, Amazingstore stocks creative and innovative products largely constructed from natural and recycled materials. With deep respect for the environment and nature, this boutique stocks brands including Laimer Woodwatch, Plantwear, Kraxe Wien, Kerbholz and Bewooden. You'll find bottle openers, watches, sunglasses and backpacks. Check out their cute cafe out the back too if you want to stop for a refreshing drink.
Address | Rua Dom Pedro V 77, 1250-083 Lisboa
Opening Hours | Daily 11.00am – 8.00pm
Website | http://www.amazingstore-pt.com/
Apaixonarte
'Apaixonarte' in Portuguese translates to "falling in love with art". This small versatile space seeks to capture the Portuguese spirit. Showcasing a diversity of unique items, Apaixonarte focuses on promoting creative talent of young companies and emerging artists. The boutique sells artwork and urban crafts including lighting, books and stationery, jewellery and prints.
Address | Rua Poiais de São Bento 57, 1200-076 Lisboa
Opening Hours | Monday – Friday 12.00pm = 7.30pm. Saturday 11.00am – 6.00pm
Website | https://www.apaixonarte.com/
LX Factory
Wanna know where all the cool kids hang out? You'll need to venture out from Lisbon's main thoroughfare but the trip will be worth it. LX Factory is a creative hub. Restaurants and hipster shops share space with design companies, galleries and artists' studios within one of the largest industrialised abandoned areas of Lisbon. Graffiti-style murals decorate the exterior walls that were previously home to one of the most prosperous fabric factories. Sift through the racks of vintage and retro shops, treat yourself to a slice of cheesecake and browse the titles at Ler Devagar bookshop. On Sundays, don't miss LX's very own flea market where you'll find vintage clothes, homewares, artwork, jewellery and rare records for sale.
Address | Rua Rodrigues de Faria 103, 1300 – 501 Lisboa
Opening Hours | Variable
Website | http://lxfactory.com/en/homepage-en/
Embaixada
Embaixada (the 'Embassy') is an eclectic shopping gallery located in the 19th century palace, Ribeiro da Cunha. Launched in 2013, you'll discover several concept stores across two floors which focus on Portuguese design, craftsmanship and culture. Head to the trendy neighbourhood of Principe Real where you'll find made-to-measure suits, exquisite Portuguese footwear, jewellery, baby clothing and homewares. If you need a break, pause for a G&T at Gin Lovers & Less Restaurant or choose an outdoor seat at the recently opened AtalhoReal restaurant.
Address | Praça do Príncipe Real 26, 1250-184 Lisboa
Opening Hours | Daily 12.00pm – 8.00pm
Website | https://www.embaixadalx.pt/
WHERE TO STAY
Lisbon's neighbourhoods each possess notable characteristics that make them distinctly colourful. Read below before deciding where to book your accommodation for 3 days in Lisbon.
Alfama
Lisbon's oldest neighbourhood is where you must go for a traditional Portuguese meal and to hear the melancholic sounds of fado music. Get lost in the labyrinth of windy and narrow alleys, visit the Sé district and snap your Insta shot at Miradouro Portas do Sol.
Bairro Alto
Long regarded as the city's bohemian quarter, you're likely to head to Bairro Alto for a night out on the town. Rather quiet during the day, the graffitied houses sit alongside hip bars and restaurants. The district comes to life after midnight so book elsewhere if you require your beauty sleep.
Baixa
Baixa or "downtown Lisbon" was completely rebuilt after the 1755 earthquake. Flanked by Praça do Comércio, Praça da Figueira and Rossio square, Baixa is a grid of restaurants, shops and guesthouses between historic landmarks. No hills here. Yay!
Chiado
Adjacent to downtown Baixa, Chiado is the chic shopping district, home to the famous Á Brasileira art deco café. Sit in one of the extravagant cafes where Lisbon's famous intellectuals mingled, dine in elegant restaurants and browse in the oldest bookstore Livraria Bertrand.
Cais do Sodré
The new cool neighbourhood, Cais do Sodré sits below Bairro Alto along the waterfront. The once shabby area has undergone a complete transformation and is now a place to grab a beer or a bite to eat with friends at one of the trendy restaurants and bars. Here, you'll also find Lisbon's colourful Pink Street and the Mercado da Ribeira.
Príncipe Real
If you're going to see a celebrity in Lisbon, it's likely to be in Príncipe Real. The name translates as "Royal Prince" and is filled with grand buildings, trendy restaurants and designer boutiques. Enjoy your coffee with a panoramic view of the city from Miradouro de São Pedro de Alcântara and continue shopping at Embaixada.
---
---
HOW TO GET THERE
Fly to Lisbon
Lisbon's airport, Lisbon Portela Airport, is located 7km (4.4 miles) north of the city centre. From Lisbon Portela Airport…
By metro
Aeroporto Metro station is located at the Terminal 1 arrivals area. The Aeroporto Saldanha line (red line) takes approximately 20 minutes to reach downtown Lisbon.
Purchase your fare at one of the ticket machines where you have the option to change the language to English. Metro fares* for 2017 are as follows:
Single €1.40
Return €2.80
Unlimited travel for 24 hours – €6.00
If you plan to be in Lisbon for a few days, you are likely to use various forms of public transport. It would be wise to purchase a Viva Viagem green card at the ticket machine for €0.50. Load your fares onto this card which is valid for one year after initial purchase. The metro operates from 6.30am to 1am the next day with services running every 6 – 9 minutes. Ensure to swipe in and out with your metro ticket. Refer to this map which is a handy visual to help you plan your journey.
By bus
During the day, you have the option of catching an Aerobus or a city bus to the city centre. Aerobus offers two routes which you can check here. Tickets are €4.00 for a 24hr pass if purchased at the airport or €3.60 if purchased online. Note – if you purchase your ticket online, you must print the vouchers. The company currently does not have the technology for vouchers to be accepted on smart phones.
Carris city bus routes 744 and 783 will take you to Marquis of Pombal Square and Amoreiras respectively but note that these final stops are still a fair way out from the city centre. Check the location of your accommodation before selecting this option. Single fares are €1.85.
By taxi
A trip to Lisbon city centre will take approximately 15 minutes with the average fare around €15. Fares are metered with official Lisbon city taxis. Uber operates successfully in Lisbon with fares around the same as a Lisbon city taxi.
Bus to Lisbon
The three major bus terminals in Lisbon are Lisbon Sete Rios, Lisboa Oriente and Campo Grande. Lisbon is accessible by bus from major surrounding cities including Porto (3.5 – 4 hrs), Faro (3.5 – 4 hrs, Madrid (7 hrs) and Seville (9 hrs). Overnight bus services are offered from Spanish cities. Bus companies include Flixbus, Eurolines, ALSA and Rede Expressos (within Portugal only). Timetables and tickets for purchase available online.
Train to Lisbon
Portuguese Railways operates services to and from Lisbon to and from several surrounding cities including Porto (3 hrs), Faro (3.5 hrs) and Coimbra (2 hrs). Timetables and prices available online.
WHAT TO KNOW
Constant Vigilance
Notwithstanding the beauty and charm of Lisbon, visitors must always be alert to pickpockets. Unfortunately, Lisbon has a terrible reputation for the thieves and honest, hard-working locals will warn you time and time again to be careful. Keep an eye on your bags and all valuables close to you.
Forget Your Waistline
Rich egg-based desserts are very popular in Portugal, often combined with lemon, cinnamon and vanilla. Many recipes were created in the Middle Ages by nuns and monks in the monasteries who developed recipes with their surplus egg yolks. Today, the most common Portuguese desserts you'll find include: pastéis de nata, broas de mel, queijada and travesseiro. Pack your stretchy pants.
---
Have you found some gems in Lisbon that you know you must share with us? Please make sure to include them in the comments below!
LIKE THIS POST? PIN IT AND SHARE IT!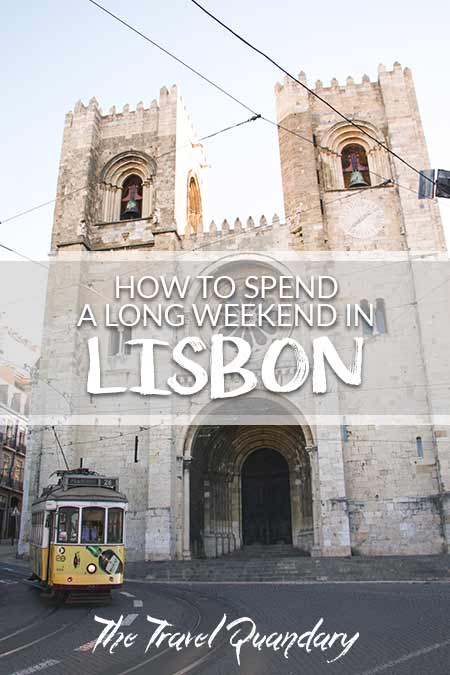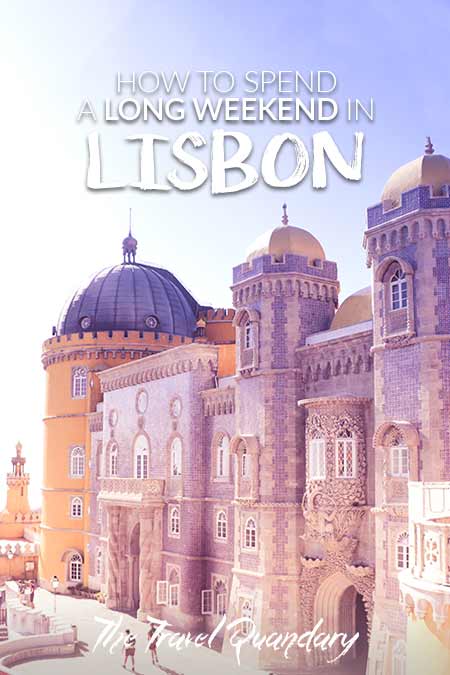 You might also like