Scotland's bonnie capital – where the weather is dreich (unpredictable) but the people are braw (great). And where you'll find an eclectic mix of the old and new. On one side of Princes Street Gardens, you'll find a part of the city's history etched into the medieval Old Town. Be dazzled by the Crown jewels in Edinburgh castle, hear the story of Greyfriars' Bobby and climb to the summit of Holyrood Park. On the other side in the elegant Georgian New Town, sip some cocktails along George Street, get cultured at the National Gallery and visit the monuments and memorials atop Calton Hill. To 'see' it all, you'll need at least 48 hours in Edinburgh. The city is an endless playground of culture, art and 'unofficial' cuisine. So if you have time, add another day or two so you can enjoy going 'out on the skite (town)'.
---
AN ESSENTIAL GUIDE FOR 2 DAYS IN EDINBURGH
---
WHAT TO SEE & DO
Edinburgh Castle
The 11th-century Edinburgh Castle overlooking Princes Street Gardens cuts an imposing figure on Edinburgh's city skyline. See the Crown Jewels (no photography permitted), visit the National War Museum of Scotland and make sure to witness the firing of the One O'Clock gun, a tradition that dates back to 1861. Guided tours are included in your ticket price and audio guides are available for an additional fee.
Address | Castlehill, Edinburgh EH1 2NG, UK
Opening Hours | Summer (1 Apr – 30 Sep): 9.30am – 6.00pm. Winter (1 Oct – 31 Mar): 9.30am – 5.00pm
Admission | Until 31 Mar £17.50. From 1 Apr £19.50 (discounted when you purchase advance tickets online!)
Website | https://www.edinburghcastle.gov.uk/
Arthur's Seat
If you want to get the blood pumping and feel the wind in your hair, we suggest waking early to catch the sunrise from the top of Arthur's Seat. You'll be rewarded with a 360° view of Edinburgh city as well as the port of Leith. Make sure to wear comfortable walking shoes as the paths will be slippery if it has been raining. Pack a windbreaker too so you're not blown off the rocky summit. The hike will take approximately 40 – 70 minutes one-way depending on which part of town you start from.
Address | Arthur's Seat
Calton Hill
Unlike Arthur's Seat, you don't need to venture too far from the city centre to reach the top of Calton Hill. Visit for panoramic views of Edinburgh city up the paved walkways. The hill contains a collection of monuments including the unfinished acropolis, iconic to Edinburgh's skyline.
Address | Calton Hill
National Museum of Scotland
Say hello to the world's first cloned mammal, Dolly the Sheep, immortalised in the National Museum of Scotland, following her birth and life at the University of Edinburgh. But it's not all farm life inside. With collections from Scotland and around the world, the museum features exhibitions of nature, art, fashion, science and technology. The rooftop view is also a must during your visit.
Address | Chambers St, Edinburgh EH1 1JF, UK
Opening Hours | Daily 10.00am – 5.00pm
Admission | Free. Donations welcome.
Website | https://www.nms.ac.uk/national-museum-of-scotland/
Scottish National Gallery
Escape the hustle and bustle of the Royal Mile or Princes Street to take in some of the best collections of fine art from Scotland and worldwide. Open daily, admission is free with seasonal exhibitions.
Address | The Mound, Edinburgh EH2 2EL, UK
Opening Hours | 10.00am – 5.00pm, Thursdays until 7.00pm
Admission | Free
Website | https://www.nationalgalleries.org/visit/scottish-national-gallery
Greyfriars Bobby Memorial Statue & Greyfriars Kirkyard
Most walking tours of Edinburgh will take you past the memorial statue of the beloved Skye Terrier, Bobby. The little dog became famous in 19th-century Edinburgh for supposedly guarding his owner's grave for 14 years until his own death. The statue (sporting a gold nose and paws from constant rubbing by passers-by) stands in front of Greyfriars Kirkyard where Bobby lies next to his owner. Dog lovers lay sticks at Bobby's grave in his memory.
Address | 21 Candlemaker Row, Edinburgh EH1 2QQ, UK
The Elephant House
Following the worldwide success of the Harry Potter series, this tea and coffee shop shot to fame when it was discovered that J.K. Rowling sat at this particular cafe whilst writing about The Boy Who Lived. A visit to the bathroom is quite unorthodox but will leave visitors bemused with "Potterheads" graffiti scrawled on almost every surface.
Address | 21 George IV Bridge, Edinburgh EH1 1EN, UK
Opening Hours | Monday – Friday 8.00am – 10.00pm. Saturday – Sunday – 9.00am – 10.00pm
Website | Elephant House on Facebook
Eat A Deep-Fried Mars Bar
Rumoured to have been developed up in Aberdeenshire in the mid 90s, the deep-fried mars bar has become the unofficial Scottish cuisine (although most locals have never seen nor tried it). Many a chippy will serve the snack, with the Culture Trip having discovered the best places to munch on the battered chocolate bar. Read in the following link !
WHERE TO EAT
Ox 184
This popular late night restaurant on Cowgate serves up food from a wood-fire grill, complimented by a wide range of craft beers from local and international breweries. If beer isn't for you then you're in luck. Ask for a wee dram of whisky from the extensive menu.
Address | 184-186 Cowgate, Edinburgh EH1 1JJ, UK
Opening Hours | Daily 11.00am – 3.00am
Website | http://www.ox184.co.uk/
Maki & Ramen
The tiny restaurant feels like it would be right at home in Tokyo. If you're brave enough, try the Hell Ramen (the chilli rating doesn't lie) and wash it down with a bottle of Asahi. The walls are decorated with post-it-notes which add a personal and curious touch to the dining experience. Keep an eye out for their 3 other branches around town.
Address | 13 W Richmond St, Edinburgh EH8 9EF, UK
Opening Hours | Daily 11.30am – 10.00pm
Website | http://makiramen.com/
Whiski Rooms
For a true Scottish culinary experience, sample haggis and a whisky at the Whiski Rooms. The restaurant serves haggis spring rolls and run whisky tasting sessions throughout the day.
Address | 4-7 North Bank Street, Edinburgh EH1 2LP, UK
Website | http://www.whiskirooms.co.uk/
Pinnies & Poppy Seeds
This homely shop feels more like a family kitchen than a busy bakery. If we could add a smell to this post, we'd insert the warm sweet aroma of freshly baked shortbread. The Classic All Butter is a popular choice but anything with Chocolate Chip is a winner in our eyes.
Address | 26 St Mary's St, Edinburgh EH1 1SU, UK
Opening Hours | Tuesday – Saturday 10.00am – 5.30pm
Website | https://pinniesandpoppyseeds.com/
MUM'S Great Comfort Food
The name of this restaurant sums up the cuisine in one mouthful. On a cold, rainy day, fill your belly up with a hearty stew or some old British favourites including macaroni & cheese or fish and chips. Known for its sausages & mash, MUM'S spoils you by offering 11 choices of mash.
Address | 4A Forrest Rd, Edinburgh EH1 2QN, UK
Opening Hours | Monday – Saturday 9.00am – 10.00pm. Sunday 10.00am – 10.00pm
Website | http://www.monstermashcafe.co.uk/
Fortitude
Start your day with a coffee in the New Town from our favourite little specialty coffee bar in Edinburgh. Their filter coffeess are hand brewed using a Kalita wave pour-over with the menu featuring two single origin beans. All food is delivered fresh from local Edinburgh bakeries and kitchens with some vegetarian, vegan and gluten-free options available.
Address | 3C York Pl, Edinburgh EH1 3EB, UK
Opening Hours | Monday – Friday 8.00am – 5.00pm. Saturday 10.00am – 5.00pm. Sunday 11.00am – 4.00pm
Website | http://www.fortitudecoffee.com/
---
---
Mary's Milk Bar
Join the queue of locals and travellers for hot chocolate or ice cream at one of Edinburgh's most popular institutions. Can't decide? Then just have both! Take a seat at one of the speckled stools underneath the charming ice cream shaped lamps. Products are made fresh daily and will sell out, so make sure to get in early to avoid disappointment!
Address | 19 Grassmarket, Edinburgh EH1 2HS, UK
Opening Hours | Winter: Wednesday – Saturday 11.00am – 7.00pm. Sunday 12.00pm – 7.00pm. Closed 24th December – 5th February
Website | http://www.marysmilkbar.com/
The Pantry
A cute little brunch spot away from the crowds on the edge of the Royal Circus. Choose your sides with your poached eggs. The LA Eggs come with toast, smashed avocado and roasted pepper or you can add bacon to the San Fran Eggs and ease into your Sunday morning. A sister restaurant is located at Dovecot Studios – closed Sundays and opens 10.00am Saturdays).
Address | 1 N W Circus Pl, Edinburgh EH3 6ST, UK
Opening Hours | Daily 9.00am – 5.00pm
Website | https://www.thepantryedinburgh.co.uk/
WHERE TO DRINK
Whistlebinkies Live Music Bar
When you descend into the depths of Whistlebinkies, you're heading towards live music in a cave and a sweaty dance floor. Belt out old school rock and 90s classics or duck into one of the hidey holes for a drink. Opposite the Tron, Whistlebinkies is open until the wee hours of the morning.
Address | 4-6 South Bridge, Edinburgh EH1 1LL, UK
Opening Hours | Sunday – Thursday 5.00pm – 3.00am. Friday – Saturday 1.00pm – 3.00am
Website | http://whistlebinkies.com/
Bar Tonic
Ambient lighting and plush booth seats make for a cosy setting for some drinks from Bar Tonic's award-winning cocktail list. Suitable for date night or for groups, resident DJs feature on the weekends to get you in the dancing mood once you've knocked back a few cocktails.
Address | 34A N Castle St, Edinburgh EH2 3BN, UK
Opening Hours | Sunday – Thursday 5.00pm – 1.00am. Friday 2.00pm – 1.00am. Saturday 1.00pm – 1.00am
Website | https://bar-tonic.co.uk/
Copper Blossom
Bursting with botanical decor, Copper Blossom offers an elegant and classic venue for after work drinks or weekend frivolity. Lavish booths make you feel nostalgic while the exposed brickwork feels like the outside was brought inside. Select from the extensive fruity cocktail menu which will make you feel like it's summer all year round.
Address | 107 George St, Edinburgh EH2 3ES, UK
Opening Hours | Sunday – Tuesday 11.45am – Late. Wednesday – Saturday 11.45am – 1.00am.
Website | http://www.copperblossom.com/
The Cambridge Bar
Located in the New Town, this smaller pub is a hidden gem serving up local and international craft beers alongside a menu heavy on the burger options. This is the perfect spot for sports fanatics.
Address | 20 Young St, Edinburgh EH2 4JB, UK
Opening Hours | Sunday – Thursday 12.00pm – 11.00pm. Friday – Saturday 12.00pm – 12.00am
Website | http://www.thecambridgebar.co.uk/
WHERE TO SHOP
Walker Slater
If you're looking for a classic, signature piece for your wardrobe, stop by Walker Slater, Tweed Jacket, Suit and Tailoring Specialists. Stylish, contemporary tweed items, knitwear and formal shirts are in stock with tailoring services available for both men and women.
Address | 20 Victoria St, Edinburgh EH1 2HG, UK
Opening Hours | Daily 10.00am – 6.00pm, Thursdays until 7.00pm
Website | https://www.walkerslater.com/
Hawico Scotland
Luxurious coats, sweaters and tunics produced in the finest cashmere means that you'll be both stylish and warm. Garments are available for women and men or create your own custom-made piece from one of 49 unique Hawico paintbox colours. Enquire in-store.
Address | 71 Grassmarket, Old Town, Edinburgh EH1 2HJ, UK
Opening Hours | Monday – Saturday 10.00am – 6.00pm
Website | https://www.hawico.com/eu/
Museum Context
Make sure not to miss this unique collection of homewares, gifts, cards and quality souvenirs. You'll step back in time with quirky vintage-esque pieces before being thrown forward into modern eccentricity. This is the place to find something you won't find on the high street.
Address | 42-44 Cockburn St, Edinburgh EH1 1PB, UK
Opening Hours | Daily 10.00am – 6.00pm
Website | http://contextinteriors.co.uk/
Stretching from Waverley Station to the end of Princes Street Gardens, the main thoroughfare of the New Town houses branches of well-known British retailers including Debenhams, River Island and Primark.
Two streets back from Princes Street, George Street houses a mix of American and British retailers as well as local boutiques. Keep an eye out for the home-grown stores such as Cruise, Hamilton & Inches and ANTA Scotland.
WHERE TO STAY
Accommodation ranges from hostels and quaint B&Bs to boutique hotels and modern luxury apartments (expect surcharges during Edinburgh Fringe and New Year's Eve). Whatever your budget, you'll find a place to lay your head in one of Edinburgh's neighbourhoods.
Old Town
You won't be able to rent a room in Edinburgh Castle. But if the medieval vibe is what you're after, stay in the Old Town. With the cobblestoned Royal Mile and sneaky alleyways, a piece of Scottish and Edinburgh's history will only be a stone's throw away.
New Town
Built to expand the overcrowded Old Town, the elegant Georgian New Town is now a modern day hub. The neoclassical buildings line wider streets, dotted with shops and cafes giving the area an inner city vibe.
Stockbridge
This affluent area north of the city centre possesses a village vibe on the Water of Leith. Locals shop in posh delis and stylish boutiques. They dine in cute cafes and upmarket gastropubs and live in elegant Victorian terraced houses. Visit the weekly Stockbridge market and the mews of Circus Lane, which rival those of London. The Royal Botanic Garden is also close by.
South Side
A perfect place to be located during the Fringe Festival as the university district is only a short walk away. With plenty of pubs and restaurants in this vibrant area, you're also walking distance to Arthur's Seat.
The Travel Quandary recommends…
Airbnb
It's mostly private rooms available to rent on the outskirts of the city, but for 48 hours in Edinburgh, all are within walking distance or a short bus ride to the city centre.
A boutique hostel with over 70 beds, The Baxter is a brief walk from Waverley Station. Scrambled eggs for breakfast is included in your board price, whipped up by the team each morning.
Address | 5 W Register St, Edinburgh EH2 2AA, UK
WHEN TO VISIT
Edinburgh Festival Fringe
One of the largest performing arts festivals in the world is hosted annually in Edinburgh. The Fringe takes place over three weeks in August.
New Year's Eve
One of Europe's biggest New Year's Eve parties, Hogmanay, takes place in Edinburgh on December 31. Join in as thousands of people take to the streets to enjoy the street parties, live bands and fireworks from the Castle.
There are many other festivals which take place in Edinburgh throughout the year. To stay up to date, visit this useful website
HOW TO GET THERE
Train To Edinburgh
Virgin Trains travel from London to Edinburgh every 2 hours from £30 on way (depending on the day of the week and seasonality). Travel time is approximately 4.5 hours. Virgin Trains also operate routes from Manchester, Birmingham and Glasgow.
Fly To Edinburgh
Several European airlines travel to Edinburgh from capital cities on a daily basis, many of them several times a day. Look out for deals from Ryanair, easyJet, British Airways, FlyBe, AerLingus and KLM.
From Edinburgh International Airport…
By bus
Airlink Bus 100 provides speedy service from Edinburgh Airport to the centre of town in approximately 30 minutes, ending right outside Waverley Station. Buses run 24 hours a day, 7 days a week, departing every 10 minutes during the day. Purchase a return ticket from the airport desk for £7.50.
By tram
For an extra £1, the alternative choice is to travel onboard the Edinburgh Tram, the journey taking approximately 30 minutes to the city centre. Service operates during the day only.
By car
Driving to Edinburgh city centre will take around 30 minutes (approx 14.4 klms/9 miles). The fastest route is via the A90. Alternatively, you can travel via Glasgow Road.
WHAT TO BRING
An umbrella or raincoat – In every season, there is almost always drizzle. To be on the safe side, pack both.
A beanie – This is Scotland after all and even in summertime, a beanie will come in good use.
A good pair of walking shoes – Whether you plan on hiking to the top of Arthur's Seat or walking around town, Edinburgh is not flat. Bring a comfortable pair of walking shoes, preferably non-slip. Be prepared to climb up and down hills and stairs, often on uneven cobblestoned streets.
---
Did you discover any wee gems when you visited the Scottish capital? Don't be shy! Make sure to share the details with us in the comments below!
LIKE THIS POST? PIN IT AND SHARE IT!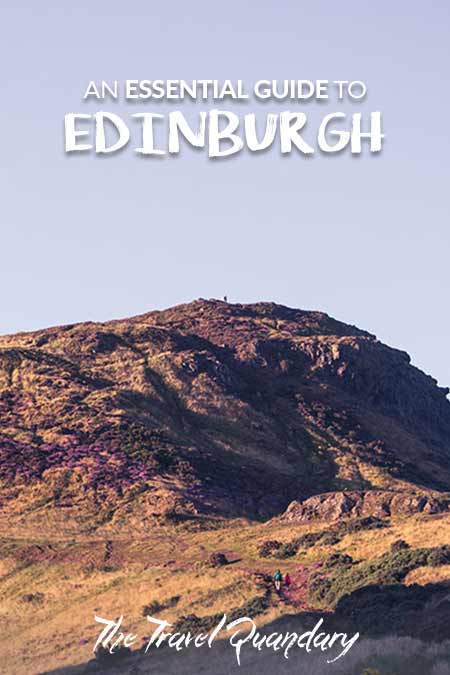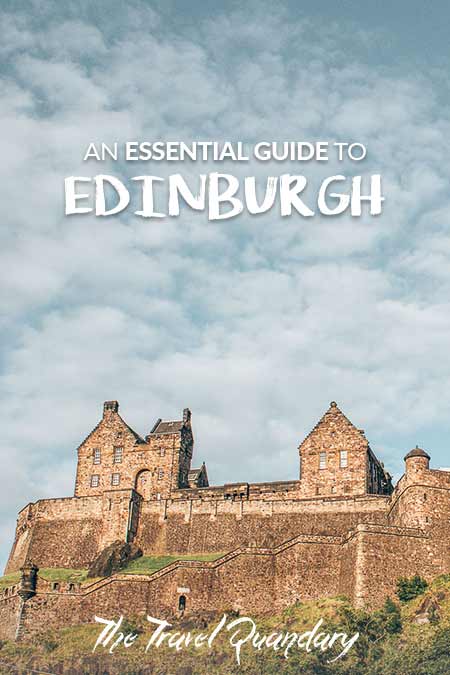 You might also like