Boasting an emerald green Alpine lake fed by natural springs and a medieval castle upon a rocky cliff, Bled is Slovenia's very own slice of paradise. Fast becoming a tourist hotspot, the number of resorts continue to rise as the town and its surrounds offer visitors a vast array of outdoor activities throughout all seasons. We travelled to Lake Bled over 4 days to experience the beauty of the natural landscapes. Check out our weekend guide below!
WHAT TO SEE
Two paths lead to the 11th century Blejski Grad (one for vehicles, the other for pedestrians willing to climb some stairs) and an impressive view over Lake Bled. Two courtyards sit amongst the Renaissance buildings and Romanesque castle walls that house a museum, restaurant, printing works, wine cellar and chapel. Check this website link for the most up-to-date admission prices.
TIP: Unfortunately, navigating the castle and its grounds is not suitable for wheelchairs. Visitors are required to traverse stairs and steep slopes.
Arguably the ultimate drawcard of Bled is the small island in the middle of the lake which houses the Church of the Assumption of Mary. The island is a popular venue for weddings. Visitors can access the island by:
renting a rowboat for approximately €15/hour and attempt the trip themselves;
catching a traditional pletna boat maneuvered by standing rowers called pletnars. It's a 20 minute ride (one way) and you'll have approximately 30-45mins to explore the island. Cost is €14 per adult return (cash only);
swimming – and hoping that a nice enough friend will bring dry clothes for you to the island.
Once on Bled Island, you have the choice of ascending 99 stone steps or taking the curved well-trodden dirt path to the baroque church and bell tower. Here, you can enter the church for a small fee and ring the famous "wishing bell". Legend has it that those who ring the wishing bell will be granted good fortune and see their wish come true.
Vintgar Gorge
Turistično društvo Gorje, Podhom 80, 4247 Zgornje Gorje
This was one of the highlights of our weekend but make sure to wear your walking shoes. It is approximately a 5km walk from Lake Bled and relatively flat to the entrance or you can drive to the gorge where there is free parking. The town of Podhom which you pass through is quaint with rustic barns and sleepy cows. The gorge itself is 1.6km long (don't forget to factor in return trip if your legs get weary!). You will walk across wooden boardwalks over gushing rapids before hitting a rocky path that leads to an impressive waterfall. For nature lovers or those looking to get some country air, Vintgar Gorge is not to be missed.
Hint: Entrance is €4 per person and the only toilets are at the entrance point (there are none along the walk). Food options are limited to a couple of restaurants in the parking lot so we recommend that you pack food with you for the journey.
WHERE TO EAT
We were super fortunate to nab a dinner table (without a reservation) at this homely seafood restaurant close to the edge of the lake. We feasted on a tasty mixed seafood platter with seasonal vegetables and washed it all down with our first taste of Slovenian wine. Charming décor accompanied with family-friendly service, it is highly recommended that you reserve in advance (we watched many a group be turned away!).
Kolodvorska cesta 33, 4260 Bled
Located inside Hotel Triglav Bled, we enjoyed a delectable candlelit dinner from the à la carte menu paired with scrumptious wines recommended by one of the restaurant's expert sommeliers. Elegant décor paired with commendable service made for an exquisite dining experience. We only hope to return to sample the tasting menu!
TIP: Limited public transport is available in the Lake Bled area. The hotel offers a taxi service for a flat rate of €10 within the vicinity of Lake Bled (this was very helpful for us at the end of our evening as our accommodation was situated on the opposite side of the lake!)
Situated on a corner bend of Lake Bled, you could mistake this two-storey restaurant for the local pub. Lucky enough (again) to grab a dinner table without a reservation, we sampled beef and spelt risotto and octopus with truffles but the highlight of the evening (and the menu) was the AMAZING dessert platter. The mango tiramisu is to die for and the chocolate bomb had me squealing in delight like a little kid on Christmas Day.
The small café/bakery is located on the road leading up towards Bled castle and is famous for serving the Bled cream cake. Lip smacking deliciousness on your taste buds, calories added to your waistline. We grabbed two as our reward for hiking up to Vintgar Gorge!
Prešernova cesta 11, 4260 Bled
An unassuming shopfront sheltered behind a flower shop and insurance agency, you'd miss this bakery if it wasn't for the aroma of freshly baked bread that hits you from the pavement. Go early to choose from an array of pastries, pizza breads and biscuits. Then wander down to the lake to nibble on your tasty goods and watch the rowers train as they glide almost silently over the water.
WHAT TO DO
Take a hike
Get your walking shoes on because Bled is the perfect place to get back to nature. The walk around Bled is largely flat with the path along the lake measuring around 6.7km (4.16 miles). The path is mostly tar-sealed so is also available for cyclists and skaters. Horse-drawn carriages are available if you're not up for walking around the lake. The coachmen are known as fijakers.
Climb higher
Alternatively, Bled offers hikers the opportunity to go upwards and onwards. Mala Osojnica (685m) and Ojstrica (611m) are the best known viewpoints that travellers target for the breathtaking views of the lake and Kamnik Alps in the distance. Another 20 minutes of walking from atop Mala Osojnica will take you to the top of Velika Osojnica (756m). Beware! There are two entrances/exits to access the viewpoints highlighted in the map below. Also look out for signs and the well trampled paths for reassurance you are heading in the correct direction.
Recommendation: When you visit and weather depending, check the times for sunrise and sunset to capture the lake and the Alps during golden hour. 
---
---
Sample Slovenian wine
We had no idea that Slovenia produced wine until we visited and most, if not all the restaurants in Bled will have national produce on its menu. About 75% of the country's production is white wine so ask your sommelier or waiter for their recommendation!
Eat Kremšnita
You cannot say you've been to Bled until you've sampled kremšnita. The ultimate cream cake consisting of golden crispy butter dough that encases delicious vanilla cream and whipped cream and polished off with a dusting of icing sugar. Pack your stretchy pants.
WHERE TO STAY
We used Airbnb to find our accommodation (these guys are also advertised on Booking.com and Hostelworld), staying at Garden House Bled (Pod Stražo 6, 4260 Bled). A private double room with a balcony and shared bathroom facilities, we found the facilities clean and well organised and reception to be friendly and helpful. Garden House Bled is located only a short 5 minute walk from the lake and recommended eateries. See a list of other accommodation options below:
€€€
Kolodvorska cesta 33, 4260 Bled
€€
€
Kidričeva cesta 10c, 4260 Bled
WHAT TO KNOW
Make restaurant reservations
Bled is a small town with local businesses specifically catering for tourists and travellers. There are no fast food chains and supermarkets are small. If you're wanting to dine out, restaurants will be busiest between 19.00 – 21.00. We visited at the end of April ahead of the summer peak season but tour groups and families were already in abundance!
Organise your transport
Slovenia's international airport, Jože Pučnik International Airport Ljubljana, is located between Bled and the capital Ljubljana. You can access Bled by bus, taxi, shuttle bus train or hire car.
By Car – approximately 30 minutes drive from the international airport
By Taxi – Rome2Rio is currently quoting the one way trip as €50 – €65
By Train – there are no direct trains from the international airport to Bled. Trains depart from Ljubljana daily but be careful! Bled has two train stations and neither are located in the centre of town (Lesce-Bled approx. 4kms and Bled Jezero approx. 1.5kms from the centre of Bled). Check timetables and prices at http://www.slo-zeleznice.si/sl/.
By Bus – There are buses that run hourly on the hour from Ljubljana to Bled with the trip taking approximately 1-1.5 hours for €6.30 pp/one-way. Flixbus operates these services – https://www.ap-ljubljana.si/en/.
Buses are old coach style buses and a cheap and popular method of transport. Be at the bus stop early and push to the front of the queue. Once the bus is full, the driver won't let any other passengers on board and you may be stranded for another hour.
You can catch a bus to Bled from the international airport with the bus company Alpetour (cash only) but you will need to change buses and transfer in Kranj (approx. 45 minutes).
Airport – Kranj          €1.80 pp/one-way
Kranj – Bled              €3.60 pp/one-way
http://www.lju-airport.si/en/passengers-and-visitors/getting-here/bus/
Note! There are no buses between Kranj and the airport on Sundays & Public Holidays. We unfortunately got caught out on Easter Monday (i.e. public holiday) and ended up needing to pay for a taxi from Kranj to the airport. If you need to travel to the airport on a Sunday or Public Holiday, we recommend arranging an alternative mode of transport.
Walk a little further
There are multiple points around the lake where visitors can catch a pletna to Bled Island and back. The busiest stop is almost directly beneath Bled Castle in the most populated area of town. Walk a little further and you may not have to wait long for a pletna.
---
Have you visited Lake Bled and experienced the beautiful scenery too? Did you have any other handy information you can share with us and fellow travellers? Comment below!
LIKE THIS POST? PIN IT AND SHARE IT!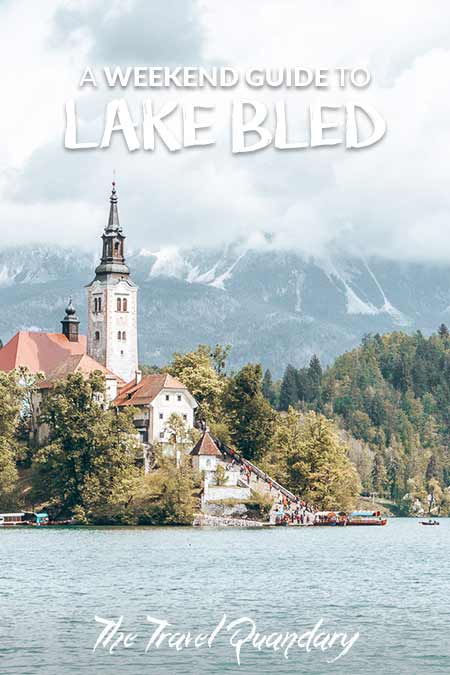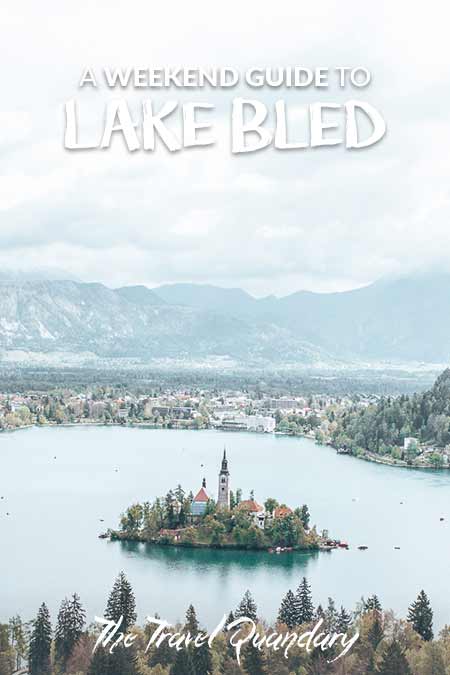 You might also like