Berlin is a destination that truly offers something for everyone. History buffs can explore Germany's decorated past within the museums and gritty architecture. Art lovers can tour the city by following the graffiti trail and food lovers will eat their way through currywurst and sauerkraut. Let's also not forget that a trip to Berlin wouldn't be complete without a visit to one of the infamous nightclubs. So let your inhibitions go and see where Germany's capital will take you.
---
A TRAVELLER'S GUIDE TO BERLIN
---
WHAT TO SEE & DO
Mühlenstraße 3-100, 10243 Berlin
One of Berlin's most iconic structures, it is symbolic of imprisonment and freedom. Take a stroll alongside this stretch of the Berlin Wall that has been preserved and is now covered in graffiti. 118 artists contributed to this street art project with many sections making political statements through their art.
My favourite place to visit on a Sunday is Mauerpark. Begin the day by wandering the stalls at the flea market. With a large collection of vintage clothing, records and household items, it takes a lot of patience to sift through the clutter to find the gold. Grab lunch from one of the food vendors (we won't judge you if you choose your umpteenth plate of currywurst) and then head over to the Bearpit in the afternoon for a drink. This amphitheatre in the middle of the park is a popular spot where locals gather for some karaoke. Whether the acts are good or bad, Berlin has provided a stage for people to express themselves freely. What a Sunday sesh.
Lindenstraße 9-14, 10969 Berlin
A dark period of German-Jewish history is enshrined in the Jewish Museum Berlin. Permanent exhibitions are on display in this striking contemporary building which details history and culture over two millennia. The museum has an extensive archive and also features temporary exhibitions. Open 7 days a week.
Note: The Jewish Museum Berlin should not be confused with the Memorial to the Murdered Jews of Europe (otherwise known as the Holocaust Memorial) which includes an underground exhibition.
Hardenbergstraße 22-24, 10623 Berlin
If you're passionate about photography then C/O Berlin is a must. With three large spaces for exhibitions, the gallery features work by established photographers and emerging talent from the field. Exhibitions regularly change with different themes explored by the featured photographers so make sure to check out the website for the latest information.
Tempelhofer Damm, 12101 Berlin
What do you do with a disused airport located smack bang in the middle of town? Turn it into a public park. Berlin's inner city playground comes alive on the weekend. Locals head here to light up the BBQ and enjoy a range of recreational activities including rollerblading, skateboarding and yoga. For a sneak peek of life in Berlin, make sure to swing by Tempelhof.
WHERE TO EAT
Are you ready to eat the best kebab in the world? Now I know that's big claim to fame but this is not your typical late night kebab shop. Mustafas is legendary among the Berlin food scene. My recommendation is the chicken doner with roasted vegetables. Expect to queue for at least an hour but I guarantee that it will be worth the wait.
Skalitzer Str. 136, 10999 Berlin
At first glance, a converted toilet block is not a place you would cast your eyes over for mouth-watering burgers. During any time of the day, you'll find a queue of people lining up to enjoy one of Burgermeister's buns. Enjoy a traditional cheeseburger with some chili cheese fries. Choose to stand underneath the subway or take a short walk to enjoy your burger by the Spree. Note: Cash only.
Eisenbahnstraße 42/43, 10997 Berlin
If you're looking for somewhere to eat on a Thursday night, look no further than Markthalle Neun. The market comes alive with street food vendors. Offering cuisines from around the world, take your pick from Peruvian to Thai to Korean and of course German food. There's surely something for everyone here. A German band belts out classic German songs to complete the ambience.
Oderberger Str. 44, 10435 Berlin
Kauf Dich Glücklich Café & Mehr is for those with a sweet tooth. The stylish eatery is located on one of Berlin's most beautiful streets lined with cute cafes and trendy stores leading up to Mauerpark. The cafe is filled with vintage tables and chairs and also extends into a shop. Go early on the weekend for your fix of waffles topped with fruit, cream and ice cream (life is too short not to eat ice cream). What better way to start the day!
Johannisstraße 20, 10117 Berlin
House of Small Wonder is a popular eatery serving up breakfast, lunch and all-day brunch. You're greeted with a beautiful display of plants on the ground floor before climbing the stairs to the cafe. The vibe is hipster meets hippie wanderlust. The cafe focuses on using organic and local produce throughout its menu options including Organic Egg Scramble and Homemade Granola & Fruit with Greek Yogurt. This is definitely the place to score some good health points after one too many currywurst mit frites. Note: Cash only.
Reichenberger Str. 101, 10999 Berlin, Germany
Countless people have tried to figure out what exactly goes into Five Elephant's famous cheesecake recipe to make it taste so darn delicious. It is possibly the best cheesecake I have ever eaten. Many portions of said cheesecake almost had me the size of an elephant. If you're not a cheesecake person (shame on you), then select from their wide array of baked goods. Wash down your cheesecake with an order of coffee. Five Elephant sources their coffee beans from sustainable coffee farms and roasts them on site in Berlin.
Mix in with the locals and order a currywurst sausage at Curry 36. A staple in the German diet, make sure to also order a side of chips smothered in mayonnaise. You can ask for your currywurst sausage with the skin on ("currywurst mit darm") or without skin ("currywurst ohne darm"), the latter being how true Berliners eat their currywurst.
WHERE TO DRINK
The Barn is a pioneer of the third-wave coffee scene in Berlin and a must-stop for those serious about coffee. Passionate about sourcing their beans sustainably, the Barn roasts their beans which are available for sale in all four locations around Berlin. Make sure to swing by for a premium cup of coffee.
---
---
Craft beer lovers rejoice. With 22 tap beers and selected bottled beers from German and international breweries, you'll be sure to find something that piques your tastebuds. There are several craft-beer institutions around the city but Hopfenreich was officially the first craft-beer bar in Berlin. The bar is warm and welcoming where locals mingle with international visitors. The taps regularly change brews so if you find yourself returning, you could very well find a completely different menu.
Wilhelmshavener Str. 57, 10551 Berlin
If you're searching for cocktails in a quieter part of Berlin, head to George R. Taking their name after the king of bootlegged liquor, George R is a little secret on the Berlin bar scene. The mixologist will kindly guide you as you choose your cocktail. The bar is very cozy but big on atmosphere as candlelight takes over and the romance goes up a notch or two. Open 7 days a week till late.
Kastanienallee 7-9, 10435 Berlin
Berlin's oldest beer garden is still the place to be if you're looking for an outdoor place to grab a beer and catch your breath. The beer menu contains a small range of choices highlighting Prater's preference to keep things simple. Order a pilsner and find a seat amongst the 600 seats available. The restaurant serves local seasonal dishes and is open all year round. Food and snacks can be ordered if sitting in the beer garden. Cash only.
Note: The beer garden is open April – September from 12 noon until late (weather permitting).
Lichtensteinallee 2, 10787 Berlin
Café am Neuen See is located in the middle of Tiergarten and is the perfect place to enjoy a beer fresh from the tap during summer. A Bavarian and Italian themed beer garden, the café's menu offers specialties ranging from pretzels to pizza. I'd suggest grabbing a beer and pretzel with a view of the lake and enjoy the warmth of an afternoon. If you're up for it, take a rowboat out onto the lake to explore more of Tiergarten from an alternative perspective.
Hotel Bikini Berlin, Budapester Straße 40, 10787 Berlin
Monkey Bar is the rooftop bar atop Hotel Bikini Berlin and is aptly named given that it overlooks the monkey enclosure of the Berlin Zoo. You can "monkey" around with your friends over a beer or cocktail from the rooftop terrace. The bar offers a panoramic view over Tiergarten so it's an ideal spot to grab drinks as the sun sets. As night falls, a DJ will take you into the weekend. Open 7 days a week until 2am.
WHERE TO SHOP
Tempelhofer Ufer 1, 10961 Berlin
Affectionately known as 'Haha', take a step inside Hallesches Haus for all your household essentials. Find items for the kitchen, the living room and beyond. If you happen to go on a Saturday, Haha offers a pretty decent brunch. This is a good opportunity to consume lots of calories to keep your energy up for the shopping spree.
Tauentzienstraße 21-24, 10789 Berlin
KaDaWe is the acronym for Kaufhaus des Westens. Originally opened in 1907, it has survived two world wars and withstood the rise and fall of the Berlin Wall. Today, it offers international designer goods and exclusive brands across beauty, fashion, homewares and gourmet food. Located on the border of affluent neighbourhoods Schöneberg and Charlottenburg, KaDeWe stocks more brands that you could possibly name under one roof. Let's just say that you're unlikely to go home empty handed.
Oranienstraße 24, 10999 Berlin
Occupying a courtyard space on the ground floor of a former locksmith, Voo Store has transformed the industrial space into a carefully curated concept store. Stocking seasonal collections from local and international designers, you'll find a mix of high-end, contemporary menswear, womenswear and homewares. Pause from your retail experience to enjoy specialty coffee and a selection of freshly-baked goods from the in-house café, Companion Coffee. Closed Sundays.
Budapester Str. 38-50, 10787 Berlin
Catering toward the high-end, luxe fashion crowd, Bikini Berlin can be slightly removed from the vintage market crowds in other parts of the city. The mall showcases innovative design with excellent views over the Charlottenburg neighbourhood. Frequent pop-ups reinvigorate the space as hip Berliners peruse the latest fashion trends.
Check out the local talent at Berlin-based casual menswear label, A. D. Deertz. In this rare instance, this menswear label was founded and is designed by a woman. Wibke Deertz takes her passion for travel by weaving cultural influences from all over the world into her collections. Bucking the trend to no longer produce in line with quarterly seasons, Deertz chooses to produce her unpretentious, high-quality products at a healthy tempo. Alongside the A.D. Deertz label, the store carries other complementary brands. Head in-store to check out the modern classics and add to your list of favourite things.
WHERE TO STAY
Given Berlin's rich cultural offerings, there is bound to be a neighbourhood best suited to your interests. Keep in mind that if you're a light sleeper, you may want to avoid staying in the nightlife area.
Kreuzberg
This suburb is the epitome of cool. Covered in graffiti and dotted with Turkish markets, you'll also find a sprinkling of cafes serving delicious cheap eats. Come dancing in Kreuzberg in one of the many basement nightclubs. It's the hood where you'll find a mesh of Berlin artists, hipsters and punks.
Neukölln
Berlin is home to a large Turkish population. Their presence and influence is visible in the district of Neukölln or 'Little Istanbul'. Shawarma stands are no more than a few hundred metres away if you're after a delicious feed. Don't be shy to pop into one of the laid back bars, filled with a mix of young, progressive-minded students and suave professionals.
Mitte
Whilst Berlin doesn't have a CBD per se, Mitte is largely considered to be the "centre" of town. This neighbourhood is home to Alexanderplatz, the large open air plaza with shopping malls dotted around the square. The Spree cuts through Mitte which is home to some of the city's iconic historical sites. Staying in this area is particularly advantageous as it is one of the best areas to explore Berlin on foot. Modern galleries, museums and elegant restaurants are right on your doorstep.
Prenzlauer Berg
A family-friendly neighbourhood, Prenzlauer Berg features several parks connected by tree-lined streets. Boutique shops, contemporary cafes and parents pushing prams are the primary features of this affluent area. If you want to party, don't stay here.
Friedrichshain
This east Berlin base has a grungier feel with buildings covered in graffiti from head to toe. The dividing wall may have been demolished but you'll see a noticeable difference as you wander through this neighbourhood. The communist influence is apparent here with its larger, homogenous buildings. Stay here to be surrounded by an excellent array of lively bars, cafes and nightclubs.
The Travel Quandary recommends…
Storkower Str. 160, 10407 Berlin
Oranienburger Str. 65, 10117 Berlin
The widely popular and successful Generator Hostel chain has set up two locations in Berlin (Mitte and Prenzlauer Berg). The hostels are renowned for being stylish, contemporary, clean, social and safe. Choose a shared or private room in affordable luxury and be close to all the action.
WHAT TO KNOW
The U and S Bahns
The U Bahn and S Bahn are your main train lines across Berlin, the U Bahn running underground (for the most part) and the S Bahn above ground. Berlin's train lines tell a story of a city divided. Many U Bahn lines run on only one "side" of the city, dating back to when the Berlin Wall divided the city into East and West. Tickets can be purchased at machines located on the platforms. With most things in Berlin, cash is generally the way to go but some machines also take card. Information regarding tickets, fares and route maps is summarised at this handy website.
TIP: Before your journey, validate your ticket by stamping it in the yellow or red boxes on the platform. Ticket inspectors roam the trains on the lookout for fare evaders and the excuse that you're a tourist generally doesn't fly. If you're caught, you'll be asked to pay an on the spot fine.
Back To Black
If you want to dress the part in Berlin, then dress down rather than up and make sure it's black. Berlin's unofficial uniform is a necessity when heading out to party all night at the city's nightclubs.
Cash Is Key
While many Scandi cities rarely accept cash, Berlin seems to be doing the opposite. Many establishments accept debit or credit card but cash remains the primary form of payment and is more widely accepted. Food is cheap and vintage markets are common so make sure to have some spare change on you.
New Year's Eve
For daredevils and pyromaniacs, Berlin is an ideal place to be to welcome in the new year. You'll get plenty of bang for your buck, not only with the display over Brandenburg gate but also when the locals take to the streets with their own supply of firecrackers.
HOW TO GET THERE
Fly To Berlin
Berlin has two main airports. Berlin Tegel Airport (TXL) is the current main airport of Berlin. It will close when Berlin Brandenburg Airport (BER) opens, currently estimated to be October 2019. Tegel is located 8 km (5 miles) northwest of Berlin. Berlin Schönefeld Airport (SXF) is located 18 km (11.2 miles) southeast of Berlin.
From Berlin Tegal Airport…
By bus
Various bus connections outside Terminals A and B are available from Berlin Tegal to the city centre. The journey is approximately 30 minutes. Buses are operated by BVG (Berlin Transport Services). The airport is in Zone B and you can purchase your ticket from the bus driver. For a comprehensive airport and bus network map, click on this link.
From Berlin Schönefeld Airport…
By bus
Various bus connections are available from Berlin Schönefeld to the city centre. The buses stop outside at Flughafen Schönefeld railway station and/or in front of Terminal A. The journey is approximately 30 minutes. Buses are operated by BVG. The airport is in Zone C and you can purchase your ticket from the bus driver.
By train
Regional and S-bahn trains connect Berlin Schönefeld to the city centre. The journey is approximately 20 minutes. For a comprehensive airport and public transport network maps, click on this link. To plan the best route from the airport to your accommodation, jump on www.vbb.de. The latest timetables, ticket fares and further information can be found on this website.
Train To Berlin
Berlin Hauptbahnhof (Europaplatz 1, 10557 Berlin) is the main train station in Berlin. It is a key German and European train terminal with services to and from cities including Prague (5 hrs), Munich (6 hrs), Hamburg (2 hrs), Amsterdam (6.5 hrs), Warsaw (5 hrs) and Vienna (10 hrs). Visit www.bahn.com for timetable information and to book your Intercity (within Germany) or Eurocity (outside of Germany) train.
Bus To Berlin
Berlin is accessible by bus from major surrounding cities including Munich (8 hrs), Hamburg (3.5 hrs), Prague (5 hrs) and Amsterdam (10.5hrs). Smaller German towns also have links to the capital including Bremen (6 hrs via Hamburg), Hanover (4 hrs) and Dresden (2.5hrs). The main bus companies that run these services are Flixbus, DeinBus and Eurolines.
---
Have you visited Berlin on your European travels? What is your favourite thing about the German capital?
Share your travel stories with us in the comments below!
LIKE THIS POST? PIN IT AND SHARE IT!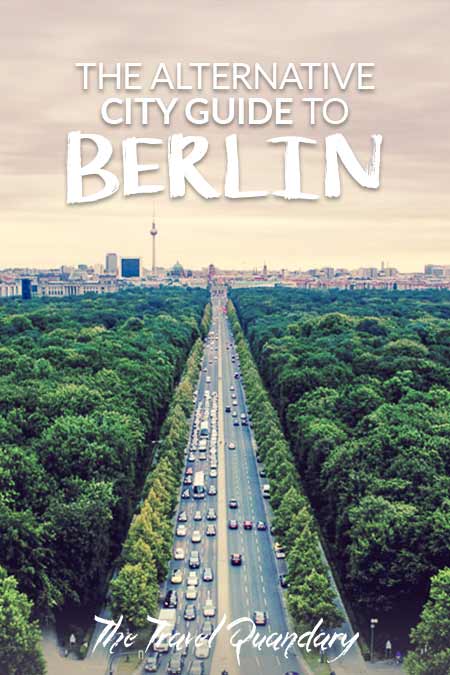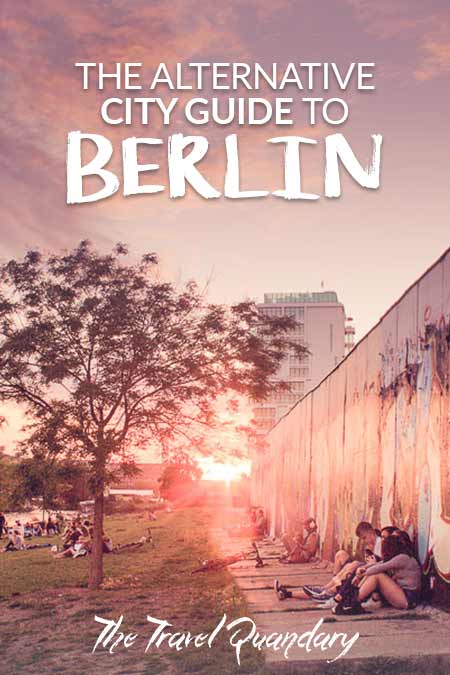 You might also like