Renowned for being the "world's largest diamond city" and its burgeoning fashion industry, Antwerp proves itself to be one of Europe's cultural hotspots. With our helpful guide to Antwerp, you're unlikely to be twiddling your thumbs as you unravel the diversity of the city's neighbourhoods. Admire graffiti walls and art nouveau architecture in the south-east, max out your credit card in the fashion district, ride wooden escalators down to a pedestrian tunnel and catch your breath in the peace of the beguinage. The Flemish city also boasts a wide array of art galleries and museums and bustles with vibrant brasseries, clubs and restaurants. Let Antwerp's sartorial history among the cobbled lanes in the city centre win you over. Plus, you can still find frites and waffles. Always a good thing.
WHAT TO SEE
Vlaeykensgang
Located in the city centre just a stone's throw from Our Lady's Cathedral, you'll find Vlaeykensgang alley which dates back to the 16th century. You'd miss it unless you were looking for it – enter through Oude Koornmarkt 16 and wander over the cobblestones. There is a restaurant, art gallery and antique store. Be mindful of the residents that live here.
Address | Oude Koornmarkt 16, 2000 Antwerpen
Beguinage (Begijnhof)
Previously home to beguines (devout women who lived in a community without taking religious vows), the beguinage today has a residential function. I was fortunate enough to meet an elderly woman who lives in one of the red brick houses. Beside the beautiful garden on the cobbled lanes which also houses the charming St Catherine's Church, this 78 year old Belgian woman struck up a conversation with me in French. She told me that approximately 40 elderly people now occupy the beguinage, all whom work with young people. If you happen to bump into one of the residents, make sure to say hello. After admiring the façade, take a moment to enjoy the peace and quiet sitting on one of the benches in the garden.
Address | Rodestraat 39, 2000 Antwerpen
Connecting the city's left and right bank is St Anna's Tunnel (or the Underpass), which opened in 1933. Rustic wooden escalators are located on each side to allow pedestrians and cyclists to access the tunnel. If you cross the river to the Left Bank, you can view the Antwerp skyline from the riverbank.
Address | Sint-Jansvliet Antwerpen
Grote Markt
In the heart of the old city quarter, you will find Antwerp's City Hall, adorned with colourful flags, the Brabo fountain, the guildhalls, the tourist office (Stadhuis van Antwerpen) and a spattering of cafes and restaurants around the square.
Address | Grote Markt, 2000 Antwerpen
Central Station
Considered one of the most beautiful train stations worldwide, come admire one of the finest examples of railway architecture in Belgium. After almost a decade of renovations at the beginning of the 21st century, Antwerp's Central Station reverted its status as a terminus in 2007. The railway tunnel underneath the station now allows trains to continue their journeys from Antwerp's Central Station.
Address | Koningin Astridplein 27, 2018 Antwerpen
WHAT TO DO
Shop 'til you drop
Shopaholics and fashionistas, beware! Your credit card is in serious trouble. Antwerp is a breeding ground for creative talent. Home-grown talent including Ann Demeulemeester and Dries Van Noten have flourished on the international stage. Check out the recommended Where To Shop section below.
Walk through Diamond City
The heart of the diamond trade worldwide since 1447, any newly engaged woman would be daft not to visit one of the safest parts of the city. Stores display their dazzling stones in numerous shop windows with shopkeepers on standby to invite you in for a closer inspection of their goods.
Mode Museum (MoMu) (Fashion Museum)
Antwerp's MoMu is one of the leading fashion museums in the world. Featuring two major exhibitions each year, the museum showcases exquisite couture and historical pieces from the museum's archives or items from touring exhibitions.
Address | Nationalestraat 28, 2000 Antwerpen
Opening Hours | Currently closed for renovations. Reopening Autumn 2020
Website | https://www.momu.be/
Museum aan de Stroom (MAS)
You'll find the MAS in the newer docklands district north of the city centre, with its rippling glass architecture acknowledging Antwerp's maritime history. Learn about the link between Antwerp and the world whilst browsing through over 500,000 museum pieces. Then, enjoy the 360° panoramic view from the roof terrace.
Address | Hanzestedenplaats 1, 2000 Antwerpen
Opening Hours | Check here
Admission | € 10 (visitors > 25 years). € 8 (visitors 16 – 24 years)
Website | http://www.mas.be/nl
Rubens House
The former home of the famous 16th-17th century baroque painter is now a museum in the heart of the city. Discover how the brilliant artist lived his life, ran an art studio, raised his family and received noble guests in the still-standing original garden pavilion. There is the option to rent an audio guide for a small fee as you make your way through the property admiring the masterpieces.
Address | Wapper 9-11, 2000 Antwerpen
Opening Hours | Tuesday – Sunday 10.00am – 5.00pm. Closed Mondays and some public holidays
Admission | € 10 (visitors > 25 years). € 8 (visitors 12 – 25 years)
Website | http://www.rubenshuis.be/en
Cathedral of Our Lady
Construction of the largest Gothic cathedral in the Low Countries was completed in the 16th century after 169 years of labour. The impressive cathedral features major art works, including a series of paintings by Rubens. You can make arrangements to climb the highest tower after paying for a guided tour, however, this is only possible each Wednesday from April to September.
TIP: Many museums are closed on Mondays. If you're in Antwerp on this day, I'd recommend seeing all the free sights around the historic city centre or going shopping!
Address | Handschoenmarkt 3, 2000 Antwerpen
Opening Hours | Monday – Friday 10.00am – 5.00pm. Saturday 10.00am – 3.00pm. Sunday 1.00pm 5.00pm
Admission | € 6
Website | http://www.dekathedraal.be/en
WHERE TO EAT & DRINK
Salon de Thé Claude
Talk about prime location! This gorgeous salon boasts the best view of Hendrik Conscienceplein with the beautiful St Charles Borromeo's Church on one side and Heritage library on the other. Sit outside under one of the umbrellas and enjoy tea and scones or the sandwich of the day. If you're fortunate, you might be serenaded by the soothing lullaby of a local playing his guitar under the shade of a tree.
Address | Hendrik Conscienceplein 5, 2000 Antwerpen
Opening Hours | Wednesday – Sunday 10.00am – 6.00pm
Website | http://www.salondetheclaude.be/
Le Pain Quotidien
Take a shopping break in this quaint two-storey café with a coffee and delicious apple tart. Le Pain Quotidien also offers a generous breakfast and brunch menu with several gluten-free and organic options. Don't be surprised if you spot another branch around the city; Le Pain Quotidien has outlets throughout Europe.
Address | Steenhouwersvest 48, 2000 Antwerpen
Opening Hours | Monday – Saturday 7.00am – 7.00pm. Sunday 8.00am – 6.30pm
Website | http://www.lepainquotidien.be/
Coffeelabs
Situated on a side street off Meir, you can relax on one of the cushioned lounges at Coffeelabs; one of the only European cafes I have come across so far that serves Iced Lattes! Or try their sugarless homemade lemonades for a sweet drink without the naughty calories. There's another branch on Mechelsesteenweg and a sister cafe in Brussels too.
Address | Lange Klarenstraat 19, 2000 Antwerpen
Opening Hours | Monday – Friday 8.00am – 6.00pm. Saturday 9.30am – 6.00pm
Website | http://www.coffeelabs.be/
Coffeebar Intense (Koffiebar Intense)
On a side street off Nationalestraat, this small unassuming café serves up "double koffie" in soup bowl cups and gourmet sandwiches when you need to give your credit card and feet a break.
Address | Schoytestraat 1, 2000 Antwerpen
Opening Hours | Tuesday – Sunday 9.00am – 6.00pm
Website | http://coffeebar-intense.business.site/
Mokkakapot
In the heart of Borgerhout, you'll find Mokkapot located on a corner just behind City Hall. The cosy café is filled with retro furniture and serves coffee and cakes whilst showcasing local designers' clothing and jewellery.
Address | Sergeyselstraat 2, 2140 Antwerpen
Opening Hours | Wednesday, Thursday & Sunday 11.00am – 6.00pm. Friday – Saturday 11.00am – 9.00pm
Website | http://www.mokkakapot.be/
Camping Campina
One of several restaurants at Dageraadplaats, Camping Campina's menu is only in Flemish but waiters are on hand to explain what's on offer if you can't decipher. Try the "Ons huisgemaakt stoofvlees" for a true Belgian experience – a beef stew cooked in gravy and Belgian beer, accompanied with thick beer-battered chips and coleslaw.
TIP: Don't forget to find a stop to snack on some frites or a Belgian waffle with dark Belgian chocolate, strawberries and whipped cream!
Address |Dageraadplaats 16, 2018 Antwerpen
Opening Hours | Monday – Friday 11.30am – 22.00pm. Saturday – Sunday 3.00pm – 10.00pm
Website | http://campingcampina.be/
WHERE TO SHOP
Jutka & Riska
Selling both a mix of women's vintage clothing and its own label of clothes, jewellery and accessories, Jutka & Riska is wonderfully arranged by colour scheme. This is the only store in Belgium of the Dutch label (there are three stores in the Netherlands); a staunch supporter of young designers. Pop in to find some vintage denim or quirky printed t-shirts.
Address | Nationalestraat 87, 2000 Antwerpen
Opening Hours | Monday – Saturday 10.00am – 6.30pm. Sunday 12.00pm – 6.00pm
Website | https://www.jutkaenriska.com/
Labels Inc.
If you're after designer labels without the price tag, you'll find them in this small used clothing store that stocks Belgian designers including Ann Demeulemeester and Martin Margiela. Pre-loved shoes and accessories are also in stock.
Address | Aalmoezenierstraat 3a, 2000 Antwerpen
Opening Hours | Monday – Saturday 11.0am – 6.00pm
Website | https://www.labelsinc.be/
MOOSE in the CITY
Almost opposite the ModeMuseum (Fashion Museum), walk up the ramp at the entrance and you'll find something for your wardrobe or something for the home in this IKEA-esque store layout. There is truly a touch of Scandinavia in everything stocked in-store.
Address | IJerenwaag 10, 2000 Antwerpen
Opening Hours | Monday – Friday 10.00am – 6.00pm. Saturday 10.00am – 6.30pm
Website | https://www.moose-in-the-city.com/en
ROsier 41
Another one for the savvy fashionistas, ROsier 41 sells seasonal and private overstocks (for men and women) from Belgian and international designers. Comb through the racks (organised by designer) diligently and you can find bargains starting from €50.
Address | Rosier 41, 2000 Antwerpen
Opening Hours | Monday – Saturday 10.30am – 6.00pm
Website | http://www.rosier41.be/
The Other Shop
Looking for the perfect quirky gift or insulting birthday card? This is the place for you which stocks "How To" and "Why Does" books for him and her, desk mementos and colourful wrapping paper to make you look like the best gift giver.
Address | Melkmarkt 31, 2000 Antwerpen
Opening Hours | Monday – Saturday 11.00am – 6.00pm. Sunday 12.00pm – 6.00pm
Website | The Other Shop on Facebook
Nationalestraat
With the Fashion Museum and fashion campus in the vicinity, the Nationalestraat hails as the most fashionable street in Antwerp. High end boutiques carrying international names and Belgian designers sit amongst trendy food bars and brasseries.
Diamond District
Just around the corner from Central Station, you'll find several streets coveting diamonds galore. Drag your other half here and shopkeepers will entice you with offers of 70% off of GIA certified jewels. Trust me – it's so difficult to stop staring at all the dazzle!
Address | Hoveniersstraat, 2018 Antwerpen
Shopping Stadsfeestzaal
Shop til you drop in approximately forty stores in this elegant reconstructed Festival Hall and make sure to admire the elaborate glass dome adorned with gold leaf, the staircase, mosaics and original oak parquet floors. You have a mix of clothing and accessories, sportswear, jewellery and homewares.
Address | Meir 78, 2000 Antwerpen
Opening Hours | Monday – Saturday 10.00am – 6.30pm. Sunday 1st Sunday of the month 12.00pm – 6.00pm
Website | http://stadsfeestzaal.com/
Meir
Here you'll find the major fashion chains, the Shopping Stadsfeestzaal and The Wapper; a side street that leads to Rubens' House and a square with several pub terraces. Your credit card is in serious danger in this area.
Address | Meir, 2000 Antwerpen
WHERE TO STAY
---
---
Sint-Andries
Shopaholics, beware. Not far from the old city centre, Sint-Andries houses a large chunk of the Fashion District. Along Nationalestraat, you'll find Belgian and international fashion names; shop antiques and furniture on Kloosterstraat every Sunday morning and hustle along Huidervetterstraat for mainstream boutiques.
Het Zuid
Previously one of the poorer neighbourhoods, Het Zuid is now one of the trendiest districts in Antwerp. Explore the art galleries and museums by day then discover bustling restaurants and bars at night.
Zurenborg
If architectural fans don't already know, then they will learn of the Cogels-Osylei in Zurenborg when visiting Antwerp. An avenue lined with opulent villas showcase a clash of Art Nouveau and Tudor architectural styles that will have you photographing some #homegoals. Check out Dageraadplaats to grab a bite at one of the yummy restaurants.
The Travel Quandary recommends…
Each neighbourhood has its own character so check out some of the private rooms and apartments available for rent at reasonable prices.
Antwerp Backpackers Hostel
Partying in Antwerp takes place at the hostels in the city centre. If you're after a place to chill with a few beers during happy hour, plus recommendations for the best local places to eat, I'd recommend ABHostel. ABHostel runs from an old converted chocolate factory by Bridget & Greg. Breakfast is included consisting of fresh homemade bread and make-your-own pancakes in a fully equipped kitchen. Super clean with friendly service, make sure to note that reception is not 24 hours.
Address | Kattenberg 110, 2140 Borgerhout, Belgium
Website | http://www.abhostel.com/
HOW TO GET THERE
By plane
Limited budget airlines fly to and from Antwerp International Airport. Access Antwerp from cities including London and Barcelona with CityJet and TUI fly. Services may soon be offered to and from select Switzerland destinations on PowdAir.
From Antwerp International Airport (Deurne Airport)…
By public transport
Unfortunately, there is no direct public transport link from the airport to Antwerp's city centre. You will take a combination of bus & tram or bus & train to get there.
Step 1: Take bus 51,52 or 53 from Antwerp Airport from stop 'Deurne Luchthaven' to Antwerpen Berchem railway station. Travel time is 10 minutes.
Step 2: Select one of the three options below.
Option 1: Change to tram 9 (Eksterlaar – Linkeroever). From here, it will take 5 – 7 mins to Antwerpen Centraal railway station (stop Premetrostation Diamant) or 10 – 12 mins to the city centre (stop Premetrostation Groenplaats). Trams depart every 8 – 10 mins.
Option 2: Take a train from Antwerpen Berchem railway station to Antwerpen Centraal
Option 3: Change to bus 21 or 32 which will take you from Antwerpen Berchem railway station to Antwerpen Centraal
Visit the website De Lijn for timetable information and you can plan your journey via bus, tram, metro and/or train. The website is in Dutch, French and English.
TIP: Public transport is by tram or bus. A single ticket costs €3 (valid for an hour), a daily ticket costs €6 (Presale) – €8 (On board) and a 3-day ticket costs €12. Purchase tickets from pre-sale points, automated ticket machines, Lijnwinkels or from the bus or tram driver. Only single and daily tickets can be purchased on board. Visit Antwerp's Visitor Centre to buy tickets and for further information.
By car
Driving to Antwerp city centre will take around 20mins (approx 6.4 klms/4 miles). The fastest route is via N184. Alternatively, you can travel via N1.
By train
Antwerp is easily accessible by train to and from surrounding major cities including Amsterdam (1hr 15m), Cologne (2hrs 30m) and Paris (2hrs via Brussels). Check the timetables on the SNCB Europe website to book your journey with Thalys, Eurostar, TGV or ICE trains.
By bus
If you have time up your sleeve or you're taking the budget travel route, take the bus to and from Antwerp. Companies such as Flixbus (Megabus in the UK) and Ouibus offer services from Amsterdam to Paris via Belgian cities including Antwerp. Multiple services are available every day with the main pick-up/drop-off location right in front of Central Station.
TIP: For further information about Antwerp, go to www.visitantwerpen.be. The website can be navigated in English, Dutch, French and German and is easy to navigate.
---
Have you visited Antwerp when passing through Belgium? Share your experiences with us in the comments below!
LIKE THIS POST? PIN IT AND SHARE IT!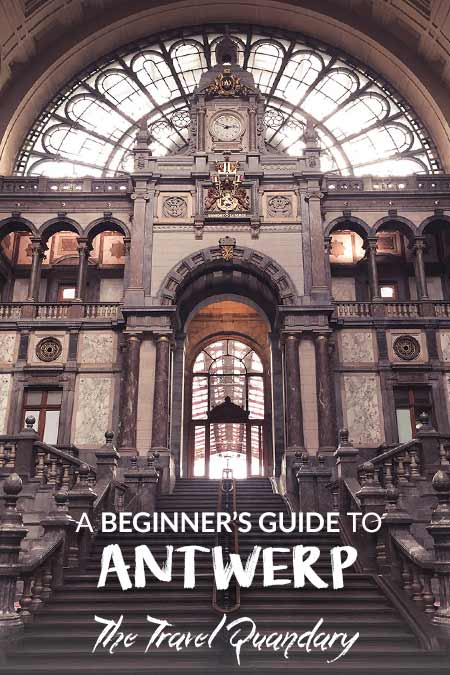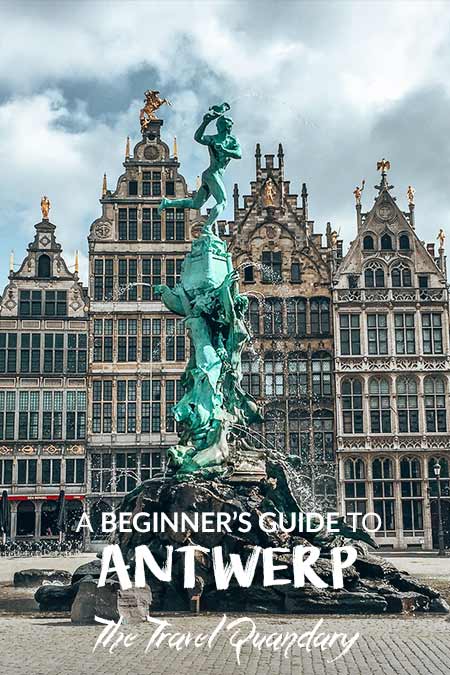 You might also like