An early morning hike up to the top of Arthur's Seat deserves a reward. So after enjoying the panoramic views of the city, we say you deserve a coffee or two and perhaps even a slice of cake. Here are our top picks for the best 5 specialty coffee shops in Edinburgh. Their coffee and cake menus are sure to warm you up whilst escaping the rain.
---
WHERE TO FIND THE BEST COFFEE IN EDINBURGH
---
Brew Lab
With their on site training lab, the team at Brew Lab serves up a perfectly brewed single-origin filter and a food offering made from local produce. If you're early, snag one of the window armchairs or the leather couches and watch Edinburgh city awake. But if you're not an early bird, don't despair. Brew Lab's trade extends beyond speciality coffee. Come the evening, the cafe becomes a bar offering craft beer, natural wines and cocktails.
TIP: The extended hours (open until 11 pm during Fringe Festival) makes Brew Lab the choice for early birds and night owls alike.
Address | 6-8 S College St, Edinburgh EH8 9AA
Opening Hours | Monday 8.00am – 6.00pm. Tuesday – Friday 8.00am – 8.00pm. Saturday – Sunday 9.00am – 8.00pm
Website | http://www.brewlabcoffee.co.uk/
Fortitude
Situated in the New Town, Fortitude is another small speciality coffee shop in Edinburgh. But what the shop lacks in size, it makes up for and then some with its coffee. Mix with locals dressed in starched collared shirts who gather their takeaway coffee in haste, and the travellers who usually have a more relaxed look about them. Fortitude features an extensive range of regular coffee methods and newer methods including cold brew and pour-over. This means there is something inside for everyone to enjoy during the early morning chill.
Address | 3C York Pl, Edinburgh EH1 3EB
Opening Hours | Monday – Friday 8.00am – 5.00pm. Saturday 10.00am – 5.00pm. Sunday 11.00am – 4.00pm
Website | http://www.fortitudecoffee.com/
The Milkman
This centrally located cafe situated between Waverly Station and The Royal Mile is a great little hideout when you want to take a break from the tourist trail. With a choice of seasonal coffees, the barista is happy to make suggestions based on your preferences. Once you've decided, grab a seat on the cushions at the front window or on a nice day, outside at one of the communal tables. Both vantage points make for excellent people watching spots. I'd recommend The Milkman as your morning stop to enjoy one of their brownies too.
Address | Toddle In, 7 Cockburn St, Edinburgh EH1 1BP
Opening Hours | Monday – Friday 8.00am – 6.00pm. Saturday – Sunday 9.00am – 6.00pm
Website | http://themilkman.coffee/
---
---
Artisan Roast
Fittingly, the home of specialty coffee in Scotland is located in a converted house. Artisan Roast was the country's first specialty coffee and roastery. Since its establishment, Artisan Roast has helped to grow the coffee scene in Scotland. Artisan no longer roasts coffee beans on site, as the store (one of many) is bursting with customers looking for their caffeine fix. The baristas are extremely knowledgeable on all things coffee as well as Edinburgh herself.
Address | 57 Broughton St, Edinburgh EH1 3RJ (multiple locations around Edinburgh and Glasgow)
Opening Hours | Monday – Friday 8.00am – 6.30pm. Saturday – Sunday 9.00am – 6.30pm
Website | https://www.artisanroast.co.uk/
Wellington Coffee
This cozy basement shop opens up onto a courtyard and street side tables. Whilst the cafe serves fine coffee (Australian or Kiwi baristas might have something to do with it), they're also well known for their scones, baked fresh on-site throughout the day. You can choose between savoury or sweet, but being a sweet tooth, I opted for the latter. With a latte and scone costing just over £5, this is a great place to stop for a rest between exploring the New Town. Don't be surprised if you find locals sipping lattes with their doggy friend at their feet.
TIP: Don't feel like coffee? Drop into Mary's Milk Bar for one of their famous hot chocolates. A famous Edinburgh institution located down on Grassmarket, Mary's also does some amazing ice cream.
Address | 33A George St, Edinburgh EH2 2HN
Opening Hours | Monday – Friday 7.00am – 6.00pm. Saturday 8.00am – 6.00pm. Sunday 9.00am – 6.00pm
Website | Wellington Coffee on Facebook
---
---
Have you found a specialty coffee shop in Edinburgh that we haven't recommended? Please share it with us and fellow coffee lovers!
LIKE THIS POST? PIN IT AND SHARE IT!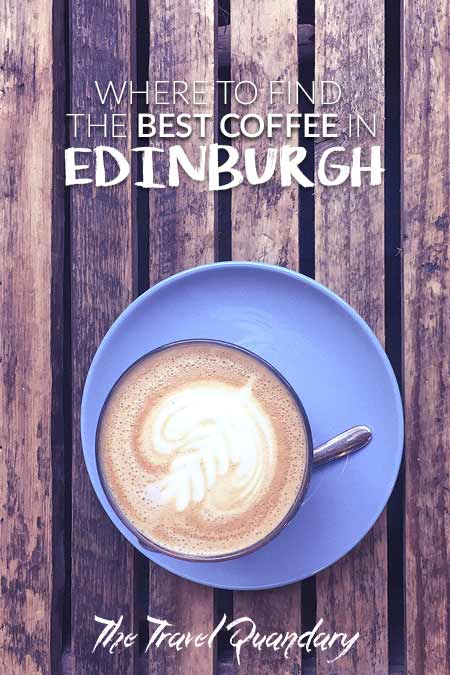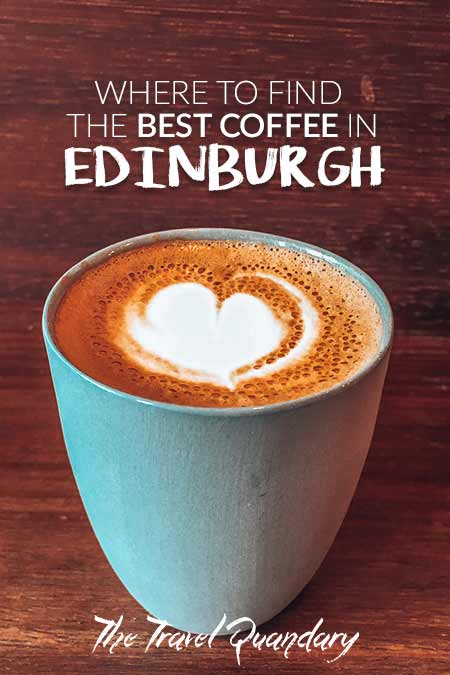 You might also like