"Have you got travel insurance?". It's the one question you're always asked. By the travel agent, by the airlines' website, by your mother. Some travellers won't board the plane without it while others see it as a necessary evil. The fine print can be downright confusing and the cost of buying travel insurance is so darn expensive, and for what? 
If you're still sitting on the fence, we've covered a few of the ins and outs that may help you make a more informed decision for your next holiday.
---
IS IT NECESSARY TO BUY TRAVEL INSURANCE?
---
What, Why, Where
Travel insurance is there to protect you should something go wrong during your holiday, or before as we'll discuss further on. It's essentially a gamble that you take – everything can go smoothly and you rage at the fact that you've forked out money on something that you haven't actually "used". But should an unexpected turn of events take place leaving you stranded, inconvenienced or injured, you'll undoubtedly be thanking the heavens.
Travel insurance is valid for international and domestic travel with varying levels of cover depending on the activities you take part in during your holiday, the length of your trip and the destinations that you travel to.
DID YOU KNOW? – Travel insurance is more expensive when travelling to the USA because of the country's high medical costs.
Included or Excluded
It is imperative that you read the fine print and understand what is included and excluded under your travel insurance policy. If you need specific coverage for an activity or particular destination, make sure to check with your provider whether it is covered. We've summarised some of the more common items that are included or excluded in standard travel insurance policies. These inclusions often come with limits, so as always, read the fine print. Excluded options can be added to a policy depending on the provider and activity.
| | |
| --- | --- |
| INCLUDED | EXCLUDED |
| Cancellation, curtailment and trip interruption | Pre-existing medical conditions |
| Lost, stolen or damaged baggage, personal effects or travel documents | High risk sports (scuba diving, skiing) |
| Medical treatment | Incidents involving alcohol and/or drugs |
| Travel delays due to weather | Rental car coverage |
| Repatriation of remains |  Some cancellations |
Travel Insurance Lingo
Excess: The excess (or deductible) is the agreed amount you must pay towards any claim that you make on your policy. The remaining amount is paid by your travel insurance provider up to the limit of your cover. The excess will often be variable. If you choose to reduce your excess, you will pay more when purchasing your policy.
Example – Your excess is £300. Your DSLR camera is stolen whilst holidaying in Barcelona. The camera is brand new and you purchased it for £750. You submit a claim to your travel insurance provider. You will receive £450 back from the travel insurance provider (£750 – £300).
Premium: This is the cost of the insurance policy that you select and is the amount you will pay to your travel insurance provider. The cost of your premium will vary depending on a number of variables including (but not limited to): country or countries you travel to, length of trip, extras such as snowboarding or scuba-diving and pre-existing medical conditions. The more comprehensive your cover, the higher your premium tends to be.
Claim: The policyholder will make a claim to the travel insurance provider to recover an amount for their loss or inconvenience. The amount of the claim is dependent on the selected excess, policy limits and other terms and conditions. A claim will require the policyholder to submit a form and evidence to support their claim. Each claim is individually assessed.
It is important for travellers to understand the timeframe of when a claim can be lodged after the incident or inconvenience occurs. This may affect your eligibility to reimbursement or compensation.
Pre-existing medical condition(s): Any condition for which symptoms were present and the person sought and/or received medical advice or treatment prior to taking out the travel insurance policy.
Repatriation: To return to one's own country. When you take out an insurance policy, you will be asked for your Country of Residence. This is important in the event of medical emergencies but usually refers to the return of your remains in the unfortunate event of death.
Cover Me Up
Your choice of cover will vary depending on the duration of your holiday, the frequency of your trips and the type of activities you wish to participate in. Here are some factors for your consideration:
Single-Trip – Quite self-explanatory, really. The travel insurance policy will cover you for a single trip from start to finish. Again, make sure to read the fine print. Most policies we have encountered stipulate that a single trip can be no longer than 30 or 45 days.
Annual Multi-Trip – For frequent travellers, an annual multi-trip policy may be the best option for you. If you plan on taking more than two trips in a year, evaluate the cost of a multi-trip policy compared to multiple single trip policies. When we were European residents, this type of insurance policy provided efficient, cost-effective cover for several trips within and across continents.
Sports/High Risk Activities – Any activity where there is a higher element of risk will always cost extra. Activities such as skiing, snowboarding, scuba diving and mountain climbing will have an additional premium regardless of whether you choose a single-trip or multi-trip insurance policy. Some businesses will also require proof of your travel insurance before partaking in a high risk activity so make sure to check beforehand if you know which operator you'll be using on your trip.
Who To Choose?
There are so many travel insurance providers that choosing a policy can be a daunting task.
Travel agents and banks can help you navigate the murky terms and conditions and fine print. Alternatively, specialist insurance companies such as Worlds Nomads and Covermore offer relatively clear and comprehensive travel insurance policies. In addition, these companies are likely to be able to provide guidance on customising more niche travel insurance policies. Most providers will have phone, online and/or 24-hour assistance. Do your research and ensure you're choosing the appropriate cover for YOU.
When To Purchase Travel Insurance
Don't leave it to the last minute. It is recommended that you buy your travel insurance policy after you've booked any non-refundable components of your trip. Policies generally include coverage for cancellation costs due to unforeseen circumstances. This may include sudden illness or injury, natural disasters, strike or lost passports. There are also specific exclusions that you will need to review.
Should I, Shouldn't I?
Ultimately, the choice is yours. While it is an extra expense, we personally wouldn't overlook it in a hurry. The level of coverage that you choose for your travel insurance may vary depending on your risk profile. If you are generally healthy, travelling for a short period of time and visiting a low-risk country, you may deem travel insurance unnecessary. If you are the type of person to worry about the worst happening, you're likely to take out a policy with more comprehensive coverage.
For us, travel insurance provides us with peace of mind. Having travel insurance could be the difference between a disrupted holiday and a nightmare that you never want to relive. Ask questions and ensure you understand the details before you enter into any agreement.
Disclaimer
We are not and do not claim to be experts on travel insurance policies. Any information provided in this blog post should be considered general in nature. Please ensure that you seek professional and legal advice from a registered insurance provider.
---
What are your views on travel insurance? Have you had a memorable travel insurance claim experience? Feel free to share your comments and stories below!
LIKE THIS POST? PIN IT AND SHARE IT!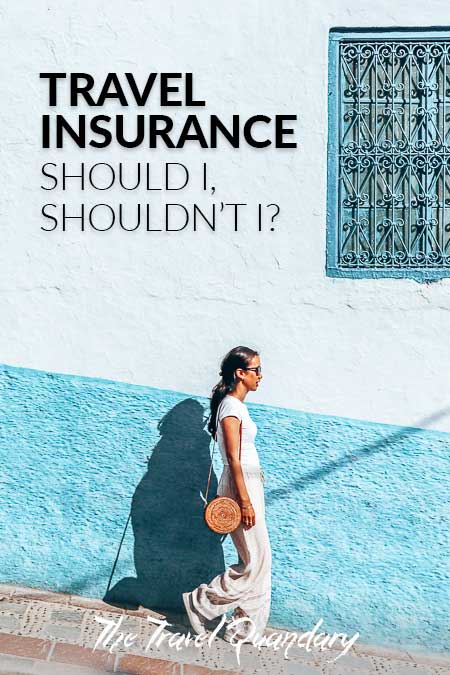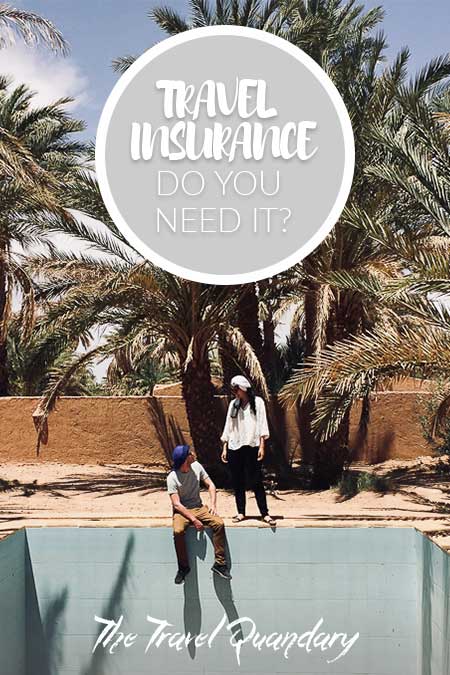 You might also like