"They say the way to a man's heart is through his stomach"
– Ian Somerhalder
We wholeheartedly agree. From Swedish meatballs to Belgian waffles, eating in Europe is a food-lover's paradise. Inhaling the scents, savouring the flavours and looking on wide-eyed at a country's cuisine through its kitchens and street stalls is one of our favourite ways to experience culture. We've written this brief guide to help you and your stomach in the right direction. You'll find some well-known treats in this list with a pinch of some our favourites from across the continent. We'd hardly call this gluttony, so go on – get in there and take a bite!
---
18 Must-Try Foods on Your Next European Adventure
---
1. Croissants – France
Fun Fact: what started out as an Austrian cookie made its way to France a few centuries ago and evolved into the puffy, flaky, buttery crescent shaped pastry you know today. Over the years, the French have developed an impeccable reputation for churning out the best croissants and variants to the delight of pastry lovers. The smell of freshly baked pastry wafting from patisseries early in the morning usually has us rushing to grab one, even before our first café au lait.
Where to eat croissants?
PAIN PAIN
Address | 88 Rue des Martyrs, 75018 Paris
Website| pain-pain.fr/
Our recommendation | The almond croissant. THE. BEST. EVER!
---
---
2. Pierogi – Poland
If you're a fan of dumplings and gyozas, then there's a high chance that you'll enjoy eating pierogi too. Pierogi are filled dumplings of Central European origin, particularly prominent in the Slavic countries. It's the perfect snack food but one can easily make a meal of it too. Made with unleavened dough, they are usually filled with savoury fillings including minced meat, potato and sometimes cheese, before being cooked in boiling water. Pierogi may be served with toppings such as melted butter, sour cream or fried onion. In some places, you'll also find pierogi with sweet fillings for those wanting a bit of dessert.
Where to eat pierogi?
Przystanek Pierogarnia
Address | Bonerowska 14, 33-332 Kraków, Poland
Website| przystanek-pierogarnia.pl
Our recommendation | Mixed plate pan-fried in butter with onions
3. Sunday Roast – England
It would be easy to choose other English staples such as fish 'n' chips or Chicken Tikka Masala (yes, you read that right, more on that here) as England's must-try food. However, we can attest the worthiness of one of our favourite English meals, the Sunday Roast. Having both spent two years living in London, we learnt that Sunday Roast is an institution. Head down to a local pub on a Sunday afternoon with some mates, sit in the beer garden and order a roast with your pint of beer.
Where to eat Sunday Roast?
Marksman Public House
Address | 254 Hackney Rd, London E2 7SJ, UK
Website| marksmanpublichouse.com/
Our recommendation | Whole Roast Chicken,Bobby Beans and Mustard (for two). Don't forget the Yorkshire Pudding.
4. Francesinha – Portugal
If you're after the ultimate hangover meal, we have just the one. The Portuguese sandwich which originates from Porto combines bread and a meat filling (typically wet-cured ham, fresh sausage, steak or roast meat), before smothering it with melted cheese and a tomato and beer sauce and serving it up with a side of french fries. It's been described as a crude adaptation of the French croque monsieur, which you may agree with once you taste it yourself. It's a beast of meal and some would say, the epitome of gluttony. But we're not here to judge.
Where to eat francesinha?
Café Santiago
Address | R. de Passos Manuel 226, 4000-382 Porto, Portugal
Website| cafesantiago.pt/pt/
Our recommendation | Francesinha Santiago®
5. Gözleme – Turkey
A traditional savoury dish of Turkey, gözleme is a rolled flatbread filled with a variety of ingredients before it is cooked over a hot griddle. Typical fillings include minced meat or spinach and feta. We were suitably impressed by the women of Istanbul preparing and cooking gözleme in several restaurant shop fronts. It felt as though we were peeking inside a grandmother's kitchen, learning about a receipt that has been passed down from generation to generation. Originally a breakfast item or light homemade snack, gözleme is now somewhat considered "fast-food" given its comfort food nature.
Where to eat gözleme?
Gözlemece
Address | Sinanpaşa Mahallesi, Şht. Dursun Bakan Sk. 29/A, 34353 Beşiktaş/İstanbul, Turkey
Our recommendation | The spinach & feta gözleme for a more traditional flavour combination
---
---
6. Gelato – Italy
When in Rome, right? Well, everywhere in Italy, really. Dessert lovers like us will seek a gelateria on every corner in each city and town. On a scorching summer's day, we deem it perfectly acceptable to eat at least one gelato a day. Artisanal gelaterias continue to experiment with wild and wacky flavours including basil, rosewater and liquorice. Pistachio has become quite a popular choice in the last few years but firm favourites such as chocolate and hazelnut will never go out of fashion. Whether in a waffle cone or cup, we say bellissimo!
Where to eat gelato?
Cremeria Cavour
Address | Piazza Camillo Benso Conte di Cavour, 1/d/e, 40124 Bologna, Italy
Website| cremeriacavour.it/
Our recommendation | La Dotta and Cremino Nocciola in a waffle cone
7. Bitterballen – The Netherlands
When Jasmine moved to Amsterdam, she discovered her all-time favourite bar snack. Bitterballen are a Dutch meat-based snack. Typically containing beef or veal with flour, thickening, salt and pepper and nutmeg, the mixture is rolled into balls before being deep-fried and served with mustard. With a few bottles of Heineken, this savoury treat is the perfect food to gobble down.
Where to eat bitterballen?
De Ballen Bar
Address | Hannie Dankbaarpassage 14, 1053 CG Amsterdam, Netherlands
Website| foodhallen.nl/de-ballenbar/
Our recommendation | Tasting plate of 6 bitterballen
---
---
8. Port wine – Portugal
Okay, we know this is technically not a food item but hear us out. If you're travelling through Portugal, more specifically to Porto, we honestly believe that a port wine tasting experience should be part of your visit. Port wine is a Portuguese fortified wine produced with distilled grape spirits exclusively in the Douro Valley. The three distinct types of the dessert wine are ruby, tawny and white port. We learned that are taste buds loved sipping port wine as an aperitif and also after dinner – basically, at any time of the day!
Where to drink port wine?
Taylor's Port
Address | Rua do Choupelo 250, 4400-088 Vila Nova de Gaia, Portugal
Website| taylor.pt
Our recommendation | 20 Year Old Tawny port
9. Šaltibarščiai – Lithuania
Cold borscht is a summertime dish found across Eastern Europe. In Lithuania, it is called šaltibarščiai. Instantly recognisable by its pink colour, the soup consists of beetroot juice which is blended and combined with a milk base. It is then refrigerated before serving with sliced beetroot, radishes and topped with dill. When we visited Vilnius, we were super sceptical; the soup is SO pink. But on this particular hot summer's day, it was welcomingly refreshing and tasted delicious. The lesson is taste first, judgement second!
Where to eat šaltibarščiai?
Šnekutis
Address | Šv. Stepono g. 8, Vilnius 01138, Lithuania
Website| jususnekutis.lt
Our recommendation | Šaltibarščiai which comes served with boiled potatoes
10. (Swedish) Meatballs – Sweden
Sweden didn't just give the world IKEA and ABBA. It also gives us Swedish meatballs. In Sweden, meatballs are referred to as köttbullar and are typically made from beef, however, it is not uncommon to see veal, venison or reindeer on the menu too. Swedish meatballs are usually served with a gravy or creamy sauce; the perfect dinner for a cold winter's night.
Where to eat Swedish Meatballs?
Meatballs for the People
Address | Nytorgsgatan 30, 116 40 Stockholm, Sweden
Website| meatball.se
Our recommendation | Classic meatballs with potato purée and lingonberries
---
---
11. Haggis – Scotland
The national food of Scotland, haggis is a dish whereby you'll wish that you had not known the ingredients before you tasted it. The main ingredients are sheep's heart, liver and lungs, which are minced and mixed with onion, oatmeal and spices. Traditionally, the mix is then stuffed into the animal's stomach lining before being cooked. Sounds delicious, right? Well, once you've overcome the mental barriers of eating offal, it actually doesn't taste too bad. For a true Scottish experience, order a serve of haggis alongside "neeps and tatties" and a dram of Scotch whisky.
Where to eat haggis?
Whiski Bar & Restaurant
Address | 119 High St, Edinburgh EH1 1SG, UK
Website| https://www.whiskibar.co.uk/
Our recommendation | Haggis Tower and the barman's whisky recommendation
12. Ćevapi – Bosnia & Herzegovina
Unfortunately, our vegetarian friends will also need to skip this menu item. If your travels take you to Bosnia and Herzegovina or Serbia, then we recommend trying their national dish, ćevapi. Resembling a cross between a hamburger patty and a sausage, the minced meat is mixed with onion and spices, rolled into short cylinders and grilled. The cooked meat is served on traditional flatbread with a side of salad. Generally, you'll find two options on the menu; small (5 pieces) and large (10 pieces). Be aware – when the menu says "salad", it refers to a scoop of diced raw onion.
Where to eat ćevapi?
Ćevabdžinca Petica Ferhatović
Address | Bravadžiluk, Sarajevo 71000, Bosnia & Herzegovina
Website| ferhatovic.ba
Our recommendation | A large serve of ćevapi will set you back 7,00KM or USD $4
13. Cardamom Bun – Finland, Sweden & Estonia
One of our favourite snacks whilst travelling through Scandinavia (and as we discovered, even in the Baltics) were these tasty little treats. Cardamom bread is commonly eaten in Finland (pulla) and Sweden (kardemummabullar). Usually baked as a loaf, you'll find different toppings such as chopped walnuts, berries and vanilla icing. The cardamom offers an intense yet floral aroma whilst the pearl sugars that sit atop of the buns will satisfy your sweet tooth. They're the perfect accompaniment to your morning or afternoon cuppa or if you want a snack to take hiking. Be sure to buy them fresh from a local bakery.
Where to eat cardamom bun?
RØST Bakery
Address | Rotermanni 14, 10111 Tallinn, Estonia
Website| rost.ee/
Our recommendation | Cardamom bun with your specialty coffee
14. Currywurst – Germany
At the end of WWII, an entrepreneurial German, Herta Heuwer, started selling this snack to construction workers in Berlin. Obtaining ketchup and curry powder from British soldiers in Germany, she combined these two ingredients with other spices and served her newly made condiment with grilled pork sausages. Today, plenty of snack stands and greasy spoons serve currywurst with fries (mit pommes frites) or bread. Simple, yet delicious, this German fast food will provide a quick feed that won't break the bank.
Where to eat currywurst?
Curry 36
Address | Mehringdamm 36, 10961 Berlin, Germany
Website| curry36.de
Our recommendation | Place your order 'Berlin' style by saying "currywurst ohne darm", which is currywurst without the skin

---
---
15. Tapas, Pinchos, Pintxos – Spain
In Spain, you'll notice that typical dinner hours for Spaniards are quite late, generally between 9pm – midnight. To sate those hunger pains in between meals or as an accompaniment to your bar-hopping escapades, make sure to taste the local tapas. A tapa is an appetizer or snack and may be served cold or hot. In many bars across Spain, tapas are served complimentary when you order a drink. Whether it's a slice of cured meat on top of a portion of bread, a small dish of olives and cheese or one of our favourites, patatas bravas, you may find that your snack evolves into your evening meal. No judgement here.
Where to eat tapas, pinchos & pintxos?
Quimet y Quimet
Address | Poeta Cabanyes 25, Barcelona, Spain 08004
Website| www.facebook.com/quimetyquimet/
Our recommendation | One of everything
16. Waffles – Belgium
If you plan to visit Belgium, make sure to pack your stretchy pants. From waffles to fries, beer to chocolate; Belgium is a foodies haven. Belgian waffles are a lighter variety than its American cousin, with larger squares and deeper pockets. Typical toppings include whipped cream, drizzled chocolate, ice cream, strawberries and icing sugar. This decadent treat is sure to satisfy the cravings.
Where to eat Belgian waffles?
Oyya
Address | Noordzandstraat 1, 8000 Brugge, Belgium
Website| oyya.be/
Our recommendation | Nutella waffles
17. Cremeschnitte – Slovenia
One of Bevan's favourite desserts is vanilla slice. So when we visited Bled in Slovenia in 2017 and discovered kremšnita, his excitement levels were the equivalent to that of a little boy on Christmas morning. Cremeschnitte is a chantilly cream and custard cake dessert popular in several Central European countries. The name cremeschnitte or kremšnita simply means "cream slice". There are many regional varieties, however, all include a puff pastry base with a custard cream filling. Trust us when we say that this is a dessert that you will happily make room for.
Where to eat cremeschnitte / kremšnita?
Slaščičarna Zima
Address | Grajska cesta 3, 4260 Bled
Website| slascicarna-zima.si/
Our recommendation | One generous square of vanilla cream cake from Zima can easily be shared between two people!
18. Wiener Schnitzel – Austria
Sometimes the simplest of dishes are often the best. This rule applies to the wiener schnitzel or wienerschnitzel depending on where you are. Originating from Austria, the thinly sliced veal cutlet is dipped in breadcrumbs before it is pan-fried. Served with a slice of lemon accompanied by some boiled potatoes and salad, this dish is not one to miss when passing through Austria or neighbouring Germany.
Where to eat wiener schnitzel?
Café Landtmann
Address | Universitätsring 4, 1010 Wien, Austria
Website| landtmann.at/
Our recommendation | Classic wiener schnitzel. Apfelstrudel for dessert
---
What other must-try culinary delights have you discovered in Europe? Share your eating adventures with us!
LIKE THIS POST? PIN IT AND SHARE IT!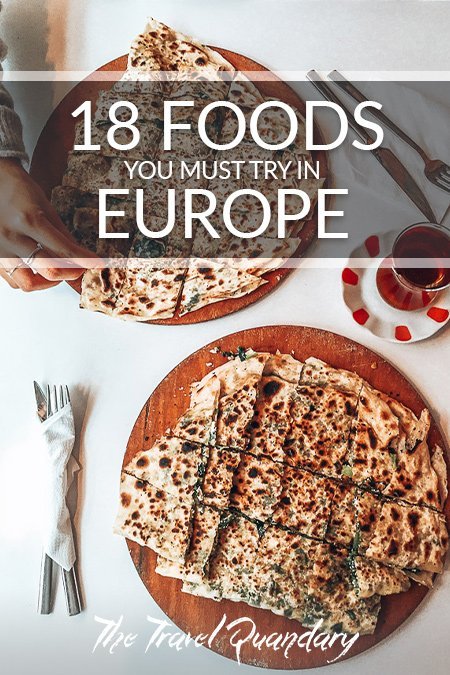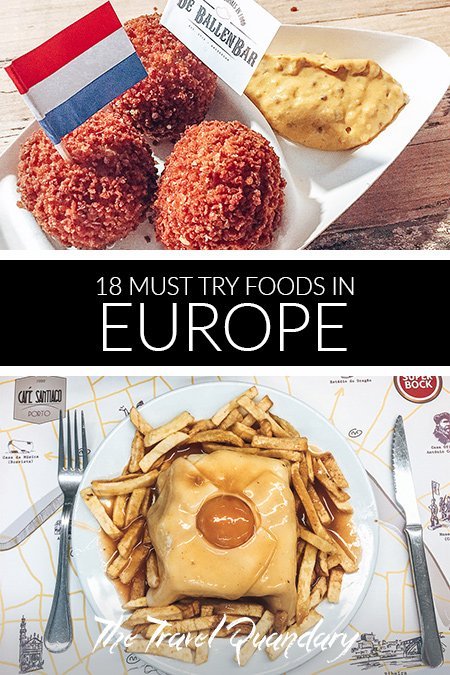 You might also like