Dare we say that Prague is one of the most beautiful cities in the world. The cosmopolitan capital of the Czech Republic, Prague has become the jewel of Bohemia. The city offers a melting pot of stunning architecture; from the Gothic 14th-century Charles Bridge, elegant art nouveau details and harsher cubist facades. Romanticism has not died in this city. With Prague Castle sitting proudly on the banks of the Vlatva river, let yourself wander aimlessly through the narrow cobbled lanes. Discover the beauty and significance of the Jewish Quarter, admire the intricacies of Baroque libraries and ensure you knock back a few pilsners. It's impossible to see all of Prague in 2 days, let alone a week! So check out our comprehensive guide to make the most of your time in this resplendent city.
---
THE ESSENTIAL PRAGUE CITY GUIDE
---
WHAT TO SEE & DO
Klementinum
Klementinum has become most famous for its baroque library which has been hailed the "Most Beautiful Library in the World". It's the pinnacle of #librarygoals for bookworms. Founded by the Jesuits in the mid 16th century, Klementinum covers an area of 2 hectares in Prague's Old Town, making it the second largest complex in the Czech capital.
The admission price includes a 50-minute guided tour in English, a spectator's view of the library, a brief stop in the Meridian Hall and access to the Astronomical Tower. Photos of the library are strictly prohibited and visitors are not permitted in the library itself. Visitors stand on a small observation deck to peek inside the darkened room to glimpse the ceiling frescoes painted by Jan Hiebl and the collection of globes in the middle of the room. But don't be too disappointed about snapping a pic of the beautiful library hall. You'll climb the Astronomical Tower where the former observatory functioned and which grants you 360° views of Prague's historical centre.
Tours depart every 30 minutes from 10.00am with a maximum of 22 people per tour. Be prepared to ascend and descend a mix of spiral and steep wooden staircases throughout the guided tour.
Address | Mariánské nám. 5, 110 00 Staré Město
Opening Hours | 7 days a week from 10am. Closing time varies depending on season. Check website for confirmation.
Admission Price | 300 CZK (Cash & Card Accepted)
Website | http://www.klementinum.com/en/
Strahov Monastery
On the outskirts of Prague sits the Strahov Monastery. Most likely to appeal to art and history lovers, if you visited the Klementinum library and loved it, there's a high chance you'll love this spot too. Since the 12th century, Strahov Monastery has undergone construction and several reconstructions following multiple attacks from plundering armies and powers.
Today, the monasterial buildings consist of the Basilica of Assumption of Our Lady, the Theological Hall, the Philosophical Hall, the Cabinet of Curiosities and the Convent Building. The impressive frescos in both the Theological Hall and the Philosophical Hall depict various scenes and stories from the Bible. Over 20,000 volumes are stored in the Theological Hall with one wall exclusively devoted to various editions of the bible. The total number of volumes in the Philosophical Hall exceeds 50,000. General admission allows visitors to observe the Theological and Philosophical Halls from a distance with photo-taking permission costing extra. Guided tours of both halls can be arranged at an additional cost and must be booked in advance. These tours include photo-taking privileges.
Address | Strahovské nádvoří 1/132, 118 00 Praha 1
Opening Hours | Sunday – Monday 9:00am – 5:00pm (Closed for lunch break 12:00 – 1:00pm)
Admission Price | 120 CZK. Photo permission 50 CZK (Cash Only)
Website | https://www.strahovskyklaster.cz/
Prague Castle
Founded in the 9th century, Prague Castle served as the seat of Czech rulers and later presidents. This jewel in Prague's tourism crown is one of the largest castle complexes in the world covering an area of 45 hectares. It consists of historical palaces, offices, churches, fortified buildings and expansive gardens. The construction of the Gothic-style St Vitus Cathedral that sits within the complex was finished in 1929 after original construction was initiated in the 11th century.
The panoramic view of the city from Prague Castle is also one not to be missed. Most of the castle areas are open to tourists. The castle houses several museums, numerous art relics, historical documents and the Czech crown jewels. Photographing permissions must be purchased. Audio guide services and guided tours are also available.
FUN FACT: In 1995, the Rolling Stones donated $32,000 for a lighting renovation in four of the halls of Prague Castle.
Address | 119 08 Praha 1
Opening Hours | Check here
Admission Price | 350 CZK
Website | https://www.hrad.cz/en/prague-castle-for-visitors
Prague Astronomical Clock
The medieval tower clock ("Orloj") sits on the southern side of the Old Town Hall Tower and has amazed people with its hourly procession show for over 600 years. The famed clock consists of three main components: the astronomical dial that represents the Sun and the Moon, the famed "Walk of the Apostles" shown with intricate statues of various Catholic saints in motion alongside a figure of Death, and a calendar dial with medallions representing the months of the year. Make sure to stand underneath the Town Hall to watch the impressive procession on the hour.
Address | Staroměstské nám. 1, 110 00 Staré Město
Opening Hours | Monday 11:00am – 10:00pm. Tuesday – Sunday 9:00am – 10:00pm.
Admission | 250 CZK
Website | The Official Tourist Website for Prague
DOX Centre for Contemporary Art
Housed in a former factory in Prague's Holešovice district, the DOX Centre is not merely another "modern art museum" as we initially thought. In fact, the name DOX derives from the Greek word doxa, meaning a way of perceiving things, an opinion or a conviction. The multi-functional space features contemporary exhibitions from international and Czech artists and encourages visitors to critically reflect on and discuss current social topics and issues. We were fortunate to see the WELCOME exhibition, a collection of writers and illustrators from 12 countries who each expressed their response to the global refugee crisis through various media. Exhibitions rotate every few months and there is also a bookshop and cafe with outdoor terrace on site.
Address | Poupětova 1, 170 00 Praha 7
Opening Hours | Monday 10:00am – 18:00pm. Tuesday – Closed. Wednesday 11:00am – 7:00pm. Thursday 11:00am – 9:00am. Friday 11:00am – 7:00pm. Saturday – Sunday 10:00am – 6:00pm
Admission Price | 180 CZK
Website | http://www.dox.cz/
Walk through the Jewish Quarter
The Jewish Quarter in Prague, also known as Josefov, is one of the most significant historical areas of Prague. The history of the Prague Jewish Ghetto dates back to the 13th century when its inhabitants were expelled to this area between the Old Town and the Vltava River. Fortunately, six Jewish synagogues and the Old Jewish Cemetery have survived war, segregation and occupation and are available for visitors to admire today. To discover more and learn of the turbulent history, take a walking tour which may also include entrance into the Jewish Museum of Prague
Eat a trdelnik
You can't visit Prague without trying a trdelník. Trdelník is thought to be of Slovak origins and can also be found in neighbouring countries Austria, Slovakia and Hungary. The cylindrical spit cake is made from a dough that is wrapped around a stick and grilled slowly. The doughnut-like treat is then topped with a sugar and walnut mix. Find little stands around the city that serve trdelník fresh and piping hot and topped with fresh cream and strawberries if you're lucky!
WHERE TO EAT & DRINK
Bistro 8
We originally sought out Bistro 8 for a light dinner but decided to do brunch instead – and we're super glad that we did! We visited their branch over in Praha 7, a two-room airy space with indoor and outdoor seating. The creation of Bistro 8 was inspired by the traditional Parisian bistros. The eatery is an advocate for sourcing and using sustainable products from local growers and producers. Their commitment to seasonal produce is reflected in their menus which change on a weekly basis. On the Saturday we arrived, the banana and coconut pancakes with pomegranates, mango dressing and caramel sauce more than satisfied our sweet tooth, while the shashuka eggs with warm pitta bread set us up nicely for the day. A healthy smoothie with a reusable straw made us love these guys even more for taking this small environmentally helpful step. Most importantly, we discovered that the owners have fabulous taste in coffee with their coffee beans coming from one of our London favourites, Climpson & Sons. Highly recommended.
Address | Veverkova 1410/8, 170 00 Praha 7
Opening Hours | Monday – Friday 9:00am – 10:00pm. Saturday – Sunday 10:00 – 5:00pm
Best For | Light, healthy brunch & coffee
Website | http://bistro8.cz/veverkova
---
---
Café Louvre
In the heart of the Old Town, Café Louvre oozes history. Famous writers, professors and actors have graced this café, either fleetingly or on a regular basis since its opening in 1902. Climb the spacious staircase with its robust metal Art Nouveau handrail and dine in one of the salons which was one of the first to invite Prague ladies of high society to take afternoon coffee.
In comparison to its peers, Café Louvre opens from 8am on weekdays in keeping with its tradition a hundred years ago. As such, the long opening hours makes the cafe a popular haunt for locals and visitors alike. Given its ideal location, the restaurant-bistro is constantly buzzing which we witnessed first-hand on a Sunday morning when we dropped by for Viennese coffee and cake. On a quieter day, the establishment encourages a game of chess or billiards which can be hired for a small fee and keeps with the traditions of the coffee-house games. If you want to sample traditional Czech cuisine such as beef goulash with Carlsbad dumplings, this is a wonderful spot (albeit a tad touristy) to do so. Make sure to book in advance.
Address | Národní 22, 110 00 Praha 1
Opening Hours | Monday – Friday 8:00am – 11:30pm. Saturday – Sunday 9:00 – 11:30pm
Best For | Traditional Czech cuisine
Website | https://www.cafelouvre.cz/en
Sisters Bistro
A couple of streets back from the city main square, Sisters Bistro sits at the entrance to a sleek passageway next to the popular Naše maso. It's the perfect pit stop if you're after a light lunch and a chance to rest your legs away from the bustling crowds. Open top sandwiches are lined up in meticulous order. Choose from simple combinations such as egg and cheese or salmon with cream cheese and dill. We'd recommend the beetroot and goat's cheese topped with walnuts as well as the roast beef! Some seating is available inside the small bistro with a selection of coffee and juices too.
Address | Dlouhá 727/39, 110 00 Praha 1
Opening Hours | Monday – Friday 8:00 – 7:00pm. Saturday 9:00am – 6:00pm
Best For | Light lunch
Website | https://www.chlebicky-praha.cz/
---
---
Sansho
If you're after something a little different from traditional fare, head to the edge of the city to Sansho. This Vietnamese-inspired menu delivers on high-quality food and service. Founded by British chef-owner, Paul Stafford, Sansho follows a philosophy of zero waste, priding itself as a whole animal restaurant. Meat and Asian produce is sourced from locals farmers, ensuring that the business is giving back to the community and working alongside like-minded entrepreneurs.
We visited Sansho for weekend lunch. Waiters proffered jugs of water with cucumber and mint, a cool refresher from the warm sun as we sat outside this early Saturday afternoon. The lunch menu is a la carte (divided into raw dishes, smaller and larger dishers) and designed for sharing. We opted for the bio beef tartar with fried bao, which made for an excellent starter. We then shared the Sansho duck toastie and pork belly with Chinese broccoli which had our umami tastebuds going wild!
The weekday lunch and dinner menus differ from the weekend's menus. If we've tweaked your curiosity, you can check out sample menus on their website. Make sure to book in advance if choosing the dinner tasting menu option!
Address | Petrská 1170/25, 110 00 Nové Město
Opening Hours | Tuesday – Friday (Lunch) 11:30am – 2:00pm. Tuesday – Saturday (Dinner) 6:00pm – 11:00pm. Sunday – Monday: Closed
Best For | If you're craving Asian cuisine
Website | http://sansho.cz/
Hillbilly
If you like burgers, you should visit Hillbilly Burgers. If you also like chilli, then you should definitely visit Hillbilly Burgers. Descend from street level into this hamburger restaurant with wooden floors, black back wall and tables for two and four. Bunting in plaid patterns and black and white photos of hillbillies on the wall round out the decor. The menu heavily favours meat lovers with predominantly beef and chicken options however, veggie options are available on request. In keeping with the theme, burgers mostly have Hillbilly names such as Joe, Jerry and Marvin. We sunk our teeth into Chill-billy and Dirty Sanchez burgers with a side of (medium) chilli fries. The accompanying Muflon beer was a welcome relief to help cool down our taste buds! Reservations recommended.
Address | Pplk. Sochora 974/21, 170 00 Praha 7-Holešovice
Opening Hours | Monday: Closed. Tuesday – Friday 4:00pm – 10:00pm. Saturday 12:00pm – 10:00pm. Sunday 12:00pm – 9:00pm
Best For | Burgers & Chilli Lovers
Website | https://hillbilly.cz/
Letná Zahradní Restaurace
On a balmy afternoon, make your way up the hill towards Letná Zahradní Restaurace. Outside the popular restaurant and wedding function venue is a beer garden that sits under tall shady trees. The best thing about this spot (other than drinking cheap beer with your mates) is the panoramic view of the city including Charles Bridge and Prague Castle off in the distance. There are plenty of picnic tables available and you'll find yourself mingling with plenty of locals too. Further along from the beer garden is a skateboard park and another lookout at the Prague Metronome.
Address | Letenské sady, 170 00 Praha 7
Opening Hours | Daily 11:00am – 11:00pm
Best For | Drinking beers and watching the sunset over the city
Website | http://www.letenskyzamecek.cz/en
Lokál Dlouhááá
If you have a few days in Prague and don't fancy walking back up Letná hill to watch another sunset, we highly recommend grabbing a pint at Lokál Dlouhááá. The bar's lively atmosphere offers insight into Prague's pub culture as many locals come here to meet up with friends. As per Czech tradition, you will continually be served beer until you signal to your waiter that you don't want another. If you've finished drinking, place your coaster over the top of your glass. If you forget or it's blatantly obvious that you're not of Czech origins, your waiter will likely just ask you if you'd like another drink before dropping a glass of pilsner in front of you.
Address | Dlouhá 33, 110 00 Praha 1
Opening Hours | Monday – Saturday 11:00am – 1:00am. Sunday 11:00am – 12:00am
Best For | Drinking beers with the locals
Website | http://lokal-dlouha.ambi.cz/en/
Naše Maso
For meat lovers, we highly recommend heading to Naše Maso for dinner. This restaurant will look more like a butcher's shop than a restaurant but don't let this sight dissuade you. The establishment is cosy in size but rich in flavour. Naše Maso is fully transparent of their supply chain. The company is proud to work alongside suppliers that guarantee the highest quality from local Czech farmers, reduce waste and offer its customers a wide range of product.
Dinner is served from 7.00pm from Monday to Wednesday at a set price of CZK 1300 per person so ensure that you book in advance (drinks are not included). You can expect a multi-course meat feast with traditional and non-traditional methods of cooking. Should you visit during the day, the shop offers hot dogs if you want to grab something for lunch. An added bonus, the restaurant has a refill station for your beer, at no extra charge. What better way to finish your Prague adventures than with a hot dog and a few more pilsners.
Address | Dlouhá 727/39, 110 00 Praha 1
Opening Hours | Monday – Friday 10.00am – 10.00pm. Saturday 10.00am – 6.00pm
Best For | Meat Lovers
Website | https://www.nasemaso.cz/en/
FOOD RECOMMENDATIONS: If you're looking for traditional Czech food to eat whilst in Prague, take a read of this guide to traditional Czech dishes.
WHERE TO SHOP
Perníčkův sen
The tradition of baking gingerbread in the Czech Republic dates back to the 14th century. The shapes in which gingerbread is pressed holds many symbols. The heart represents love, the egg represents fertility and resurrection, a stag represents long life and a rooster symbolises goodwill.
Perníčkův sen is a popular family-owned establishment that bakes its gingerbread daily. Mixtures will include lemon or rum with additions such as walnuts and almonds not uncommon. Gingerbread from the famed city Pardubice is also sold here. Nestled between the Old Town and Florenc neighbourhoods, make sure to visit to pick up some treats to take home with you. The store is admirably committed to reducing its own carbon footprint and is now charging customers for plastic bags.
Address | Haštalská 757/21, 110 00 Praha 1
Opening Hours | Daily 10:00am – 6:00pm
Website | http://www.pernickuvsen.cz/
Harddecore
Harddecore is a boutique store that would have no trouble fitting in in Scandinavia. Stocking women's clothing, jewellery, accessories and homewares, you'll find that sleek minimalism is the common theme among the contemporary designs by both Czech and foreign designers. Founded by designer friends, Josefina Bakošová and Petr Bakoš, the Harddecore gallery focuses on featuring products that have minimal destructive impact on the environment and aims to showcase beautiful objects for people to enjoy them.
Address | Senovážné nám. 2088/10A, 110 00 Praha 1
Opening Hours | Monday – Friday 11:00am – 7:00pm. Saturday 11:00am – 5:00pm. Sunday – Closed.
Website | http://harddecore.cz/
Leeda Fashion Store
On the edge of the Old Town, swing by Leeda Fashion Store to find some cutting-edge Czech fashion. Lucie Kutalkova is the head designer and CEO of Leeda and oversees the entire design and production process in the Czech Republic. With a focus on quality materials, tailoring and minute details, Leeda's clothing exemplify an elegant fluidity that also has an emphasis on asymmetrical designs. Leeda apparel and accessories in-store sit alongside jewellery made by other local designers.
Address | Bartolomějská 304/1, 110 00 Praha 1
Opening Hours | Monday – Saturday 11:00am – 7:00pm
Website | https://leeda.cz/
WHERE TO STAY
Old Town
If you're after convenience with everything on your doorstep, than the Old Town is for you. You'll be within walking distance of Charles Bridge, the Klementinum, Prague's Astronomical Clock, the Jewish Quarter Josefov and many more sights. Trams and buses are easy to access and you'll discover an abundance of options to choose from when looking for something to eat.
Bubny
Located across the Vltava River, Bubny's more modern feel with be more suited to those wanting a mix of old and new. In this neighbourhood, you can easily walk to Letná Hill to catch sunset over the city from the beer garden before heading off to dinner at either Bistro 8 or Hillbilly. For culture fans, why not visit the DOX Centre for Contemporary Art or catch a flick at BIO OKO.
Florenc
To the east of the Old Town, Florenc provides you quick across to the Old Town. Bus, metro and tram options will get you across town for those attractions a little further away. Head to EMA Espresso Bar to get your coffee fix in Prague before finishing your day with an Asian fusion dinner at Sansho. Prague's main train station, Praha Hlavní Nádraží, is also located a short walk from Florenc.
Smíchov
If you're after something away from the tourist crowds, then staying in Smíchov might be for you. The modern business hub of Prague bustles next to a large shopping centre, contemporary cafes and galleries. The walk along the Vltava River to the Old Town or Prague Castle is around 30-45 minutes.
Vinohrady
The leafy inner suburb of Vinohrady is a great place for those looking for a residential neighbourhood that's a short hop on the metro across Prague. Don't miss coffee and cake at La Bohème Café or the chess and piano players in Namesti Miru square.
The Travel Quandary recommends…
Post Hostel Prague
Post Hostel Prague is located on the rim of the Vinohrady neighbourhood and is an ideal spot for budget travellers to the Czech capital. The friendly team at reception will welcome you warmly and can help to organise excursions for you with other travellers. Privacy curtains on each of the beds are a big plus for those who just need a bit of quiet alone time or some shut eye.
Address | Moravská 1530/9, 120 00 Praha 2
Website | http://www.posthostelprague.com/
HOW TO GET THERE
By Plane
Václav Havel Airport Prague, formerly Prague Ruzyně International Airport, is the international airport of Prague. Flights within the Schengen area arrive at Terminal 2 and flights outside the Schengen area arrive at Terminal 1. It is located 12km from the city centre.
From Prague Ruzyně International Airport, it is easy enough to catch public transport buses. The 119 bus line is fastest (15 minutes) and may require a change at Metro Line A. Alternatively, the 100 bus line takes approximately 18 minutes and may require a change at Metro Line B. Tickets can be pre-purchased in the arrival halls.
You can also travel to Prague city centre by shuttle bus with Airport Express (AE). The shuttle bus departs only from Terminal 1 with the final stop directly in front of Prague's main railway station, Praha Hlavní Nádraží. Tickets can be purchased from the bus driver. Travel time is approximately 25 minutes.
By Train
The main railway station in Prague is Praha Hlavní Nádraží. It can be accessed from neighbouring European cities including Berlin (4 hrs), Vienna (4 hrs) and Budapest (6.5 hrs). Check Rail Europe or Rome2Rio for travel availability and ticket prices.
By Bus
The main bus terminal in Prague is Praha Florenc ÚAN, located close to metro station Florenc (lines B & C). It is very close to the main railway station. Florenc bus terminal is used for both national and international connections. Check Rome2Rio for bus companies that travel to and from Prague to book your ticket accordingly.
By Car
From the South (Český Krumlov), the main road is via D3 and Route 3 or via Route 20/E49.
From the West (Nuremberg), the main road is the E50.
From the North (Dresden), the main road is Route 8.
From the East (Wroclaw), the main road is via A4 or D11.
---
LOOKING FOR A FAIRYTALE? READ
HOW TO SPEND A WEEKEND IN ČESKÝ KRUMLOV
---
WHAT TO KNOW
Koruna, not Corona
Whilst it is common knowledge that beer is cheaper than water, you won't be able to use Mexican beer as a form of payment. Czech korunas is the official currency of the Czech Republic. Cash and card are acceptable methods of payment.
Public Transport
Prague is well connected by three metro lines, trams and buses. Visitors can purchase tickets from the arrival halls at the airport, metro stations or newsagent kiosks that can be used on all public transport services. It would be wise to have some cash and coins handy.
30 mins – 24 kr
90 mins – 72 kr
24 hrs – 110 kr
72 hrs – 310 kr
---
Have you visited Prague? What are your top places to visit? Share with us down below!
LIKE THIS POST? PIN IT AND SHARE IT!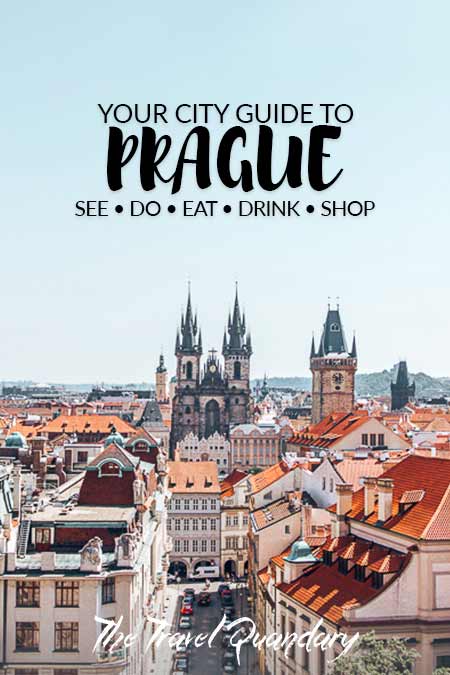 You might also like