In this modern day and age where technology is becoming smaller to make our lives go seemingly "faster", it's a wonder that we are still fascinated with ancient history when life moved at a much slower pace. And nowhere are we more enchanted with at this moment than the medieval city of Dubrovnik.
Nicknamed the "Pearl of the Adriatic", Dubrovnik was previously a port for naval merchants. A mere 48 hours in Dubrovnik will see you walk the perimeter of the city walls, taste traditional seafood dishes, hike to the top of Srd mountain and kayak on the calm waters of the Adriatic Sea. Don't despair if you're not a Game of Thrones fan (although shame on you). You'll (unknowingly) walk through King's Landing and delight in getting lost among the limestone alleyways, marvelling at the preservation of the fortifications and architecture. Visitor numbers keep going up and up and it's of no surprise. The beauty and charm of this ancient city will have you wishing that you had a kingdom of your own.
---
A 2 DAY ITINERARY FOR DUBROVNIK, CROATIA
---
WHAT TO SEE & DO
Walk the City Walls
Dubrovnik's ancient city walls are a renowned feature of the city and a must-do for first-time visitors. The medieval walls run uninterrupted around the city for almost two kilometres and include a complex system of forts, bastions and towers. Systematically constructed to avert enemy attacks, the defensive walls have been skillfully preserved throughout history. From atop the walls, there are magnificent views over the terracotta rooftops and the Adriatic Sea. Allow approximately two hours to complete the circuit at a steady pace and for taking photos. Entrance is 150 kuna per adult.
TIP: There are three entrances to Dubrovnik City Walls. To avoid the lines and crowds on the east side close to Pile Gate, make your way to the west side of the city. The second entrance is close to the inner Ploce Gate while the third entrance is located behind Dubrovnik Cathedral near the Maritime Museum. If you opt for the third option, walk to the end of Ul. od Pustijerne, pass Cogito Coffee on your right and the entrance will be on your left up a short flight of stairs.
Climb up to Fort Lovrijenac
Fort Lovrijenac or St Lawrence Fortress sits 37 metres above the sea. It played an important role in Dubrovnik's history as defense against the city's enemies, particularly the Venetians. Nowadays, visitors are able to climb the stairs up to the fortress to enjoy sweeping views of the Adriatic Sea and the Old Town. Lovrijenac is also used to stage theatre performances, with Shakespeare's Hamlet put into production each year during the Dubrovnik Summer Festival.
TIP: Don't purchase a separate ticket to visit Fort Lovrijenac; entry into the fortress is included in the ticket price of the City Walls.
Hike up Srd Mountain
Those pictures that show an almost aerial view of Dubrovnik Old Town and immediate surrounds are likely to have been snapped from Srd Mountain. Hike to the top of Srd mountain via a rocky zigzag path (wear sturdy walking shoes) and stop along the way for the best vantage points of the Old Town and surrounding sea. Alternatively, you can choose to ride the Dubrovnik cable car (Adults: 85 kuna one-way or 140 kuna return). A small restaurant and gift shop are at the top as well as a museum. Arguably, the view from the panoramic terrace is not as impressive as the views from the hiking path. If you choose to go to the top in the afternoon, you can watch a beautiful sunset over the Adriatic Sea.
TIP: If choosing to hike to enjoy the sunset, be aware that the path is not lit up at night. Plan your route down the mountain if you plan to be at the top when evening falls.
---
---
Wander the alleys and stairways
Dubrovnik is more like a grid in comparison to Split so you're less likely to wander down a mystery alleyway. Regardless, we recommend that you (try to) lose yourself among the white limestone streets. In the northern part of the city, you'll find steep, parallel stairways. One stairway is filled with green plants while another features lines of washing hanging out to dry. Walk a bit further down and you'll come to a main thoroughfare lined with restaurants. Over towards the sea, you'll find wider alleys and courtyards that may trick you into believing you're in the south of France. Visiting places that make a city famous is great for ticking off the bucket list but don't forget to wander aimlessly. Look out for the unique aspects of a city that don't feature in mainstream travel guides.
Shop local produce in the market square
Check out what the Dubrovnik locals produce for sale at the local market on the corner of Ulica uz Jezuite and Gundulićeva poljana (outside ArkA restaurant). Vendors sell fresh fruit and vegetables, lavender products and handmade jewellery. Grab a mixed fruit cup to nibble on as you continue exploring the city.
Swim and sunbathe in front of Lazareti
Lazareti is the name for the interconnected buildings located just outside the old city harbour, east of the city. A former quarantine centre, the facility protected the Republic against diseases during the Middle Ages. Today, the complex houses cultural groups, club music and crafts workshops. Visitors can view the exhibitions on show but also get away from the crowds to sunbathe and take a quick dip in the sea. Banje Beach is also a short walk a bit further along if you wish to lie on a patch of sand.
TIP: If swimming around the rocks of the city walls, beware of sea urchins!
WHERE TO EAT & DRINK
The Old Town is rather compact but jam-packed with eateries and restaurants wanting your custom. Here is a list of places to visit in Dubrovnik – we've tried all of them!
Cogito Coffee
The only specialty coffee shop in Dubrovnik's Old Town, Cogito is somewhat hidden but positioned in an ideal location, close to an entrance to the City Walls. Perch on one of the stools to enjoy your flat white or on a particularly hot day, make sure to try their cold brew. If you're a cat person, feel free to make a donation to the collection box just outside.
Address | Ul. od Pustijerne 1, 20000, Dubrovnik
Opening Hours | Spring & Summer. Keep an eye on this link for exact opening hours.
Website | http://www.cogitocoffee.com/
Nothing in appearance like the grand mausoleum with which this restaurant shares its name, but rather a tasteful eatery that offers a wide selection of Bosnian cuisine. We visited during lunchtime selecting peppers with thick cream kayak (salty cheese), traditional ćevapi and wrapped rumpsteak filled with vegetables and cheese. Portions are generous and service is swift. Smack bang in the middle of Dubrovnik Old Town, there is minimal seating inside but many tables outside.
Address | Ul. Nikole Gučetića 2, 20000, Dubrovnik
Opening Hours | Daily 10.00am – 12.00am
Website | https://www.tajmahal-dubrovnik.com/
Konoba Dalmatino
Our dinner date treat in Dubrovnik, Dalmatino offers traditional cuisine with a twist. When we visit a city close to the water, we are usually drawn to seafood dishes. After sharing the cold platter "Dalmatia" starter consisting of cheeses, prosciutto and olives, we decided to also share the "Porperela", the fish platter. A feast of grilled John Dory fillet, shrimps, scampi and octopus was accompanied by pan fried potatoes, zucchini, carrots and mushrooms. Service is efficient and you have a choice of sitting inside or outside the taverna. Reservations recommended.
Address | Ul. Miha Pracata 6, 20000, Dubrovnik
Opening Hours | Daily 8.00am – 11.00pm
Website | http://dalmatino-dubrovnik.com/
D'Vino Wine Bar Dubrovnik
A must for wine connoisseurs or enthusiasts. We dropped into D'Vino for a pre-dinner drink. Nabbing a couple of seats at one of the makeshift barrel tables, we selected the white and red wine tastings. Along with our three whites and three reds, our knowledgeable waiter presented us with an information card detailing the region of Croatia from which the grapes are grown. D'Vino offers wine tastings, wine tours and wine shipping.
Address | Palmotićeva ul. 4A, 20000, Dubrovnik
Opening Hours | Daily 8.00am – late
Website | http://www.dvino.net/
All the traipsing around the Old Town, down alleyways and up and down steep staircases deserves a break. And few places are able to offer a waterfront view. But be warned; prices are steep for the small selection of beverages at Buza Bar and views of the sunset are patchy. Enjoy the sea breeze and pop into the water for a swim from the rocks below.
Address | Crijevićeva ul. 9, 20000, Dubrovnik
Opening Hours | Daily 9.00am – 8.00pm
Website | Buza Bar on Facebook
Sometimes all we crave is carbs and you usually can't go wrong with a pizza. If it's pizza you want, it's pizza you'll get at Vita Bella – and in jumbo size. If you select the jumbo size, you'll receive a pizza 50cm in diameter straight from the woodfire oven. Unfortunately, even we struggled between the two of us but the super attentive wait staff happily packaged it up for us in a takeaway box. A brief walk from Dubrovnik harbour, this pizzeria is well out of Dubrovnik Old Town but comes with hearty food without the price tag.
Address | Ul. bana Josipa Jelačića 37, 20000, Dubrovnik
Opening Hours | Daily 10.00am – 10.00pm
Website | Vita Bella on Facebook
WHERE TO STAY
Given Dubrovnik's rising popularity in recent years, locals have moved beyond the historic city walls to cater to the demand of visitors. The number of permanent residents in the Old Town has decreased dramatically from 5,000 in 1991 to just 500 in 2014 while the number of rooms and properties available to rent has increased exponentially. This means you're sure to find something within your budget.
*** Luxury ***
Ul. Svetog Josipa 3, 20000, Dubrovnik
Any hotel that has rain showers installed is a winner in our eyes. Five suites and one apartment make up this boutique hotel across three floors. Lovingly restored in a 16th century historic house, expect luxury modern comforts amongst beamed ceilings, whitewashed walls and exposed stoneworks. St Joseph's is a short walk from either Pile or Ploce Gates and guests do not have to navigate any of the Old Town's stairs to reach reception. Complimentary toiletries, 24-hour concierge and breakfast are included. Prices from €310 per night (save this one for the honeymoon!).
** Affordable **
Bunićeva poljana 6, 20000, Dubrovnik
Talk about prime real estate. The space that makes up this boutique hotel is rented from the Vatican and situated in the heart of Dubrovnik. Located on the third floor, Fresh* Sheets Kathedral offers unobstructed views of the Cathedral, Rector's Palace and the two main piazzas. The six light-filled bedrooms are tastefully decorated with upcycled furniture with a modern twist. Feel the warm hospitality of husband and wife duo, Jon and Sanya, who will make you feel like a local in no time. Prices start from €78 per night.
Ul. od Sigurate 7, 20000, Dubrovnik
A boutique hostel with 22 beds across 7 rooms, come rest your head in a 400-year old building renovated and established by a traveller with Dalmatian roots. Whilst free wifi and linen are almost a given these days, it's the creature comforts and personal touches that make this hostel feel like a home away from home. You'll find 24 hour breakfast, musical instruments in the common room and hostel activities from other cultures such as a "green tea ceremony with wisdom singing bowl". Natural light floods into the rooms which feature exposed rock from the original building and some roofs with murals reminiscent of the Vatican. Dorm rooms from around €52 per night in peak season.
---
---
* Budget *
Savvy Dalmatians have made their historic city centre homes available for rent to visitors from all over the world. Airbnb can provide budget-friendly alternatives if you are willing to forgo the hospitality a hotel affords or the sleepless nights of a hostel dorm room. An interior designer's heaven, some Airbnb hosts have maintained characteristics of the original stone buildings while others have renovated apartments completely adapted to the modern age. Airbnb offers a range of flats or studio apartments in and around the Old Town so that you're only a stone's throw (excuse the pun) from the action. Expect premium prices from June – September.
Ul. Svetog Šimuna 15, 20000, Dubrovnik
Located in a quieter part of the Old Town, City Walls Hostel is close to the famous cliff-side bar, Buza Bar. Blue and white walls and linen are peppered throughout this hostel spread across three floors. Given that this establishment is positioned off the main thoroughfare, make sure to read over the hostel's directions thoroughly. Dorm rooms start from €20 per night. Book in advance to take advantage of this price in peak season!
HOW TO GET THERE
By car
Like most mainland cities and towns in Croatia, Dubrovnik is located on the A1/E7 where you'll fly along at 130km/hr for most of the way. If navigating Croatia and surrounding countries by car, you may encounter long wait times at the borders. We crossed to and from Bosnia & Herzegovina and Montenegro at different times of the day with our wait times varying from 10 minutes to an hour (and this was outside of peak summer season!). If you're following a strict schedule and travelling outside of Croatia, factor in additional time for crossing the border.
TIP: There are several toll roads in Croatia and the price differs depending on where you enter and exit. Have cash in kuna ready but most toll booths also accept major credit cards.
---
---
By boat
Most if not all the sailing holidays offered by tour companies include Dubrovnik as one of their island hopping destinations (usually as the start or end point). Just keep in mind that the boats will not dock in front of the Old Town like Split. Dubrovnik's new port is a 5 minute car ride (30 – 40 kuna; approx €5) or 40 minutes (hilly) walk to the Old Town. Ferry services also operate along the Dalmatian coast. Visit https://www.krilo.hr/en/ for the most up-to-date timetables and ticket prices.
By bus
Dubrovnik is accessible by bus from major surrounding cities including Zagreb (8.5 hrs), Split (3 hrs), Mostar (4 hrs) and Sarajevo (5.5 hrs). Dubrovnik's bus terminal is next to the new port (see above 'By boat'). To plan in advance, check out one of the following local websites:
http://www.promet-sinj.hr/
http://www.ap.hr/hr/pretraga
https://samoborcek.getbybus.com/en/
By plane
Dubrovnik's international airport, also known as Čilipi Airport (Zračna luka Dubrovnik), is located approximately 15.5km (9.2 miles) from Dubrovnik's city centre. Upon arrival, you can catch a bus (40 kuna) or a taxi to the city centre (approx €30-€40). If you catch the bus and you are staying in the Old Town, make sure to get off at Pile Gate as the final stop at the bus terminal is 2.5kms north-west of the city centre. The journey time ranges from 30-40 minutes from the airport depending on your selected mode of transport and location of your accommodation.
WHAT TO KNOW
The Wheels On The Bus Go Round And Round
Dubrovnik is serviced quite well and relatively frequently by public buses. Tickets are 15 kuna per person for a single trip which can be purchased from the driver in cash only. Tickets can also be purchased at Libertas kiosks; single tickets here cost 12 kuna and daily tickets cost 30 kuna. Most services will start or terminate at Pile Gate and run every 10 – 30 minutes depending on the time of the day and the route. The latest timetables and routes are found at the following link:
http://www.libertasdubrovnik.hr/city-timetable/
Uber
You may be wondering how to get around Dubrovnik and its surrounds if you're staying outside of the Old Town. We were pleasantly surprised to discover that Uber operates successfully in Dubrovnik. This proved useful for us as our accommodation was outside of the Old Town at a distance whereby walking was a smidgen too far (and uphill!). For the same price as two single bus tickets, we were able to catch an Uber for a quicker journey into the Old Town. Keep Uber in mind if a group of you decide to rent an apartment closer to the new port or need a quick ride to the airport.
Hello Kitty
If you're allergic to cats or have a severe dislike of the felines, then you'll want to steer clear of the strays in the city. There are several collection boxes at various points in the city and many of the locals feed them regularly.
---
Are there places to visit in Dubrovnik that you would recommend to others? Share the details in the comments below!
LIKE THIS POST? PIN IT AND SHARE IT!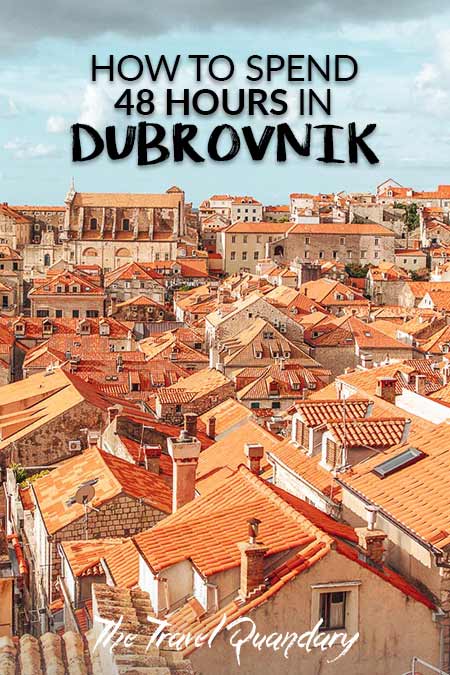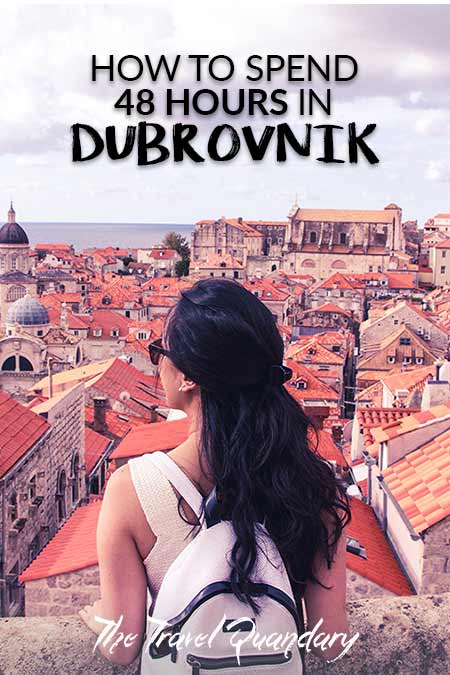 You might also like