Some scars take longer to heal while others never fade. And in our lifetime, those who survived the bloody horrors of the Bosnian War throughout the 1990s (subsequent to the breakup of the former Yugoslavia) will bear battle scars until their dying day. Cities have fallen and empires have crumbled; but each time, cities are rebuilt and the people come together. You can see and learn about this pocket of the Balkans with our one day itinerary for Sarajevo.
Red-roofed Bosnian houses dominate the hills while communist-style apartment blocks still bear bullet hole scars from the country's warring past. Arriving with little knowledge of the country, emotions reached both ends of the spectrum. Our hearts filled with sorrow for the people and the atrocities they have faced but our bellies and taste buds were elated to sample the traditional cuisine at its finest. Read on to discover how to spend a day exploring Sarajevo.

---
HOW TO SPEND 24 HOURS IN SARAJEVO, BOSNIA & HERZEGOVINA
---
WHAT TO SEE & DO
Yellow Fortress (Žuta tabija)
The Yellow Fortress or Yellow Bastion was one of five bastions part of the defensive walls of the old town, Vratnik, against the Austro-Hungarians who eventually took over Sarajevo. Today, the fortress is a popular vantage point where locals and visitors come to watch the sunset over the city. During Ramadan, a canon is fired each day at sunset to mark the time for breaking the fast.
Address | Jekovac, Sarajevo 71000, Bosnia and Herzegovina
Opening Hours | Daily 8.00am – 12.00am
Gallery 11/07/95
This museum-gallery is dedicated entirely to the devastating events that took place in the eastern town of Srebenica during July 1995. The gallery uses a range of multimedia content that is both confronting and shocking; particularly when reminded that this genocide occurred just over 20 years ago. A small haunting space, the walls of the first room are covered in black and white portraits of the identified men and boys murdered in the massacres. Sit and watch the documentary of collated footage from the war, archaeologists sorting through bones of mass graves and interviews with widows after the conflict.
Address | Trg Fra Grge Martića 2, Sarajevo 71000, Bosnia and Herzegovina
Opening Hours | Daily 10.00am – 6.00pm
Admission | 12km
Website | http://galerija110795.ba/
Museum Sarajevo 1878 – 1918
The museum houses a permanent exhibition of Sarajevo during the Austro-Hungarian period from 1878 – 1918. The actual building is located right next to the spot where the heir to the Austro-Hungarian throne, Archduke Franz Ferdinand, and his wife Sophie were assassinated, thus sparking the beginning of World War 1. The museum features important historical items and artworks from the period charting the city's past; from the Middle Ages, to Ottoman rule and to the governance of the former Yugoslav republic.
Address | Zelenih beretki 1, Sarajevo 71000, Bosnia and Herzegovina
Opening Hours | Seasonal. Check this link for ticket price information and opening hours.
Website | http://www.muzejsarajeva.ba/en/
Markale City Market
The neo-Renaissance building that houses the Markale City Market was constructed in the late 19th century and remains one of the best examples of civil engineering in Sarajevo. Come visit the bustling indoor market where vendors sell locally made cheese, smoked meats and fresh fruit and vegetables.
Address | Mula Mustafe Bašeskije 4a, Sarajevo 71000, Bosnia and Herzegovina
Opening Hours | Daily 6.00am – 5.00pm
Website | http://www.trznice.ba/ba/
Olympic Bobsleigh & Luge Track
During our brief time in Sarajevo, I learnt many facts about the city including the fact that it hosted the 1984 Winter Olympic Games. The bobsleigh & luge track used in the Games is approximately a 15 minutes drive south of the city centre. Tucked in the overgrown forest, the concrete shell remains. The track has been decorated by graffiti artists over the years, but you can can still see evidence of warfare from when the track was used as an artillery base during the Sarajevo Siege. Today, you can walk or skate the track. Or if you're a 90s kid, flashback to your childhood and make like Cool Runnings.
Address | Sarajevo 71000, Bosnia and Herzegovina
WHERE TO EAT & DRINK
Ministry of Ćejf
We stumbled across this cafe when walking back down from the Yellow Fortress, the little Australian flag hanging from the top of door having caught our attention. Ćejf loosely translates as "chill out" and who else to christen their cafe as a place to relax than an Australian owner with Bosnian roots. Take a moment to enjoy your latte or Bosnian coffee, accompanied with one of their vegan cookies.
Address | Kovači 26, Sarajevo 71000, Bosnia and Herzegovina
Opening Hours | Daily 8.00am – 11.00pm
Website | Ministry of Ćejf on Facebook
The present day Bosnia & Herzegovina fell under Austro-Hungarian rule in the 19th century following the fall of the Ottoman Empire. Consequently, Austrian influences remain in decor and cuisine. Weiner Cafe sits under newly renovated boutique hotel Ovo Malo Duše (Hotel Baština). Enjoy a typical Viennese breakfast served English high tea style with Bosnian coffee if you dare to deviate from your regular latte. Inside, a wrought-iron spiral staircase leads to a mezzanine level or seat yourself at one of the comfy booths on the lower level. Open 7 days a week (including early on a Sunday morning, thankfully).
Address | Ćurčiluk veliki 3, Sarajevo 71000, Bosnia and Herzegovina
Opening Hours | Daily 7.00am – 10.30pm
Website | http://ovo-malo-duse.com/vienna-caf/
Ćevabdžinica Petica
For true simple Bosnian cuisine, head to Ćevabdžinica Petica. Owned by the famous Sarajevo family, Ferhatović, select your number of ćevapčići or other grilled specialties, accompany with pita bread and onion, and wash it down with cold pivo. Plenty of indoor and outdoor seating in this establishment which has served traditional homemade food for over 50 years. Walk away with a full stomach that hardly causes a dent in the travel budget.
Address | Bravadžiluk 29, Sarajevo 71000, Bosnia and Herzegovina
Opening Hours | Daily 8.00am – 11.00pm
Website | http://www.ferhatovic.ba/
Kibe
For an ultimate Bosnian dining experience, head to the hills of Sarajevo. Here, you'll find Kibe Mahala, a restaurant serving fine national dishes accompanied with panoramic views of the city. Don't miss the house specialty, spit-roast lamb, and choose from an assortment of wines from throughout the region. Admire the twinkling lights of the city in a modern setting for a dinner date away from the tourist crowds. Seating is available in the undercover outdoor courtyard or inside. Reservations are recommended and it is advisable to take a taxi if you are not travelling the country by rental car.
Address | Vrbanjuša 164, Sarajevo 71000, Bosnia and Herzegovina
Opening Hours | Monday – Saturday 11.00am – 11.00pm
Website | http://www.restaurantkibe.com/
HOW TO GET THERE
---
TRAVELLING THROUGH BOSNIA & HERZEGOVINA? DON'T MISS

A GUIDE TO MOSTAR
---
By plane
Sarajevo International Airport or Butmir Airport is located 6.1 kilometres (3.8 miles) southwest of the city centre. Unfortunately, there are currently no direct flights from the United Kingdom to Bosnia & Herzegovina. You can fly to Sarajevo from other major European cities including Budapest, Istanbul, Brussels and Vienna.
From the airport, take a taxi or a bus to the city centre. A taxi stand is located next to Terminal B. Fares are metered but you may be able to agree upon a price beforehand. Bus services (operated by GRAS) to the city centre take approximately 45 minutes. Tickets are around 2KM one way.
By bus
Sarajevo can be accessed by bus from major surrounding cities including Zagreb (7 – 8 hrs), Budapest (8 – 9 hrs), Podgorica (6 – 7 hrs), Mostar (2.5 hrs) and Dubrovnik (5.5 hrs).
There are two main bus terminals in Sarajevo:
Autobuska stanica Sarajevo is located on Put života behind the University of Sarajevo campus. Both domestic and international services arrive and depart from this station. Make sure to have some small change in the correct currency to pay the fee for luggage to the driver.
Autobuska stanica Istočno Sarajevo ('Lukavica') is located in eastern Sarajevo on the outskirts of the city. This bus station services destinations in both Serbia and Montenegro.
By car
By direction:
From the North (Zagreb), the main roads are the M18 or A1.
From the West (Split, Mostar), the main road is the E73.
From the South (Dubrovnik, Podgorica), the main road is the M18.
From the East (Belgrade), the main roads are the E761 or M5.
---
---
WHAT TO KNOW
Your FREE workout
Apart from the city centre, the suburbs of Sarajevo are VERY HILLY. Streets are narrow, very steep and often uneven. If you have hired a car, with hope, it is a small one as parking is difficult. If like us, you choose to stay in an Airbnb outside of the city centre, prepare for an uphill walk back to your accommodation.
Google Maps is not really your friend
Unfortunately, Google Maps is not yet fully up to speed with the hilly streets of Sarajevo – particularly when driving. Although we tried to follow the instructions of our Airbnb host, we didn't realise that many streets had stairs that cars were unable to drive up or down. We found this out the hard way. In one instance, we were fortunately rescued by a friendly Bosnian man who helped us turn our car around in his property and gave us directions out of the maze! Be cautious of the narrow and uneven streets.
Euros = No
As mentioned earlier, the official currency of Bosnia and Herzegovina is the Bosnian Convertible Marka (BAM). The capital city is smack bang in the middle of the country, but unlike Mostar, do not expect to be able to pay in Euros or Croatian kuna. Most businesses (in our experience) only accept Marka as legal tender. Card payment is available in most establishments and there are many ATMs in the city centre.
We'll Be Coming Round The Mountain
Bosnia and Herzegovina is beautifully scenic but also very mountainous. Given the terrain, there are few major highways. Roads are windy and narrow, often with only a single lane in each direction. If like us, you decide to explore the country with a rental car and you're unfamiliar or not too confident driving on the right side of the road, take note of the following advice:
Take heed of the speed limit especially at the turns; not all corners have guardrails!
Stay on the paved roads; there remains a constant landmine threat. Some roads are still damaged from the war and poorly maintained.
Hold your nerve with tailgaters. Some aggressive drivers will overtake you (somewhat dangerously), even on narrow roads.
TIP: If you plan to hire a car to travel through the Balkans, you do not need to pay for a special cross-border card to enter Bosnia & Herzegovina. The rental company should provide you with a green insurance card which you should keep in the car at all times. Provide this card along with your passport to the officers when crossing borders.
Battle Scars
The present day Bosnia and Herzegovina still bears apparent battle scars from the Bosnian War, an armed conflict that took place between 1992 and 1995 following the breakup of Yugoslavia. Key events such as the Siege of Sarajevo and the Srebenica massacre have become iconic of the period, with an estimated 100,000 people killed. Hailed as the most devastating conflict in Europe since the end of WWII, it's not difficult to miss evidence of the war and the damage it left behind almost 30 years later. Half-crumbled houses, holes in walls from artillery fire and large cemeteries bearing identical white gravestones are just some of the remnants you'll notice as you pass through the country.
---
Are you planning an upcoming trip that takes you through Bosnia & Herzegovina? Post your questions below and we'll do our best to help!
LIKE THIS POST? PIN IT AND SHARE IT!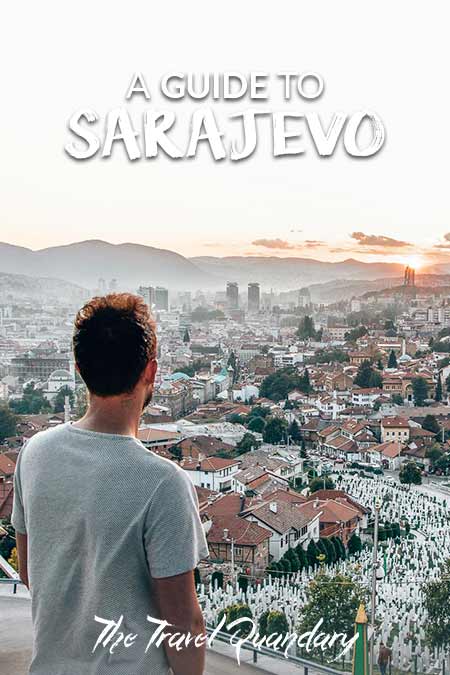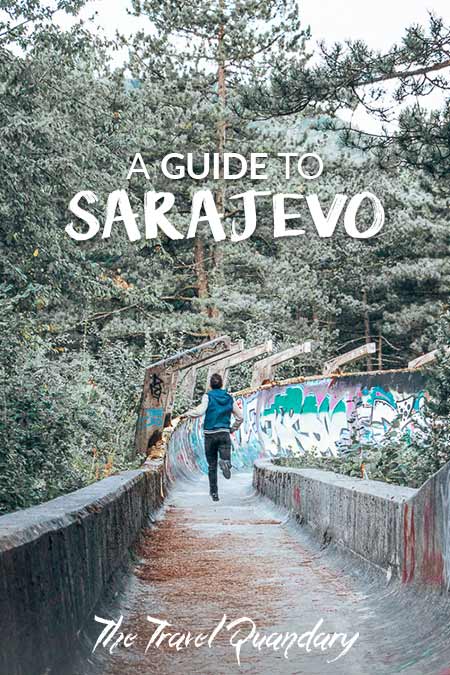 You might also like