The largest city of all three Baltic capitals, Riga is a perfect blend of rich history and cutting edge cool. Gothic spires dominate the UNESCO World Heritage Old Town whilst striking art nouveau facades reflect the artistic influences from eastern and northern Europe. Visit the city's war museums to uncover turbulent tales from WWII and the Soviet occupation throughout the 20th century. Unravel a treasure trove of picnic goodies at the Central Market and take a sip of Black Balsam in one of the trendy bars across town.
A short stopover between Vilnius and Tallinn will only provide time to explore Riga's Old Town and immediate surrounds, so step this way with our one day itinerary to Riga, to see how the Latvian capital effortlessly glides into the modern world without sacrificing timeless traditions.
---
HOW TO SPEND ONE DAY IN RIGA
---
Buffet Breakfast at Innocent
If truth be told, we didn't initially plan to dine at Innocent Cafe. However, our visit to Innocent turned out to be a pleasant one. If your hotel or Airbnb doesn't include breakfast, this pit-stop is guaranteed to provide the fuel in preparation for a full day of exploring. For a flat rate of €10 per person, you can help yourself to the all-you-can-eat breakfast buffet.
For some, a "buffet" may conjure displeasing memories of crowded dining rooms in a hotel resort chain with flavourless bulk-cooked powdered eggs and watery drip coffee. At Innocent, it will feel like you've been invited to a family celebration. The crowd is a mix of older gentlemen who sit in the corner perusing the newspaper while spectacled 30-somethings conduct business meetings in the red booth seats out the back.
The buffet table features all your standard Continental offerings plus full English breakfast fare. But if your tastebuds are feeling a little more adventurous, branch out into the local offerings with vibrant vegetable and pasta salads and chunky stews that somewhat resemble a hearty tomato soup. The spread also includes cold meats, bread and condiments. Chia seed puddings and cheesecake slices sit side by side in the cake cabinet and espresso blends are readily available to make sure you get your caffeine pick-me-up.
Address | Blaumaņa iela 34, Centra rajons, Rīga, LV-1011, Latvia
Opening Hours | Monday – Friday 8:00am – 11:00pm. Saturday – Sunday 9:00am – 7:00pm.
Website | https://www.facebook.com/innocentcafe/
Morning at the Riga Ghetto and Latvian Holocaust Museum
When we talk about the history of WWII, most people are aware of the infamous concentration camps in Poland and Germany. War history in the Baltics is not as widely known, so a trip to the Riga Ghetto and Latvian Holocaust Museum is a must. Until our visit to Riga, we remained ignorant to the extent of the effects of WWII on Riga and Latvia as a whole. A visit to this museum provided some valuable insight into the city's history.
The museum opened in September 2010 with a mission to preserve the memories and history of the Jewish community in Latvia during WWII. It is located behind Riga train station in the historical area, Spikeri, near the original location of the Riga Ghetto.
As you enter from Krasta Street, you'll come across a large memorial wall that stretches the length of the original cobblestones brought from one of the main streets of the Riga Ghetto and installed at the museum to recreate the "Ghetto Street". The memorial wall lists more than 70,000 names of Latvian Jews who died in the Holocaust. Make sure to wander up to the second floor of the Ghetto House where the curators have recreated a ghetto flat with authentic pre-war furniture and everyday items. Outside the house, you can't miss the striking memorial sculpture "Tree of Hope", dedicated to Latvian rescuers of Jews during the war.
Despite the overwhelming amount of information in such a small space, the exhibition which particularly struck a chord with us was the one titled "3,000 fates". Created by Bremin artist, Dagmar Calais, the installation features hanging paper-mache lanterns in a darkened room. Each lantern recounts the story of a person with Jewish roots who had been deported from Bremen to Theresienstadt between July 1942 and February 1945. To read about the desperation and fates of these doomed Latvians is difficult to fathom but was another poignant reminder of the pointlessness and horrors of war.
Visiting the museum is free but relies on donations from visitors. Donation boxes are stationed at points around the museum.
Address | Maskavas iela 14A, Latgales priekšpilsēta, Rīga, LV-1050, Latvia
Opening Hours | Monday – Friday 10:00am – 6:00pm. Saturday – Closed. Sunday 10:00am – 6:00pm.
Website | http://www.rgm.lv/?lang=en
Lunchtime at Riga Central Market
Head across to Riga's Central Market where you will truly see how locals go about their everyday lives. The former German Zeppelin hangars house the largest market in Europe, occupying 72,300 ㎡ with over 3000 trade stands. You'll find butchers, fishmongers, cheesemongers, florists, bakers and farmers all selling their produce side by side. Wander amongst the market stalls and pick up some items for a DIY lunch.
We suggest you try piragi which are traditional Latvian crescent-shaped baked pastry filled with finely chopped bacon and onion. A pīrāgs may also be filled with mixed ground meats, fish, cabbage or cottage cheese. Usually made only for special occasions, you'll still be able to find them in local bakeries and pastry shops.
Address | Nēģu iela 7, Latgales priekšpilsēta, Rīga, LV-1050, Latvia
Opening Hours | Daily from 7:00am – 6:00pm
Website | https://www.rct.lv/en/
Afternoon exploring the Old Town & Art Nouveau buildings
Start in the middle of the Old Town at St Peter's Church. Dating from the 15th century, the imposing 15th-century structure is the tallest church in Riga, known for its distinctive 123m-high steeple. Continue towards the Cat House, known for the two cats with arched backs and raised tails on its roof. Rigan legend is the wealthy tradesman owner had the cats' tails pointed towards the direction of the Great Guild, after being refused membership.
Leave the Old Town through the Swedish Gate before turning right onto Torņa Street to find Jacob's Barrack's. The three yellow buildings with orange tiled roofs previously served as quarters for local troops but are now occupied by bars, trendy shops and posh cafes. Take a stroll through Bastejkalna Park and soon you'll come across The Freedom Monument, a tribute to the soldiers who lost their lives during Latvia's War of Independence.
Situated to the north of the Old Town, the Art Nouveau District is home to one-third of the city's Art Nouveau buildings. The Art Nouveau style is most commonly represented in multi-story apartment buildings and is distinguished by opulent decoration in the form of sculptures and/or stained glass as well as ornaments incorporated into the overall architecture of buildings. Foreign influences from Germany and Scandinavia were quite strong with the Latvian style flourishing in the early 1900s. For some of the more elaborate examples of Art Nouveau, make sure to walk along Elizabetes, Albert and Vīlandes iela. If you wish to learn more, you can visit the Riga Art Nouveau Museum which shows a display of the interiors of a typical period house.
Coffee break at Rocket Bean Roastery
Time for a coffee break. Rest your weary feet while you decide which Art Nouveau building will become your new address. Rocket Bean Roastery offers unique blends for espresso or filter coffee from their single-origin coffee beans. Their coffee is roasted at their Miera iela address but we suggest visiting their second location on Dzirnavu iela for its proximity to the Art Nouveau District.
Rocket Bean Roastery
Address |
Miera iela 29, Centra rajons, Rīga, LV-1001, Latvia
Opening Hours |
Monday – Friday 8:00am – 9:00pm. Saturday – Sunday 9:00am – 9:00pm.
Website |
http://www.rocketbean.lv/
Rocket Bean Coffee House
Address |
Dzirnavu iela 39, Centra rajons, Rīga, LV-1010, Latvia
Opening Hours |
Monday – Friday 8:00am – 9:00pm. Saturday – Sunday Closed.
Alternatively, head to MiiT Coffee if you're visiting on the weekend. This specialty coffee bar is also a vegetarian restaurant located in the newer part of town off the tourist trail. Featuring beans from Andrito, a Latvian coffee roaster, and Five Elephant (Berlin, Germany), you're guaranteed a decent cup of coffee.
MiiT Coffee
Address |
Lāčplēša iela 10, Centra rajons, Rīga, LV-1010, Latvia
Opening Hours |
Monday – Tuesday 8:00am – 9:00pm. Wednesday – Friday 8:00am – 11:00pm. Saturday 10:00am – 11:00pm. Sunday 10:00am – 6:00pm
Website |
http://www.miit.lv/
---
---
Museum of the Occupation of Latvia
If you're already feeling a bit heavy after learning about Riga's WWII history, you may want to skip this museum. For history buffs or if you have another day up your sleeve, this museum is well worth a visit.
The private museum covers the wretched history of Latvia's fifty-year occupation from 1940 – 1991. Firstly occupied by the Soviet Union, Latvia was invaded by National-Socialist Germany until the end of WWII, when the country was re-occupied by the Soviet Union. The permanent exhibition commemorates the tens of thousands who lost their lives in the Holocaust, political murders and war action. On 21 August 1991, Latvia finally regained independence. The museum showcases information plaques with accompanying pictures and display cabinets with historical artefacts. Visitors move through the space following the chronological order of events, learning about the oppressive times subjected by Latvians and of acts of heroism shown by those brave enough to resist.
Entrance fee is via voluntary donations. Guided tours for a small fee are available. Details to book a guied tour are on the museum's website. The permanent building located at Riflemen's Square is currently closed for reconstruction. The temporary quarters are at Raiņa bulvāris.
Temporary Address | Raiņa bulvāris 7, Centra rajons, Rīga, LV-1050, Latvia
Opening Hours | May – September: 11:00am – 6:00pm daily. October – April: 11:00am – 5.00pm, closed Mondays
Website | http://okupacijasmuzejs.lv/en/
Visit a microbrewery along Miera iela
For a spot well off the tourist trail, make your way up Miera iela. Your destination is Labietis. A brewpub which takes its craft beer seriously, Labietis has helpfully split its 40+ beer varieties into five colour coded families. The colour coding helps indicate the final gravity, bitterness, colour and alcohol percentage of its beers. You'll find traditional ales as well as more experimental flavours which use honey and other bee products. Twelve beers are always on tap and rotated regularly. Swing by to sample a few home brews whilst watching the brewery in full swing through the glass window, or sit in the garden to enjoy the lively atmosphere of a local Latvian pub.
Address | Aristida Briāna iela 9a-2, Centra rajons, Rīga, LV-1001, Latvia
Opening Hours | Monday 4:00pm – 10:00pm. Tuesday 3:00 – 11:00pm. Wednesday & Friday 3:00pm – 3:00am. Thursday 3:00pm – 1:00am. Saturday 1:00pm – 3:00am. Sunday 1:00pm – 1:00am.
Website | http://www.labietis.lv/
Dinner at Galerija Istaba
Like all the Old Towns across Europe, there will be plenty of restaurants along the main thoroughfares with waiters proffering menus trying to win your custom. Riga has a number of fine-dining restaurants but if you're after something a little less fancy and less pricey, go beyond the old city walls.
We were fortunate enough to grab a spot at Istaba for dinner. Galerija Istaba is an art gallery, shop and restaurant. The restaurant is situated upstairs and looks out over the shop. It is a small intimate space with each table decorated differently to resemble an actual room (istaba). Another unique factor is that Istaba has no set menu. Each night, the menu features a main (either seafood or another form of meaty protein) which you select. Your selected dish is then accompanied by two side dishes to complement your menu choice. Diners are also treated to a starter of homemade bread and a selection of dips and side salad. Reservations highly recommended.
Make sure to also pop into the shop below to peruse the selection of Latvian-made gifts. You'll find a range of accessories, jewellery, homewares, cards, artwork and cultural publications.
Address | Krišjāņa Barona iela 31A, Centra rajons, Rīga, LV-1011, Latvia
Opening Hours | Monday – Friday 12:00pm – 9:00pm. Saturday 12:00pm – 6:00pm. Sunday – Closed.
Website | https://www.facebook.com/galerijaISTABA/?locale2=lv_LV
Nightcap at Chomsky
What started out as a cold remedy has evolved into Latvia's equivalent to Jagermeister. We'll leave you to decide if the taste is for you but when in Riga, head to Chomsky Bar to sample black balsam. The local liqueur can be drunk neat, in a cocktail or mixed as a hot toddy during the colder months.
Having moved location in 2017, Chomsky retains its rustic, rough decor attracting a diverse crowd from hipster students up to a more mature crowd. Pouring cheap Latvian beer and offering some local brews you're unlikely to find in other mainstream bars, this alternative venue offers affordable drinks with a relaxed attitude. Chomsky is cash only so bring your Euros with you.
Address | Dzirnavu iela 82, Centra rajons, Rīga, LV-1050, Latvia
Opening Hours | Monday – Thursday & Sunday 4:00pm – 12:00am. Friday – Saturday 4:00pm – 3:00am
Website | https://www.facebook.com/chomskybar
WHERE TO STAY
Hipsters, listen up! You need to make your way to Brasa. Sandwiched between two of the city's largest cemeteries, Miera Iela (Peace Street) is where the area comes alive. Here, you'll find plenty of green areas amongst a swarm of art galleries, vintage shops and funky bars.
The cobblestoned streets of The Old Town are part of the UNESCO World Heritage List. The historic city centre provides many architectural gems and a plethora of cafes, restaurants and bars all within walking distance.
On our trip, we stayed at Riga City Camping located in Ķīpsala. Given we were travelling in a campervan, it provided a cheaper accommodation alternative not too far from the city centre. We did not spend any time here other than to sleep but the area is home to a War Museum, the RTU Faculty of Architecture and a shopping mall.
GETTING THERE AND AROUND
By car
We travelled to Riga as part of our 50 day campervan trip around Europe. Driving around the Baltics provided ample opportunities for us to see more beyond the cities. We arrived in Riga after travelling from Vilnius, Lithuania. This journey took approximately 5 hours as we elected to go via Trakai and the Hill of Crosses. A more direct route from Vilnius will take around 3.5 hours. After Riga, we travelled to Tallinn, Estonia stopping off in Parnu along the way. The travel time between Riga and Tallinn is approximately 4 hours.
By plane
Riga International Airport (Starptautiskā lidosta Rīga) is located approximately 10 kilometres west of the Old Town. If you're choosing to start your Baltic adventures in Riga, you'll find plenty of connections across Europe with Latvia's national carrier, airBaltic. Popular cities that travel to Riga include London and Berlin and services from Scandinavian destinations such as Helsinki, Copenhagen and Stockholm.
From the airport, you can catch a local bus (autobus 22 or express minibus 322) to the city which will stop at Riga Central Railway Station. Taxis are also available; make sure to check the price before getting into the vehicle. More information on public transport options to and from Riga International Airport can be found here.
By bus
Chances are if you're taking the bus to Riga you'll be arriving from one of two cities. Eurolines operates services from both Tallinn, Estonia and Vilnius, Lithuania to connect you with the Latvian capital.
Once You're There
Riga has four methods of public transportation – tram, trolleybus, bus and rail. For the tram, trolleybus and bus, one-ride tickets can be purchased from the driver for €2,00, however, it is cheaper to pre-purchase your e-tickets from Narvesen newsstands and select shops. This is how we travelled to and from Riga City Camping and around the city. Prices for rides are as follows:
one ride €1,15
five rides €5,75
ten rides €10,90
twenty rides €20,70
24-hour ticket €5,00
3-day ticket €10,00
5-day ticket €15,00
Google Maps can help you plan your travel routes. Timetables in Latvian, Russian and English are also found at the following link.
---
Have you visited Riga? Tell us about your experience in the comments below!
LIKE THIS POST? PIN IT AND SHARE IT!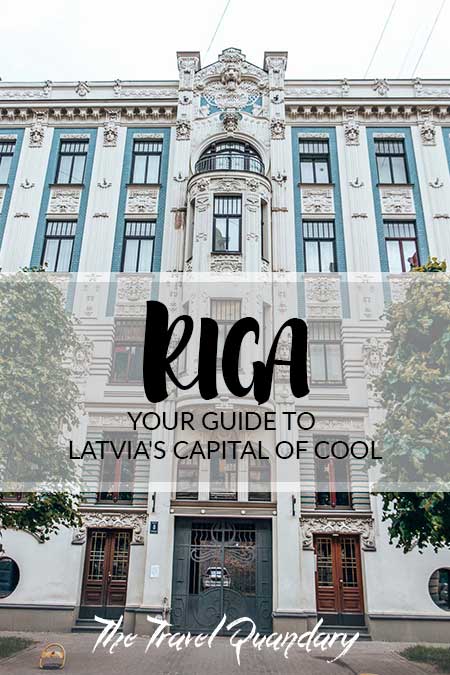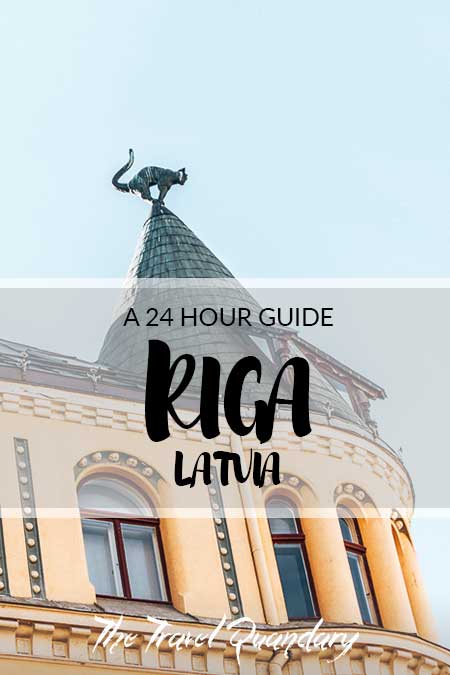 You might also like