The Scandinavian archipelago goes far beyond the Swedish stereotypes of meatballs and IKEA. World class museums, contemporary restaurants and renowned Scandi minimalist style make every corner of Stockholm an Insta-worthy picture. Our wonderful Stockholm itinerary allows for 2 days to explore the archipelago. Wander through Södermalm (SoFo), a hipster playground where museums rub shoulders with boutique clothing stores. Ride a subway system that immerses you in an art gallery or venture beyond the old town by taking an archipelago tour. Do as the locals do and get your fika on before discovering vintage craft beers and feasting on one of the best burgers you might ever eat in your life. Whilst every shop and cafe might look like it has come straight out of an IKEA catalogue, rest assured that when you visit Stockholm, no allen key is required.
---
EXPLORING STOCKHOLM IN 48 HOURS
---
WHAT TO SEE & DO
For lovers of photography, Fotografiska aims to bring the world's best photographers to Sweden. Housed in a former industrial Art Nouveau style building, the museum features 4 major exhibitions per year and around 15 – 20 temporary exhibitions all year round. Featuring the legends as well as promoting upcoming artists, it's become quite a tourist attraction in Stockholm. There is a cafe and a restaurant on site and the museum also offers guided tours, photography courses and workshops.
Address | Stadsgårdshamnen 22, 116 45 Stockholm
Opening Hours | Sunday – Wednesday 9.00am – 11.00pm. Thursday – Saturday 9.00am – 1.00am
Website | https://www.fotografiska.eu/en/
Cost | SEK 145
If you're ready to have some laughs and possibly let out a few screams, why not visit Gröna Lund in the evening. The amusement park promises plenty of fun and games as well as an adrenaline rush. The iconic 'Eclipse' ride offers unforgettable views of Stockholm as you rise and swing around at 400 feet above ground. Not for the faint-hearted!
Address | Lilla Allmänna Gränd 9, 115 21 Stockholm
Opening Dates | Late April – Late September
Website | https://www.gronalund.com/en/
Cost | Admission from 120 SEK. Ride Package from 460 SEK.
When the Swedish King, Gustavus Adolphus, ordered the Vasa to be built to help in the war against Poland-Lithuania, he didn't plan on it sinking 1,300m into her maiden voyage in 1628. The mighty warship was salvaged in 1961 and is the world's only preserved 17th century ship. Today, the Vasa Museum is the most visited museum in Scandinavia and provides fascinating insight into naval history and everyday life in Sweden back in the 1600s. Guided tours are included in the entrance fee.
Address | Galärvarvsvägen 14, 115 21 Stockholm
Opening Hours | 1 June – 31 August 8.30am – 6.00pm. 1 September – 31 May 10.00am – 5.00pm (Wednesday until 8.00pm)
Website | https://www.vasamuseet.se/en
Cost | SEK 130
One of Sweden's most famous exports, the ABBA Museum is for die hard fans of the musical foursome. Peruse through their back catalogue, read their story, check out some of their stage costumes and then shop the memorabilia and souvenir shop to your heart's content. When you leave, make sure to take a token photo outside the museum!
Address | Djurgårdsvägen 68, 115 21 Stockholm
Opening Hours | Monday – Sunday 9.00am – 7.00pm (summer). Monday – Sunday 10.00am – 6.00pm (closed weekends during October 29th – November 4th, Wednesday – Thursday 10.00am – 7.00pm during September 1 – December 16)
Website | http://www.abbathemuseum.com/en/
Cost | SEK 250
The Stockholm archipelago is formed of nearly 30,000 islands. It would take a fair while to visit and see each and every one but if you have a free afternoon, head out to Vaxholm. Hop aboard the SS Stockholm for a 45 minute ferry ride from the city centre. You can visit Vaxholm Fortress, which originally held Russian prisoners-of-war and also defended the city from naval attacks in the 17th and 18th centuries. Should you visit, make sure to taste an ice cream from Glass på Hörnet.
Tours departing from | Strandvägen 8, 114 56 Stockholm – Berth no 15 or 16
Departure Times | 12.00pm and 3.00pm
Website | https://www.stromma.se/en/stockholm/excursions/day-trips/vaxholm/
Cost | SEK 295
WHERE TO EAT
If you're looking to shop and eat, then why not combine both at this cafe, art gallery and concept store. Snickerbacken 7 can be found on the ground floor in an impressive building with high arches. Have a candlelit breakfast seated at one of the stools at the small bench tables. My top choice is the Coconut Chai Pudding from the breakfast menu. Then head to the other side to browse through the racks and shelves filled with clothes, accessories and homewares.
Address | Snickarbacken 7, 111 39 Stockholm
Opening Hours | Cafe: Monday – Friday 8.00am – 6.00pm. Saturday 9.00am – 6.00pm. Sunday 10.00am – 5.00pm.
Store: Monday – Friday 10.30am – 6.00pm. Saturday 11.00am – 5.00pm. Sunday – Closed
Website | http://www.snickarbacken7.se/#om_snickarbacken
It would be rude to visit Sweden and not have a plate of Swedish meatballs. For first timers, choose the classic meatballs with traditional accompaniments including cream sauce, potato purée, lingonberries and pickled cucumber. Push yourself outside of your culinary comfort zone because the restaurant offers meat from bear, reindeer, moose and wild boar. Meatballs For The People strive to use organic ingredients and ensure that their meat is sourced from responsible farmers. The restaurant seats around 50 people so if visiting during the weekend, reservations are highly recommended.
Address | Nytorgsgatan 30, 116 40 Stockholm
Opening Hours | Sunday – Thursday 11.00am – 10.00pm. Friday – Saturday 11.00am – 12.00am. Summer Closed 18/06 – 03/08
Website | http://meatball.se/en-se
"There are no secrets to a good burger. It's just about the meat and the bread."
There was a time when every new city I visited, I made a point to go looking for the city's best burger. And I might have found it. Flippin' Burgers is a strong contender for best burger ever (maybe second place to Queenstown's Fergburger). The burgers are handmade with self-ground minced beef and baked organic bread delivered daily. If you're feeling naughty, spoil yourself with a milkshake or ice-cream float to wash it all down. Draft and craft beer also available. Seating is available inside and outside. Card payments only.
Address | Observatoriegatan 8, 113 29 Stockholm
Opening Hours | Monday – Thursday 4.00pm – 10.00pm. Friday 11.00am – 10.00pm. Saturday – Sunday 12.00pm – 10.00pm
Website | http://flippinburgers.se/en/
One of my favourite cafes in Stockholm, Cafe Pascal is a fabulous place to enjoy breakfast or lunch. The award-winning cafe is located on a quiet corner and feels like a place where the locals go. For breakfast, I'd recommend a pour over coffee with your egg and prosciutto croissant. Should you decide to swing by at lunchtime, jump in line and choose between a mouth-watering selection of sandwiches, pastries and cakes. If you're planning on sight-seeing all day and not stopping long for lunch, then I would definitely recommend takeaway from Cafe Pascal.
Address | Norrtullsgatan 4, 113 29 Stockholm
Opening Hours | Monday – Thursday 7.00am – 7.00pm. Friday 7.00am – 6.00pm. Saturday – Sunday 9.00am – 6.00pm
Website | http://cafepascal.se/
If you only have time for one amazing brunch in Stockholm, make it a Greasy Spoon brunch. Open all day, every day for breakfast, brunch and lunch, you'll find something on the menu to satisfy any hangover or hunger pains. Greasy Spoon looks after our vegetarian and vegan friends and the sweet pancake options are sure to please. Expect a queue if you don't come early. Card payments only.
Address | Tjärhovsgatan 19, 116 28 Stockholm
Opening Hours | Monday – Friday 8.00am – 3.00pm. Saturday, Sunday & Public Holidays 9.00am – 4.00pm
Website | http://www.greasyspoon.se/
A warm, local establishment, Nytorget 6 is open from early morning until late in the evenings. You'll be spoilt for choice from an extensive menu that serves small dishes to main meals. You can get your fill of traditional Swedish (veal) meatballs or select from an impressive list of dishes that draws on culinary inspiration from around the globe. Reservations are strongly recommended if you're travelling in a group but last minute plans with few people could strike lucky with a free table.
Address | Nytorget 6, 116 40 Stockholm
Opening Hours | Monday – Tuesday 7.30am – 12.00am. Wednesday – Friday 7.30am – 1.00am. Saturday 10.00am – 1.00am. Sunday 10.00am – 1.00am
Website | http://www.nytorget6.com/
WHERE TO DRINK
Combine classic Scandi minimalist furniture with specialty coffee and you'll arrive at award-winning Drop Coffee. Whilst we cannot confirm if the shelving which holds their house blend was built from a flat pack, what we can confirm is that the baristas at Drop Coffee are passionate about coffee. Established in 2009, Drop Coffee is a leader in Stockholm's specialty coffee scene and pride themselves on "flavour, sustainability and having a good time doing what we love". Coffee beans are roasted on site almost everyday. The owners work closely with their global suppliers to ensure they are seeking a sustainable and robust flavour for their customers. They are proud to be fully transparent of their ethical business model. Lunch is available on weekdays and a brunch menu during the weekends. When you visit, make sure to ask the baristas about their beans and for their recommendations.
Address | Wollmar Yxkullsgatan 10, 118 50 Stockholm
Opening Hours | Monday – Friday 8.30am – 6.00pm. Saturday – Sunday 10.00am – 6.00pm
Website | https://www.dropcoffee.com/
When you step into Cafe String, you'll feel like you've gone back in time. Different sized wooden tables are accompanied by mismatched chairs with embroidery reminding you of a grandmother's lounge room from the 70s. The chessboard floor clashes with red and black striped walls decorated with pop icons including David Bowie and Superman. Try to nab a seat on the big comfy couch as you fika (coffee and cake) with a mostly younger crowd. Popular breakfast choices are also served on the weekend.
Address | Nytorgsgatan 38, 116 40 Stockholm
Opening Hours | Monday – Tuesday 8.00am – 8.00pm. Wednesday – Thursday 8.00am – 10.00pm. Friday – Sunday 8.00am – 7.00pm
Website | http://www.cafestring.com/
I've visited a lot of bars around the world and Akkurat is arguably one of the best beer bars in the world. This lively tavern has a huge range of beers, stocking bottles from local breweries and extending to brews from all over the globe. Explore their vintage bottle list to sample some rare beers you won't find anywhere else. The pub also has a large selection of whiskies. Hang around for some hearty pub fare and live music late on the weekends.
Address | Hornsgatan 18, 118 20 Stockholm
Opening Hours | Monday – Tuesday 3.00pm – 12.00am. Wednesday – Saturday 3.00pm – 1.00am. Sunday 3.00pm – 12.00am
Website | http://www.akkurat.se/
Come to Omnipollos Hatt if you're craving woodfire pizza and craft beer. Located between Gamla Stan and Södermalm, you may struggle to find a seat as this establishment fills up quickly during meal time. The beer menu changes regularly to check the website to see what's on tap for the day. No reservations.
Address | Hökens gata 1A, 116 46 Stockholm
Opening Hours | Daily 12.00pm – 1.00am
Website | http://www.omnipolloshatt.com/
WHERE TO SHOP
If you're looking for your new active lifestyle wardrobe, head to this SoFo favourite. Founded in 2009, 6/5/4 was created as a meeting point for Stockholm's surfers. Now, the store has become more of a lifestyle concept, selling clothes, watches, tents and surfing gear. It's a unique place where you can shop for a surfboard and enjoy an espresso at their coffee bar. Stocking its own namesake brand, you'll also find a mix of European and international labels. Surf's up.
Address | Nytorgsgatan 27, 116 40 Stockholm
Opening Hours | Monday – Friday 11.00am – 6.30pm. Saturday 11.00am – 6.00pm. Sunday 12.00pm – 5.00pm
Website | https://654.se/en/
The name is deceiving so don't let it dissuade you. Opened by 3 friends back in 2003, Grandpa has evolved into 6 brick and mortar stores and a webstore. The brand stocks men's and women's clothing, homewares and vintage furniture. Featuring Scandinavian and international brands, you will easily spend an hour or more browsing the racks.
Address | Multiple Locations across Stockholm
Opening Hours (Södermannagatan 28) | Monday – Friday 10.00am – 6.30pm. Saturday 10.00am – 5.00pm. Sunday 11.00am – 5.00pm
Website | https://www.grandpastore.com/
The Stockholm based fashion house has become an internationally-recognised name. Founder and Creative Director Jonny Johansson's interests in art, photography, architecture and contemporary culture produces ready-to-wear collections for men and women. Known for its exquisite attention to detail, pick up an exceptionally tailored piece from one of its eight Stockholm stores.
Address | Multiple Locations across Stockholm
Opening Hours (Norrmalmstorg 2) | Monday to Friday 10.00am – 7.00pm. Saturday 10.00am  – 5.00pm. Sunday 12.00pm – 5.00pm
Website | http://www.acnestudios.com/uk/en/home
For cheap(er) but true Scandi-style vibes, pop into Weekday. A Swedish denim and fashion brand, Weekday takes its inspiration from youth culture and the streets. Offering a curated mix of men's and women's clothing plus selected brands, it's the place to go for your new pair of jeans, basic t-shirts or that flashy trending sweatshirt.
Address | Götgatan 21, 116 46 Stockholm & Drottninggatan 63, 111 71 Stockholm
Opening Hours (Götgatan 21) | Monday – Friday 10.00am – 8.00pm. Saturday 10.00am – 6.00pm. Sunday 11.00am – 5.00pm
Website | http://shop.weekday.com/
WHERE TO STAY
If you're looking to rent out someone's space for a few nights, check out one of these cool neighbourhoods.
Gamla Stan
The Old Town and medieval city where Stockholm was founded. Gamla Stan is where you'll find the Royal Palace, the Nobel Museum, Stortorget (the oldest square in Stockholm) and a beautiful harbourfront dotted with colourful houses. The restaurants might cater more towards tourists these days but the neighbourhood's winding cobblestone laneways ensure that the area's charm remains.
Södermalm/SoFo
The south central island of Stockholm is a popular area. Trendy restaurants and top bars share the streets with several Scandinavian flagship stores. Open green parks are perfect for long summer days, our favourite being Nytorget Square. SoFo is the place to be if you want to feel apart of the modern-day city.
Vasastan
The northern suburb feels more residential rather than touristy with the restaurants likely to be filled with locals. Situated within walking distance of Gamla Stan, Vasastan is a good choice if you're looking to travel at a slower pace during your stay.
The Travel Quandary recommends…
Centrally located, City Backpackers is only a 10 minute walk from Central Station. With a sauna and large kitchen (including free pasta and funky social areas), it's easy to see why it has been rated so favourably by Hostelworld customers and nominated as the best hostel in Sweden every year since 2010. Rooms included standard bunk beds decked out in true Scandi-minimalist style.
Address | Upplandsgatan 2, 111 23 Stockholm
Website | https://www.citybackpackers.org
HOW TO GET THERE

By Plane
Stockholm has four international airports. The main airport is Stockholm Arlanda, located 40km north of the city.
From Stockholm Arlanda…
By train
The Arlanda Express runs services every 15 minutes during the day and every 30 minutes in the evening. The train takes 20 minutes from the airport to the city centre to Stockholm Central Station. A single ticket costs SEK 280 and a return ticket SEK 540. If you travel with other people, considering buying in advance to obtain a group discount.
The commuter train (operated by Storstockholms Lokaltrafik) also runs from Stockholm Arlanda to Stockholm Central Station, departing every 30 minutes. This trip will take approximately 40 minutes. Tickets cost SEK 151 and can be purchased at the airport. SL tickets are not valid on the Arlanda Express.
By bus
Flygbussarna Airport Coaches offer transfers to Stockholm Central with departures up to every 10 minutes throughout the day. Travel time is around 45 minutes depending on traffic. Tickets can be purchased online in advance for a discounted price.
Single (Online) – SEK 99
Single Full Price – SEK 119
Return (Online) – SEK 198
Return Full Price – SEK  215
By taxi
The Swedish taxi market is deregulated so feel free to negotiate a price with your taxi driver before hopping in. There are maximum price limits for taxi rides from Arlanda to the city centre so make sure to double check if there are fixed prices that apply.
For further information, visit this link.
WHAT TO KNOW
Subway Art
Stockholm's metro system has been referred to as "the longest art gallery in the world". It would be difficult to disagree as the colourful subway stations have become Insta-famous, putting Stockholm firmly on the map. For in-depth information to navigate the ultimate self-guided tour, check out this blog post.
Card, Not Cash
Most of Scandinavia no longer take cash and Stockholm is no exception. Bank cards are used for almost every transaction so prepare to tap and go. If you're planning on bringing cash, we would urge you to reconsider.
Fika
Fika loosely translates to "a coffee and cake break". Like the Danish word "hygge", the Swedish "fika" is a concept and an attitude very important to the Swedes. Fika is a ritual that needs to be experienced with other people and a little something to eat. Taking the time to pause and socialise, usually with coffee and cake, is very much valued by the Swedes. So when in Stockholm, make sure to fika with your travel companions!
Mid Summer
In Sweden, Midsummer's Eve is one of the most important days of the year. It is celebrated around the summer solstice so will fall anytime between 19 – 25 June each year. If you find yourself in Sweden during this period, look out for the Swedes dancing around the maypole in traditional dress. Treat yourself to some traditional fare including herring and new potatoes, a shot of schnapps and strawberries for dessert.
DID YOU KNOW? Folklore has it that if unmarried girls pick seven or sometimes nine types of flowers and place them under their pillow during Midsummer, they will dream of their future husbands!
---
Have you travelled to Stockholm? Share your top tips and recommendations below!
LIKE THIS POST? PIN IT AND SHARE IT!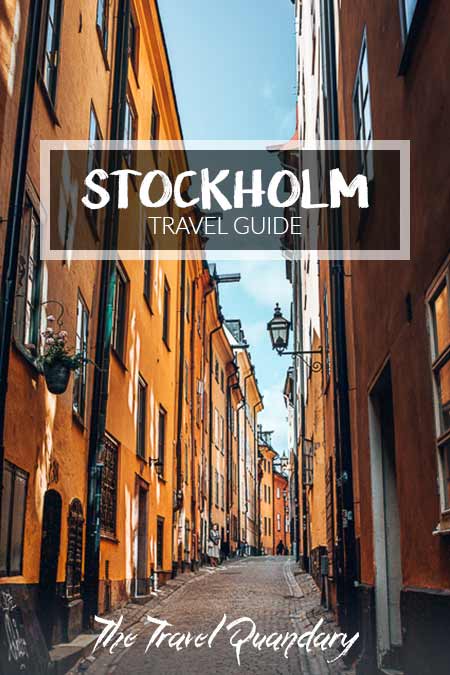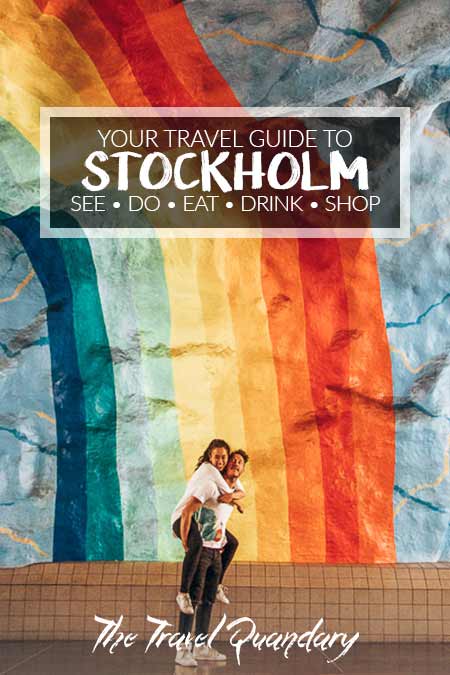 You might also like