The beautiful medieval fairytale city of Prague is both mesmerizing and magical. Offering a melting pot of Gothic and baroque architecture, we guarantee you'll need a drink after navigating the maze of winding cobbled lanes and hidden courtyards. While Czech Pilsner put the country on the map, the number of third wave coffee shops in Prague is on the rise. While beer is still cheaper than water, it turns out people are still willing to spend their koruna on a solid cup of caffeine. After rising at dawn to catch the sunrise at Charles Bridge, check out this coffee guide to seek out some of our favourite places to recharge across the city's neighbourhoods.
---
6 CAFES YOU SHOULD VISIT FOR THE BEST COFFEE IN PRAGUE
---
EMA Espresso Bar
Located within walking distance of the main train terminal, Náměstí Republiky, we would highly recommend making a stop at EMA Espresso Bar. This modern day coffee shop features an extensive coffee menu with the coffee beans changed daily. You'll come across third wave coffee experts including the likes of The Barn & Conceirge Coffee from Berlin, Casino Mocca from Budapest and Drop Coffee Roasters from Stockholm. If you'd like to taste something different or just want to talk coffee, strike up a conversation with the passionate baristas. Don't be shy to try one of their homemade slices or breads too. You won't find many people on laptops here as the cafe doesn't offer wifi. Sit on one of the box seats tucked into the glass windows facing the street, at the long communal bench table or on a seat outside on the pavement.
Address | Na Florenci 3, Praha 1, Czech Republic
Opening Hours | Monday – Friday 8:00am – 8:00pm. Saturday – Sunday 10:00am – 6:00pm
Website |  http://www.emaespressobar.cz/
La Boheme Cafe
La Boheme is a place for interior design fans and book lovers. Upon entering, you're greeted by squishy sofas and quirky armchairs that reminds Jasmine of a Harry Potter common room. The bookshelf wallpaper makes it feel like you're in a library. A high bench table in the front window is perfect for laptop workers.
The cafe's connections with coffee farmers from Africa and Latin America run deep. Led by owner Charles Fleer, La Boheme is committed to excellence, sustainability and environmental consciousness. The dedication of the team to serve the perfect cup of coffee is evident on La Boheme's Facebook page. La Boheme lives up to its tagline "Connoisseurs of Taste". The menu features a generous list of espresso based coffees and specialty brews. If you're feeling a bit cheeky, try one of the La Boheme specialities that mix coffee with liqueurs – we can vouch for the refreshing Cold Driponi. The cafe partners with Harney & Sons to also offer an extensive tea menu. Choose from the large cake cabinet and you're in for the perfect morning tea.
Address | Sázavská 2031/32, Praha 2, Czech Republic
Opening Hours | Monday – Friday 8:00am – 8:00pm. Saturday – Sunday 10:00am – 8:00pm
Website | http://www.labohemecafe.eu/
---
EXPLORING THE CZECH REPUBLIC? READ OUR

PRAGUE CITY GUIDE
---
Můj šálek kávy
Located in the inner suburb of Karlin, Můj šálek kávy translates to "My cup of coffee". As it consistently appeared in our coffee research before our campervan trip, we made a point to visit during our second visit to Prague. As we made our way to the cafe from the metro, it became apparent why people speak so highly of this cafe. Nestled on the corner of a leafy street, cafe-goers were sitting outside on the pavement enjoying the sunshine. It's the perfect spot for a breather if you want to escape the hustle and bustle of the Old Town.
Inside, you'll find wooden tables and a few comfy couches under a large colourful mural on the back brick wall (perfect for the 'gram). Coffee beans from Burundi, Costa Rica and Brazil are served for their espresso based and V60 filter coffees. For hot summer days, you can order an iced latte or affogato to beat the heat. If you're inclined to settle in for more than an hour, we'd suggest choosing the tasting flight which consists of three coffees from the cafe's offering. As we stopped by during an afternoon, we missed out on the weekend menu that includes a full English breakfast, strawberry jam pancakes and smoothie bowl. All pastries are baked in-house if you're after a smaller bite to eat.
Address | Křižíkova 386/105, Praha 8, Czech Republic
Opening Hours | Monday – Saturday 9.00am – 10:00pm. Sunday 10:00am – 6:00pm
Website | http://www.mujsalekkavy.cz/en/
I Need Coffee!
Aptly named, I Need Coffee! is the pitstop you're looking for when wandering along the banks of the Vlata from the Old Town to the New. A short walk up Na Moráni street from Karlovo Náměstí metro station, the corner block cafe opens up into a small, light filled room.
People watchers should perch on the one of the bench seats facing the street as commuters pass by. The coffee manu includes all the regular espresso options plus a small selection of teas and freshly squeezed juices. Their coffee beans are roasted by Casino Mocca, a Hungarian coffee roaster. We ordered an iced latte and a cappuccino with the latter having some delicious caramel undertones. A selection of pastries accompanies the short breakfast menu of grilled cheese and yoghurt and granola. Takeaway coffee is also available as we witnessed many regulars pick up their coffee, presumably on their way to work. Coffee enthusiasts can further spread their love for coffee by picking up a t-shirt or coffee mug from the merchandise shelf. If you end up visiting after midday, we believe it to be perfectly acceptable to select from the wine list should your travelling companion not be as affectionate towards coffee as you.
TIP: Remember to travel responsibly by bringing your KeepCup to reduce your global footprint.
Address | Na Moráni 1958/7, Nové Město, Czech Republic
Opening Hours | Monday – Friday 8:00am – 8:00pm. Saturday 10:00am – 5:00pm. Closed Sundays
Website | https://www.facebook.com/ineedcoffee.cz
---
---
Kavárna co hledá jméno
Over in Smíchov, far away from Prague's Old Town, is the very cool and very hipster Kavárna co hledá jméno. Loosely translated as "cafe looking for a name", you'll actually be looking for the cafe itself. Walking through a parking lot and hidden behind a florist, this locals secret spot is where you should go for breakfast, weekend brunch or a slice of cake.
Large glass windows overlook the leafy garden entrance. The decor inside is industrially chic where vintage tables meet exposed pipes and brickwork. Small jars of flowers adorn the tables next to an eclectic mix of mismatched chairs and an indie playlist in the background. A small breakfast menu includes eggs benedict, eggs florentine and bircher muesli induced some serious food envy from us. Several sighting of the eggs benedict souffle clearly indicated that this breakfast item reigns supreme and is the ultimate Insta-worthy snapshot. The coffee menu leans towards more espresso-based drinks but V60 is available if you're after filter coffee. Clearly a meeting point for business meetings and study groups with laptops aplenty and conversations going full speed around us in tongues we couldn't understand. A small art gallery next to the cafe entrance also leads to a beautifully designed bathroom.
Address | Stroupežnického 493/10, Praha 5, Czech Republic
Opening Hours | Monday 12:00pm – 10:00pm. Tuesday – Friday 8:00am – 10:00pm. Saturday – Sunday 9:00am – 8:00pm
Website |  http://kavarnacohledajmeno.cz/
Brewbar at Naplavka Farmers Market
Should you find yourself in Prague on a weekend, make a point to head to the Naplavka Farmers Market on a Saturday morning. Here, you will find families with prams and dogs shopping for fresh fruit and vegetables, cheese, breads and flowers.
Make a point to pick up a V60 coffee from Brewbar, one of the small vendors specialising in third wave coffee. It's the perfect match to the bag of gingerbread you will have purchased from the market during the morning. Sit on the banks of the river to enjoy the sunshine and let the locals go on their merry way around you.
Address | Rašínovo Nábřeží, Náplavka, Nové Město, Czech Republic
Opening Hours | Saturdays only from 8:00am
Website | http://brewbar.cz/ or http://www.farmarsketrziste.cz/en/naplavka-en
---
why not also try?
Café Sladkovský
Away from the tourist trail, Café Sladkovský is where family and friends come to meet and catch up to discuss their news. The cafe has a bar vibe about it, a trait that you'll find more common as you travel eastward across Europe. The back room is covered with a vintage leafy wallpaper that display old black and white photos of times past. The weathered wooden bar and unused piano add a nostalgic touch.
The coffee is of the highest quality, sourced locally from Coffee Source, a Czech organisation that sells specialty coffee beans, blended coffee beans and coffee equipment. For something other than your usual espresso blend, try the cafe's cardamom coffee. If you've dropped in for a brief visit, choose to add a slice of cheesecake with orange or strawberry spice with your caffeine choice. For a longer stay, take a look at a menu which changes daily but which also sits alongside a standing menu. Long opening hours means you can pop in for either breakfast, lunch or dinner seven days a week.
Address | Sevastopolská 17, Praha 10, Czech Republic
Opening Hours | Monday – Friday 11:00am – 1:00am. Saturday 5:00pm – 1:00am. Sunday 11:00am – 1:00am
Website |  http://cafesladkovsky.cz/
Bitcoin Coffee
Yes, you read that right. Bitcoin Coffee. We dropped into this cafe not quite knowing what to expect. The cafe is as its name suggests and only accepts the cryptocurrency Bitcoin or Litecoin as payment methods. There is a vending machine on site should you wish to purchase Bitcoin and then ultimately coffee.
It was quiet morning the day we visited and ironically, coffee was not being served on this particular day. Housed in a former industrial warehouse, plenty of light fills the large space with concrete, brick and steel decorative elements. As we weren't willing to join the bitcoin craze to purchase a lemonade, we departed without trying the coffee. As the cafe uses coffee beans from Amsterdam roastery, White Label Coffee, we would expect the brew to be top notch! If you happen to visit Bitcoin Coffee on your visit to Prague, be sure to let us know about your experience!
Address | Dělnická 475/43, Praha 7-Holešovice, Czech Republic
Opening Hours | Monday – Friday 8:00am – 8:00pm
Website | http://www.bitcoincoffee.cz/
---
Have you found any other cafes in Prague that serve specialty coffee? Let us know in the comments below!
PIN THIS POST & HELP YOUR FRIENDS FIND THE BEST THIRD WAVE COFFEE SHOPS IN PRAGUE TOO!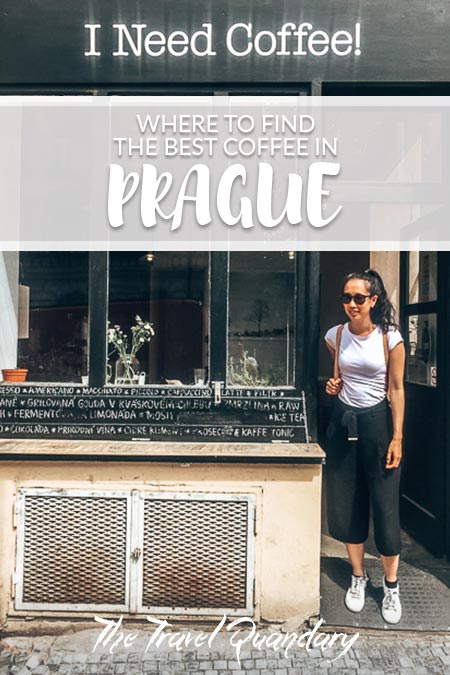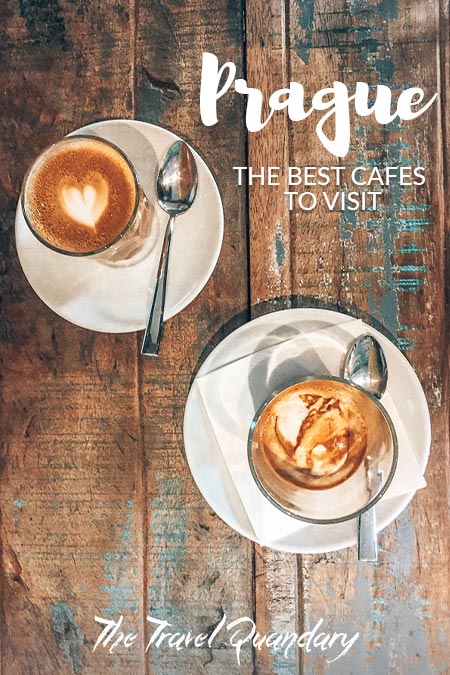 You might also like