For too long, Montenegro has been relegated to the shadows of its more popular neighbouring country, Croatia. But the tide is turning and visitors are flocking in on cruise ships that dock in the Bay of Kotor. Montenegro's mountainous limestone cliffs remain relatively untouched by hungry property developers and investors and the lack of booming hotel resorts is refreshing. Former fortresses converted to Old Town hubs pepper the coastline, coves shelter hidden and not-so-hidden beaches and the rugged landscape provides plenty of opportunity to get active. With an abundance of beaches, national parks and rich cultural heritage, don't underestimate this Mediterranean gem. Make Montenegro one of your next destinations.
---
YOUR MONTENEGRO TRAVEL GUIDE
---
WHAT TO SEE & DO
Hike to St John's Fortress
For the best views of the Bay of Kotor, you'll have to climb high. And St John's Fortress is undoubtedly the best spot. The Castle of St John or Castle of San Giovanni and its surrounds changed hands several times since its initial construction in the Illyrian era in the 4th century. The Venetians and Ottoman Turks left their marks, the Russian troops occupied the area for a while and the British attacked before the Austrians were defeated here in WW1. After all this fighting, it's somewhat miraculous that any ruins remain at all!
Large stone steps assist with your ascent (and descent afterwards) along the zig zag path. Pause along the way to catch your breath. Aside from the sense of accomplishment you'll feel from reaching the top, you're rewarded with an uninterrupted view of the Old Town and the fjord. Watch out for the loose rocks and people coming back down the mountain. Wear supportive walking shoes and carry water. At certain points along the path, there are locals selling water and other drinks. Allow for approximately 2 – 2.5 hours for the return journey (depending on your fitness level, the heat and if you wish to just sit and take in the views). There are two entrances on each side of the Old Town, the main entrance is near Kotor's North Gate. Entrance is €3 per person from May – September (8am – 8pm) and free in the off-season.
TIP: If visiting Kotor during summer, we would recommend climbing early in the day or late in the afternoon to avoid exerting yourself in the heat. There is limited shade along the path.
Explore Kotor Old Town
Kotor's fortified Old Town holds similar charm to other Stari Grads along the Adriatic Coast. Exemplifying examples of Renaissance and Baroque architecture, it is filled with historic monuments, restaurants, shops and guesthouses. The UNESCO protected Old Town was under Venetian rule for almost 400 years, so Venetian influence is also apparent throughout the architecture. Visit the Rector's Palace in the Square of Arms, admire the impressive Pima Palace, cast your eyes over the collection at the Maritime Museum and take a peek inside St Triphon's Cathedral. Rest your feet at one of the restaurant tables outside on the pavement.
Sveti Stefan
Renowned for the small islet that pokes out from the mainland, Sveti Stefan is a small town approximately 35 minutes' drive from Kotor. The islet is host to the exclusive 5-star Aman Sveti Stefan hotel resort and is only accessible to guests and hotel staff. The area was a playground for the rich and famous in the 70s and 80s but don't let the Aman's exclusivity deter you from visiting. Hire a lounge to sunbathe on the public red pebbly beach. Walk along the coastal path that overlooks jagged rocks and hop between the beaches along the coastline.
Visit Perast
A small quaint town in the Gulf of Kotor, walking among the white-washed stone buildings will make you feel like you're in the south of France. Half-crumbled buildings are scattered throughout the town amongst the apartman and sobe signs. It's as if you've gone back in time until you spot the AC units and satellite dishes that remind you of the modern era. Wander along the waterfront and you're thrown into a busy European city café scene, the wicker chairs in the sunshine willing customers to sit and sip their espressos by the water's edge.
Visitors come in droves to the town to see the two islets. Ostrvo Sveti Đorđe or the Island of Saint George features a 12th century Benedictine monastery and graveyard for the old nobility of the area. Visitors are not permitted on this man-made islet. Our Lady of the Rocks contains the Roman Catholic Church, a dedicated sanctuary to the Virgin Mary. Legend has it that local seamen would lay a rock in the bay upon returning home from each successful voyage. Many local tours transport visitors to this tiny island. Perast is 15 minutes' drive from Kotor.
Visit Budva
Another popular seaside town, Budva is 40 minutes' drive from Kotor. A miniature Dubrovnik of sorts, it bears many similarities to the larger Kings Landing. One of the oldest settlements along the Adriatic coast, Budva's Stari Grad (Old Town) is situated on a rocky peninsula. The narrow cobbled streets are pedestrian-only and home to bustling restaurants, shops and guesthouses.
You can visit the Citadel for €2.50 with panoramic views, a restaurant and museum and walk the city walls (a bargain at €1.50 per person). In the surrounding areas, you'll find the harbour with tour boats, more restaurants, Duxley Beach Blub, fast food options and souvenir stalls. Once you've completed the touristy stuff, hop along to one of 17 beaches along Budva's coastline to soak up some rays.
WHERE TO EAT & DRINK
Galion
A modern establishment that sits on the harbour front, a dinner table at Galion offers a captivating illuminated view of Kotor Old Town and St John's fortress. We delighted in beef carpaccio and steamed prawns with couscous followed by delectable black squid risotto and lamb on a bed of truffle mash and roasted vegetables. Dessert consisted of a pleasant apple tart and pannacotta drizzled with berry coulis. Host to intimate dates and tourist groups from the cruise ships, Galion also features a pianist and singer who serenade diners with mellow love songs.
Restoran Ellas
Outside of the Old Town, Restoran Ellas is a two-level restaurant that sits about three kilometres from town along lower Dobrota. The restaurant was virtually empty when we visited at the end of summer with only a few locals watching the football on the lower level. Located right on the water's edge, we imagine that the tables are filled in peak season with visitors from nearby guesthouses along the water who prefer not to walk into the Old Town. There's something for everyone on the menu but the venison or fresh seafood would be our top picks. Make sure to take advantage of the (very) affordable wine list to sample some wine from the Balkans region.
Cesarica
For a seafood meal that won't break the bank, head to this family-run restaurant down a quiet cobbled lane. Cesarica is a warmly lit tavern-like restaurant with wooden tables and bench seats suitable for group meals. This is where we got our seafood fix. Feasting on baby squid stuffed the traditional way and a serve of fish and chips. Be warned. Cesarica's traditional fish and chips is a whole grilled fish that is not filleted. If you're willing to navigate through the fish bones, squeeze a bit lemon and we promise that you will be rewarded with a scrumptious meal.
Hemingway
Slovenska obala, 11 Promenade, Budva 85310
A contemporary establishment located between the modern apartments and Old Town, Hemingway offers breakfast, lunch and dinner as well as everything in between. We stopped for breakfast en route to exploring Budva's Old Town. The restaurant emanates an affluent feel. Relax on a seat outside on the pavement and sip a latte alongside eggs sunny-side up or a bowl or fresh fruit, Greek yoghurt and granola.
Ponta Caffe
Sveti Stasije, 291 E65, Dobrota, Kotor 85330
We were searching for coffee and stumbled across this cute waterside café. At the end of lower Dobrata, it is located at the end furthest from Kotor Old Town. A small clean interior with wooden tables and chairs, Ponta Caffe serves coffee and cakes. We grabbed two takeaway lattes and were quite bemused to receive a straw with our hot beverage. However, if you have time and the weather is good, sit outside to enjoy the afternoon sun and listen to the water gently lapping at the water edge.
WHERE TO STAY
***Luxury***
Sveti Stefan, 85315, Montenegro
Connected to the mainland by a narrow isthmus, feel like a celebrity at this hotel resort on its own islet. This exclusive establishment features 58 rooms under red-tiled roofs in this converted 15th-century fishing village. Guests enjoy access to three pools, three restaurants, Turkish baths and a yoga pavilion. For a luxury stay, book a sea-front suite and be pampered in the spa or on the beach.
**Affordable**
Stari Grad 489, Kotor Stari Grad, Kotor 85330
Stay in this elegant boutique hotel situated in the heart of Kotor Stari Grad. The seven deluxe rooms and suites feature oak wood floors, rich furnishings and all the modern trimmings. Any accommodation that features rain shower heads in their bathrooms also receive our tick of approval. Guests are spoilt for choice with two restaurants onsite featuring Mediterranean inspired dishes. Muted lighting and plush sofas on the lower level are crafted for intimate dinner conversations. If you visit in the spring or summer, take your glass of wine to the top level and enjoy the rooftop terrace. Single supplements unfortunately unavailable.
Stari Grad 322, Kotor Stari Grad, Kotor 85330
A member of the Astoria Group, the attention to detail is unparrelled in this 4-star boutique hotel located in the 13th-century Buca Palace. Hotel Astoria has retained the foundational stone throughout its nine rooms which are decked out with wooden paneled floors, embroidered lounge chairs, gilded lettering artwork and marbled bathrooms. Be treated to international traditional dishes at the hotel's restaurant. The same restaurant is dominated by a symbolic tree stretching the height of the room. Visitors are privy to the hotel's summer outdoor terrace, perfect for enjoying refreshments and overseeing the illuminated Old Town as dusk falls.
If you're not rushing through Montenegro, then booking an extended stay at the idyllic Perast Boutique Apartment could be the right choice for you. Amongst the quaint cottages hidden underneath bougainvillea vines, this rustic self-catering apartment perches at the top of some stone steps and offers a breathtaking view of church bells and the tranquil bay. The airy kitchen is well stocked with enamel utensils inviting long lunches on the small terrace otherwise waterside restaurants play temptress for romantic dinners. Keep in mind that this apartment requires 5 nights minimum stay and access could be difficult for those with limited mobility.
*Budget*
All of Kotor's main attractions are within arm's reach should you decide to take up a bed at Hostel Old Town Kotor. With prime location within the walls of the Stari Grad, the hostel is only a 6 minute walk from the main bus station. The rooms feature exposed stone from the original 13th century building and are furnished with sturdy wooden furniture. Common areas are clean and spacious and staff are on hand to help arrange tours.
HOW TO GET THERE
By car
Prepare for some windy roads, particularly around the Bay of Kotor. From Dubrovnik, take the D8 which will connect to the E65. The road hugs the coastline and you'll be rewarded with sparkling blue waters and quaint towns en route to Kotor. Driving will take approximately 2 hours (this excludes time waiting at the border). From Podgorica, take the M2.3 which will connect to the E65/E80. This route is about 85 km (52.8 miles) and will take approximately 2 hrs.
---
---
By bus
Kotor is accessible by bus from major surrounding cities including Podgorica (2 hrs) and Dubrovnik (2 hrs). Kotor's main bus station is located about a 10-minute walk south of the Old Town. Autoboka is the owner of the bus station. Find the latest timetables at the following website. For further services, check timetables with Globtour and BlueLine.
By plane
Montenegro has two international airports: Podgorica Airport (TGD) and Tivat Airport (TIV). Podgorica Airport is located 65 kilometres (40 miles) from Kotor and has regular flights to major European destinations throughout the year. Tivat Airport is located 5 km (3.1 miles) from Kotor with fewer commercial flight services. Many hotels offer free shuttle services to and from Tivat.
WHAT TO KNOW
Ferry Crossing
Depending on where you stay in Montenegro or if you're pushed for time, it is possible to catch the local ferry across the Bay of Kotor. The ferry crosses the narrowest part of the Bay at the Verige Straits between Kamenari and Lepetane with the journey taking approximately 10 minutes. Pedestrians go free while a one-way ticket for a car is €4.50 (cash only). Services run frequently. For more helpful information, visit the following weblinks:
Crossing Borders
If navigating Montenegro and surrounding countries by car, you may encounter long wait times at the borders. We crossed to and from Bosnia & Herzegovina and Croatia at different times of the day with our wait times varying from 10 minutes to an hour (and this was outside of peak summer season!). If you're following a strict schedule around the Balkans, factor in additional time for crossing the border.
Discover Montenegro
More information about Montenegro and planning your holiday can be found at the following website. If you're searching for first-hand recommendations and tips, this blog post will tell you what you need to know about travelling to Montenegro.
---
Have you visited Montenegro? Share your travel experiences with us in the comments below!
LIKE THIS POST? PIN IT AND SHARE IT!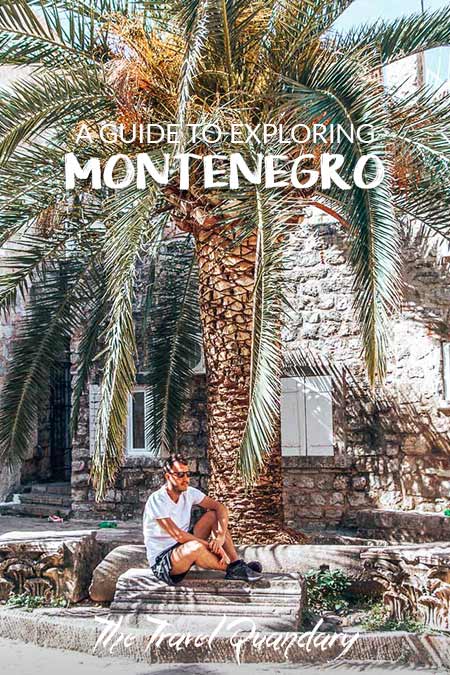 You might also like