The land of windmills, tulips and cheese. The Netherlands is where bicycles are the main form of transport and it rains more than in London. Often referred to as the 'Venice of the North', Amsterdam offers so much more than its notorious Red Light District and the opportunity to get high. This comprehensive city guide will ensure that your visit to the Dutch capital is filled with plenty of culture, gastronomic delights and gezelligheid.
---
YOUR ESSENTIAL AMSTERDAM TRAVEL GUIDE
---
WHAT TO SEE & DO
TOURISTY STUFF
Museumplein 6, 1071 DJ Amsterdam
The life and artwork of Vincent Van Gogh, one of (if not) Holland's most famous artists is documented in this multi-level museum. The museum showcases an entire gallery of self-portraits, works from his Dutch period and French period, the key people in his life and a selection of his drawings. See world famous paintings including Sunflowers (1889), Almond Blossom (1890) and The Potato Eaters (1885). Private guided tours are available daily and in multiple languages. Photography is strictly forbidden with staff members monitoring and chastising crowds with eagle eyes. Tickets can be purchased online in advance to avoid waiting in queue when you visit. Open 7 days a week.

Museumstraat 1, 1071 XX Amsterdam
The Rijksmuseum is a Dutch national museum dedicated to Dutch art and history from the Middle Ages to the present day. Over 1 million objects are part of the museum's collection spread across five floors. Wander through the Gallery of Honour which will direct you towards the Night Watch Gallery. The extended corridor is flanked by alcoves covered by masterpieces of 17th century artists. Admire examples of Delftware, restored Dutch dollhouses and Asian art collectibles. It's an impressive display catalogued in intricate detail and any person with some interest in art and/or history is likely to find something intriguing. For bookworms, make sure to pop into the Rijksmuseum Research Library. Any library with a spiral staircase and rolling ladders shouts #librarygoals. Housing the most extensive art history collection in the Netherlands, there is also a reading room to allow visitors to consult catalogues and reference books. Open daily 9:00 – 17:00.

Stadhouderskade 78, 1072 AE Amsterdam
"Born in Amsterdam, raised by the world!"
The original industrial facility established in Amsterdam in 1864 is now home to the Heineken Experience. Visitors take an interactive self-guided tour (approx. 1.5 hours) and learn about the history of the Dutch pilsner, the brewing process, innovations and sponsorships. The tour is in English, but Heineken has developed its own app which provides additional information in nine languages. Two Heinekens are included in your ticket price and you have the option to upgrade to a VIP Tour or Rock The City Tour. Open 365 days a year, tickets can be purchased online in advance.

Prinsengracht 263-267, 1016 GV Amsterdam
The very location where teenage diarist, Anne Frank, hid from the Nazis during WWII along with her Jewish family and family friends, is now a museum. The self-guided tour comes with an audio guide to accompany the video content and information placards placed throughout the building. You'll walk through the very door behind the bookcase which concealed the entrance to the secret annexes on Prinsengracht. The secret annexes are stripped bare except for a few remnants of magazine cut outs and posters that Anne plastered on the walls in the room where she slept. Original extracts from her diary are on display and visitors also learn how Anne's father, Otto Frank, brought Anne's dream to fruition and had her writing published for the world to read. Book tickets in advance.
A Canal Cruise
The canals of Amsterdam are a hallmark of the Dutch capital. Many first-time visitors will choose to hop on one of these boats and cruise along the UNESCO protected canal ring. Most tours last approximately an hour with the key start and finish points at Damrak in front of Amsterdam Centraal. Other types of canal cruises include practical hop-on-hop-off services (one stop is in front of Anne Frank Huis) or a candlelit tour.
Alternatively, be the captain of your own vessel. With a small group of family and/or friends, rent a boat sans boat licence and cruise the canals at your own pace. These companies will request a security deposit, valid ID (18+) and will provide safety and navigation information.
A contentious aspect long-tied to the city's history and image, the Red Light District attracts curious visitors and customers alike. Prostitution is legal in the Netherlands and in Amsterdam, the sex-workers from behind 300 windows bordered by the red neon lights. Contrary to popular belief, the Red Light District is quite a safe area, patrolled by police officers and hired bodyguards. It's not all about prostitution in the oldest part of Amsterdam. Visitors will find a plethora of coffee shops, sex shops, peep shows, strip clubs and sex theatres. It is strictly forbidden to photograph or film the sex-workers in the windows and the performers in the sex clubs and theatres. Make sure to also remain vigilant as pick-pocketers, dealers and seedier characters frequent the area when night falls.
UNDER THE RADAR
Explore the Netherlands' industrial past and take a journey to the Zaanse Schans. Located just north of Amsterdam, the Zaanse Schans is a residential area that offers a preserved glimpse into life during the 18th and 19th centuries in the Zaan district. Full of wooden houses, mills, museums and workshops, visitors have the chance to check out the bakery museum, the warehouse where clogs are made as well as the cheese factory and the windmills. Opening times and admission prices vary. It is possible to visit the Zaanse Schans as part of a guided tour or else, it is easy to access via public transport.
By train: From Amsterdam Centraal, catch a Sprinter train and descend at Zaandijk – Zaanse Schans. The journey is approximately 20 minutes. From the train station, it is about a 1km walk (approximately 15 minutes) to the windmills, which is well sign-posted.
By bus: From Amsterdam Centraal, jump on the R-net bus 391 from the back of the station. Buses depart every fifteen minutes and the journey is approximately 40 minutes.
Bellamyplein 51, 1053 AT Amsterdam
Can't decide what cuisine you want to eat for dinner? Have a fussy eater in your party? Foodhallen has something for everybody. Housed in an old tram depot, Foodhallen offers international cuisine in Amsterdam's Old-West. Food stalls whip up firm favourites including woodfire pizza and greasy burgers but you can also get your hands on Vietnamese spring rolls and mezze platters. The bars also serve a range of alcoholic and non-alcoholic drinks. Seating is hard to come by in the evening so it's recommended not to go in large groups for dinner time. Open 7 days a week.

Hire a bicycle
Do as the Dutch do and hire a bicycle to explore the city. Most hotels or hostels will have bicycles available to hire. If these are all booked up, chances are that there is a bicycle store within walking distance where you can rent one. Vondelpark is Amsterdam's answer for wide green space like Central Park is for New York City. If the bike lanes make you a bit nervous, head on to one of the city's green spaces for wider lanes and zero trams.

Overhoeksplein, 5, 1031 KS Amsterdam
For those who like to climb high for the city views, the A'DAM Lookout on top of the A'DAM Tower is probably your best bet. Take the free 5 minute ferry from Amsterdam Centraal and then it's a short walk up the slope once you reach the shores of Amsterdam-Noord. Catch the elevator (groovy light show inside!) up to the restaurant/bar on the 20th floor and head outside to the observation deck for 360° views. If you're seeking another adrenaline rush, pay €5 to ride Europe's highest swing 'Over the Edge', 100m above the ground. Purchase tickets in advance online. Open 7 days a week.

Visit the local markets
The Netherlands exported US $3.3 billion of cheese during 2016 so if you want to try some top-quality slices, you're best to head to one of the local markets. See vendors in action selling fresh organic produce, freshly baked loaves and wheels of cheese. If you're in De Pijp, make sure to taste a hot, traditional stroopwafel (less sweet than the commercial supermarket packets) as well as a serve of poffertjes dusted in icing sugar. Check out a few of our favourites below!

Albert Cuypmarkt (De Pijp)
Albert Cuypstraat, 1073 BD Amsterdam
Monday – Saturday from 9am – 5pm
Best for: Traditional Dutch Snacks, Fruit & Vegetables, Fish, Household Products, Clothing & Accessories

Noordermarkt & Boerenmarket
Noordermarkt 42B, 1015 NA Amsterdam
Mondays 9am – 1pm, Saturdays 9am – 5pm
Best for: Organic Farmers' Market, Cheese, Vintage Clothes, Antiques, Flowers & Plants, Jewellery & Accessories

Lindengrachtmarkt
Lindengracht, 1015 KJ Amsterdam
Saturdays 9am – 4pm
Best for: Fruit & Vegetables, Fish, Cheese, Nuts, Flowers & Plants, General Goods

Ten Kate Markt
Ten Katestraat 97-99, 1053 CC Amsterdam
Monday – Saturday from 9am – 5pm
Best for: Fruit & Vegetables, Cheese, Wine, Clothing

WHERE TO EAT
Eerste Jacob van Campenstraat 54, 1072 BH Amsterdam
Kadijksplein 16, 1018 AC Amsterdam
Around the corner from the Heineken Experience, a big brunch at Bakers & Roasters may be the hangover cure you'll need or where you go to start your day of sightseeing. With inspiration taken from their Kiwi and Brazilian roots, the owners have also remembered to inject the warmth of their mothers' cooking and hospitality. A Kiwi Brekkie or the Huevos Rancheros will more than satisfy the hunger pains and you can wash it down with a double shot of Ozone coffee, a freshly-squeezed juice or a boozy milkshake. Reservations not accepted.

Vondelpark – Koninginneweg 218, 1075 EL Amsterdam
Hoftuin – Nieuwe Herengracht 18a, 1018 DP Amsterdam
If you have a bit more time to indulge in a longer brunch, we would highly recommend checking out one of the Dignita locations. Both easily accessible by public transport, the menus change seasonally to ensure that the freshest, locally-sourced ingredients are on hand to prepare scrumptious meals. Add creamy truffled mushrooms to your free-range eggs or apple cider hollandaise to your eggs benedict. The blueberry & lemon curd will also go down a treat on your pancakes. Reservations accepted online on weekdays only.
---
---
Van Baerlestraat 67, 1071 AR Amsterdam
This corner delicatessen sits a few blocks from the bustling Museumplein. It's the perfect lunch pit stop after exploring one of the museum's in the morning. Serving up freshly made pasta salads or gourmet subs, sit outside on one of the white benches if the weather is good.

Multiple Locations
For our vegetarian and vegan friends, we recommend steering clear of this establishment. Loetje specializes in steaks and classical Dutch dishes. Upon a recommendation, we sampled the regular Beefsteak Rinderfilet (tournedos) 'Bali' (XL also available). The Bali steak comes as two rib eye pieces, cooked to utter perfection. Covered in a thin gravy sauce, this condiment packs the right amount of chili kick. Accompany with a side of fat golden fries or mixed salad. Open for lunch and dinner, reservations recommended.

The Dutch East Indies was a Dutch colony occupying the archipelago that is now known as Indonesia. Subsequently, there are many Indonesian restaurants and street food stalls in Amsterdam. At Sampurna, your options will extend far beyond mi goreng. Generous hospitality is paired with authentic cuisine featuring plenty of spice, coconut and peanuts. Set rice table menus are available in a venue with wooden accents and a relaxed atmosphere. Located opposite Bloemenmarkt, its location in the historical centre is favourable. Reservations recommended.

A hide-away in the middle of Centruum, find this warm, welcoming restaurant next to Hotel V Nesplein. Open for breakfast, lunch and dinner, The Lobby promises and delivers a whole lot of 'gezelligheid'. Early birds may want to try the Dutch style 'wentelteefjes' (French toast) accompanied with coffee by friends at Bocca Coffee (see Where To Drink). If you pop in for lunch, you have the option to taste the famous 'Flammkuchen', a traditional thin-crusted pizza from the Alsace region. A dinner visit will be a real treat with a 3-courses option and a wine list with more than enough options to pair with your food suitably. Reservations recommended.
If your visit to Amsterdam is a short one, you can also check out this 36 hour guide for more food and drink recommendations.
WHERE TO DRINK
Kerkstraat 96HS, 1017 GP Amsterdam
Wedged between Keizergracht and Prinsengracht behind Leidseplein, Bocca Coffee is the perfect spot to start your day or to drop-in for a coffee break. The menu is short and simple. Choose between a regular black or regular white and make sure to seriously consider a sweet treat from the front counter. Open 7 days a week. Card only.
---
---
Tweede van der Helststraat 3, 1073 AE Amsterdam
Fancy a glass of vino without the hangover? Glou Glou will offer you just that. One street back from Sarphatipark, the wine bar offers organic wines in a cosy space. Glou Glou invites you to not only drink their natural wines but also to experience it. It's the perfect spot for a pre-dinner drink or post-dinner aperitif. A small borrel and cheese menu is also available. Staff are knowledgeable and on hand to offer advice suitable to your taste preferences or mood. Sip and savour your wine, comfortable in the knowledge that you're unlikely to wake up with a pounding head. No reservations. Open every day until late.

Dijksgracht 4, 1019 BS Amsterdam
If you're fortunate to visit Amsterdam during the warmer months, Hanneke's Boom is in prime location to enjoy a cold drink by the water's edge. Offering an uninterrupted view of NEMO, it is an ideal spot to enjoy a sandwich or borrel on the large open terrace. Hanneke's runs a creative cultural program too. On any given day, you may see artist workshops, dance classes and live music. Easy to access via train (short walk from Amsterdam Centraal), tram or bicycle. Open every day till late.

Funenkade 7, 1018 AL Amsterdam
Amsterdam has a number of breweries producing numerous craft concoctions. From blonde beers to dark beers, local brews can be found on tap and in bottles in bars and pubs around town. One of those breweries is Brouweij't IJ. Make your way to the east side and head towards the large windmill. This ultimate landmark has become home to one of the largest and best known breweries in Amsterdam. Choose from an extensive beer menu which features classics, seasonal varieties and one-off specials. Order inside at the bar before taking a seat at one of the long benches outside or nestle inside between the walls of the old bathhouse. For those wanting a quiet drink, you needn't worry about rowdy groups as the pub pointedly turns away stag parties. Open daily from 2pm – 8pm.

Gravenstraat 18, 1012 NM Amsterdam
When your belly can no longer handle another Heineken or craft beer, Proeflokaal De Drie Fleschjes should be your next stop to throw back a shot of jenever (or two). Jenever or Genever is Dutch-gin (just don't call it that), the juniper-flavoured traditional gin of the Netherlands and Belgium. The bar's range includes genever from the famous Bols Distillery and the Dutch liqueur Boswandeling. Pop into this little hole in the wall located behind De Nieuwe Kerk and knock back a few tipples before moving onto your next watering hole. Open 7 days a week but not till late.
WHERE TO SHOP
The equivalent to London's Oxford Street, most of the high street brands have stores along Kalverstraat in Centruum. European favourites including Zara and H&M have a few branches along here, the Americans feature with Forever21 and Urban Outfitters and the British are represented by Topshop and River Island.

Savvy sartorialists will head to The Nine Streets canal-district area which features vintage and designer boutiques amongst quaint eateries. Episode has rails jam-packed with vintage wares, We Are Labels has a store here stocking beautiful pieces by European designers and Marie-Stella-Maris is an Amsterdam-based brand offering natural beauty products and home fragrances. Shop leather goods at Margareth M and luxurious clothing at Laura Dols and Anecdote. Once you've shopped until you're about to drop, go to Pluk to recharge with a coffee and chicken sandwich.

This alternative shopping street located on the edge of the Jordaan district is where to head if you're looking for unique goods. Find something special within a mix of independent boutiques and specialty stores offering fashion and accessories, toys, gifts, jewellery and books. Shops are open until 9pm here on Thursday evenings. The street is also packed with trendy restaurants and bars.

Rozengracht 204-210, 1016 NL Amsterdam
Van Woustraat 4, 1073 LL Amsterdam
Founded by three childhood friends in the summer of 2012, Hutspot is defying the retail trend of closing bricks & mortar stores. The Dutch concept store has gone from a small pop-up in 2012 to opening five stores in five years. Hutspot searches and features new brands, designers and entrepreneurs offering clothing, homewares, accessories and workshops. Unfortunately, they don't have an online store so make sure to pop into one of their Amsterdam branches to find brands including FEST Amsterdam, NAN-GOODS (amazing leather bags and purses), Paper & Tea and Manitou Amsterdam.

Kinkerstraat 193, 1053 DR Amsterdam
Eerste van Swindenstraat 43, 1093 GC Amsterdam
Die-hard vintage fans should go the extra few blocks to one of the We Are Vintage locations. You'll find racks and rails of Levi's denim, faux fur coats, leather jackets and a large range of accessories. Let somebody else's trash become your treasure! Both locations open 7 days a week.
WHERE TO STAY
Centruum
The small city centre is a bustling hive of pedestrians and cyclists on the cobblestoned streets. You'll find museums, high street shops, the Royal Palace, Argentinian steak houses and the Red Light District all within easy walking distance. There is a lot of traffic in this part of town so if you're a light sleeper or feel anxious in crowds, it is recommended that you stay in a different part of town.

De Pijp
Arguably the hippest neighbourhood of Amsterdam, foodies will head to De Pijp. Brunch favourites including Bakers & Roasters, The Avocado Show and CT Coffee & Coconuts are in this area. In the evening, it's a mix of greasy spoons, Asian restaurants and trendy establishments specialising in steak or seafood. The Albert Cuypmarkt is De Pijp's main thoroughfare which bustles from Monday – Saturday. Sarphatipark sits in the centre of the neighbourhood which is a popular park for young families and fitness fans.

Jordaan
The oldest neighbourhood of Amsterdam sits to the west of Centruum. Originally a poor district, it was home to immigrants from the 17th century and later on the large Jewish population that fled to Amsterdam. Nowadays, the neighbourhood is home to plenty of food and antique markets, the Westerkerk and Noorderkerk, boutique shops at the '9 straatjes' and the world renowned Anne Frank House. For apple pie, join the queue out the door at Winkel43.

Oost
This once shady corner of Amsterdam has become a bustling hive with entrepreneurs reinventing the area with a plethora of concept stores and high-end dining options. Visit the wild animals at Artis Zoo, browse the stalls at Dappermarkt or check out the beautiful Hortus Botanicus, one of the oldest botanical gardens in the world. Oost also accommodates a lot of domestic and international students so don't be surprised if you find a group sprawled out in one of the leafy parks.
WHAT TO KNOW
It rains. A LOT.
I lived in London before moving to Amsterdam. I thought it rained a lot there. Little did I know that the average yearly rainfall in the Netherlands is 76.5cm compared to an annual average of 60.1cm in London. Bring an umbrella and/or raincoat. It would also be wise to wear shoes that can withstand the rain and puddles.

Getting High
A "coffee shop" in the Netherlands is not a "coffee shop" anywhere else in the world. So take care when you talk about grabbing a coffee from a café and finding a coffee shop. It is common knowledge around the world that soft drugs, such as cannabis (marijuana/weed, hashish) and magic truffles are sold in coffee shops throughout Amsterdam. If you decide to partake, make sure you have ID and to consume with care.
TIP: If you are travelling to other parts of Europe, any leftovers must remain in the Netherlands. Sniffer dogs operate on trains and at airports on vessels exiting the Netherlands to international destination and fines will be issued if you are caught taking these drugs out of the country.

Give way to cyclists
Check left, check right and then check left again. Bicycles and its cyclists rule the roads in Amsterdam. First-time visitors should keep a lookout for the cycling paths (many are red) and be careful when crossing roads. A hurried ping of a bicycle bell and shouting from an aggravated rider will have you rushing off the laneway in mild panic.

Gezelligheid
The equivalent to the Danish word "hygge" is the Dutch word "gezelligheid". Loosely translating as conviviality, coziness or fun (depending on context), we genuinely hope that a visit to Amsterdam will leave you with this warm and fuzzy feeling!
HOW TO GET THERE
By Plane
Amsterdam Schiphol Airport is the main domestic and international airport serving Amsterdam. It is located approximately 20 kms (12.4 miles) from the city centre.
From Amsterdam Schiphol Airport…
By train
The train journey from Schiphol to Amsterdam Centraal is approximately 20 minutes. Train tickets or a Dutch public transport card ('OV chipkaart') can be purchased at ticket machines or the ticket desks near the Meeting Point at Schiphol Plaza. If you choose to purchase an 'OV –chipkaart', be aware that you must have a minimum of €20 credit when using the trains. The OV-chipkaart can be used on all trains to and from Amsterdam and aboard all trams, metros and buses within Amsterdam. Check this website to help plan your routes within Amsterdam.
Tip: If you have leftover credit on your OV-chipkaart, head to one of the service counters at Amsterdam Centraal or Schiphol Airport for information on how to obtain a refund. You will need to fill out a form and present photo ID. For more information, read here.
By bus
If you're staying in the Amsterdam area, the Amsterdam Airport Express (bus 397) is your best route. It departs from platform B15 outside Amsterdam Schiphol with services running every 10 – 15 minutes. Payment on the bus is via card only (cash is no longer accepted). Key stops include Museumplein and Leidseplein but keep in mind that this bus does not stop at Amsterdam Centraal.
By taxi
There is an official taxi rank outside arrivals at Amsterdam Schiphol. A one-way trip to the city centre will take approximately 20 minutes and cost €40 – €50. Uber operates in the Netherlands with one-way rides usually costing approximately €20 – €30.
By Train
Amsterdam Centraal is the main train station with connections to and from national and international destinations. Major surrounding cities include Paris (4 hrs), Brussels (2 hrs), Düsseldorf (3 hrs) and Berlin (6.5 hrs). International routes are operated by Thalys, ICE International and Eurostar. National services are operated by Nederlandse Spoorwegen (NS).

By Bus
Amsterdam is accessible by bus from major surrounding cities including Antwerp (2.5 – 3 hrs), Brussels (3 – 3.5 hrs), Paris (8 hrs) and Cologne (4 hrs). Companies operating these services include FlixBus, Ouibus and Eurolines.
---
LIKE THIS POST? PIN IT AND SHARE IT!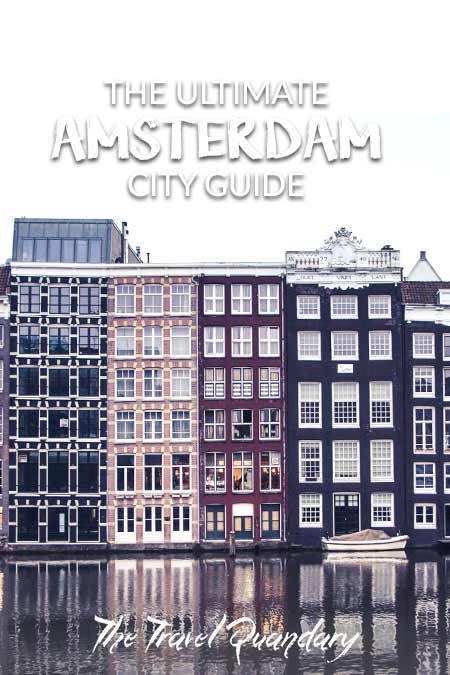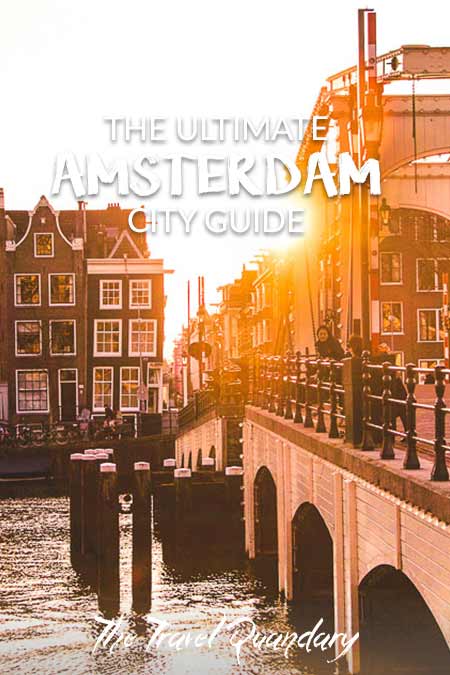 You might also like