Located on the Adriatic coast, you'll be spoilt for choice when you visit Split. The central Dalmatian city has sparkling blue water on one side, surrounding mountains on the other as well as a Roman fortress for a city centre. With our complete guide to Split, you'll discover wine bars down narrow alleyways and marvel at the whitewashed stone buildings within Diocletian's Palace. Go watch the sunset from a bench seat on Riva and soak up the sunshine from one of the beaches along the coast. You won't need to venture far in the pedestrian-zone city for delectable cuisine, warm sunshine and regional wine. So grab your flip flops and sunglasses and follow us this way…
---
THE TOP THINGS TO SEE AND DO IN SPLIT CROATIA
---
WHAT TO SEE
Diocletian's Palace
Built by a Roman Emperor in the 4th century, the Palace encompasses the entire fortress complex, not just the courtyard (Trg Peristil) next to the Cathedral of Saint Domnius. More than 200 buildings remain within the city walls, now under UNESCO protection. Get lost among the white stone walls, walk through the ancient gates and dine in one of the many restaurants or cafes. Walking tours are available if you want to learn more about Split's history, Roman architecture or for die-hard GoT fans, where the HBO series was filmed. Under Croatian law, free walking tours are prohibited. The most popular walking tours cost €10 – €14 and last from 75 minutes to 2 hours. Advance bookings online recommended.
Dioklecijanvi Podrumi
Archaeologists would have had a field day when they discovered the brilliantly conserved cellars of Diocletian's Palace. Multi-purpose in function, in Roman times, the cellars raised the emperor's rooms in the upper floors but were also used as warehouse space or dungeon space. Today, the space is used for art exhibitions and social and cultural events. The main passage which passes from the bottom of the Cathedral to the waterfront Riva exit features shopkeepers selling local-made jewellery, art and homewares.
Address | Ul. Iza Vestibula 3, 21000, Split
Opening Hours | 24 hours
The Gates & Towers of the Old Town
Picture yourself in a Game of Thrones scene. You're entering a city fortress through one of its many gates under the watchful eyes of sentries from towers above. Well, we know that Dubrovnik was actually used for King's Landing, but if you don't make it further south, Split is the best alternative. Make sure to walk past and admire the 4th century Roman architecture featuring preserved arches and ornate statues at the Kinoteka Golden Gate (Zlatna Vrata), the Silver Gate (Srebena Vrata) and the Eastern Gate. Towers (kula) are situated at various points around the Old Town.
WHAT TO DO
Stroll along Riva and watch the sunset from Split's waterfront
This renowned promenade sits just outside the palace walls and is lined with restaurants, bars and buskers. Sit on the waterfront to enjoy ice-cream or a serve of Croatian homemade doughnuts called krafne or pokladnice. Wander down to Matejuška for a full view of Split's harbour.
Climb the bell tower of the Cathedral of Saint Domnius
Standing 57m high, climbing this Romanesque bell tower is probably not recommended for chronic acrophobes. Purchase your ticket to the left of the entrance to the cathedral (20 kuna/pp*) before ascending a steep narrow staircase. The stairs are few and you'll emerge onto a small landing where you'll glimpse the Triclinium ruins above Dioklecijanvi Podrumi. Then, climb a steel staircase to the top where you'll be rewarded with stunning views of the red roofs of the city and Split's harbour.
Take a dip at the beach
There are a few beaches accessible from Split's city centre.
Bačvice Beach – The closest beach, approximately a 20 minute walk. During the day, Bačvice Beach is filled with sunseekers but when night falls, the beach clubs come alive. If you're in the mood, grab a cocktail and go dancing at Tropic Club or Club Black & White.
Firule Beach – If you want to feel sand between your toes, head to Firule Beach, a bit further along from Bačvice Beach. Hop between the sun on the sand and the shade of the trees in the nearby hillside reserve and dine at one of the restaurants along Put Firule.
Kasjuni Beach – Situated in a small bay at the base of Marjan Hill. The white pebbled beach is lined with lounge chairs and beach umbrellas offered by Plaza Kašjuni. Best accessed by car, you can sunbathe, rent a kayak and grab a bite to eat or enjoy a drink from Joe's Beach Lounge & Bar.
Wander the alleyways
Sometimes the best way to explore a city is just to wander it. Go off the beaten track, walk aimlessly and be delighted with unexpected discoveries. Google Maps is fairly accurate but many of the small, narrow alleyways (called kalete) have helpful signs detailing what is available down each laneway. Find a small taverna away from the main squares and sample delicate Dalmatian cuisine cooked by the locals.
---
---
 WHERE TO EAT & DRINK
D16 Specialty Coffee
We found D16 by accident and it's a good thing that we did as we discovered that it's only one of two specialty coffee shops in Split. Nabbing some comfy chairs in the smaller back room, we ordered an Aeropress and espresso. Flavoursome coffee with fast and friendly service, D16 is a welcome break from exploring Diocletian's Palace.
Address | Dominisova ul. 16, 21000, Split
Opening Hours | Closed during Winter Season. Check here for opening hours for Summer Season.
Website | http://d16coffee.com/
4coffee soul food – Specialty Coffee
Hands down one of the best flat whites I've tasted while travelling Europe – and that's saying something. Make sure not to miss this hole in the wall specialty coffee shop just a short walk from the Silver and Eastern gates. Two stools inside allow you to watch the barista prepare your coffee or stand outside to watch pedestrians pass by.
Address | Ul. Hrvoja Vukčića Hrvatinića 9, 21000, Split
Opening Hours | Monday – Friday 7.00am – 3.00pm. Saturday 7.00am – 6.00pm. Sunday 7.00am – 12.00pm
Website | 4coffeesoulfood on Facebook
Corto Maltese
Dining at Corto Maltese was unplanned but necessary given that (1) we needed breakfast, and (2) it was about to rain. Our servings of vegetarian omelette and eggs benedict were on the small side but quite tasty. The restaurant is also open for lunch and dinner with indoor and outdoor seating. An extensive tea menu is available as well as options for decaf coffee (which we pointedly avoided).
Address | Obrov ul. 7, 21000, Split
Opening Hours | Daily 8.00am – 12.00am
Website | http://www.cortomaltese.rocks/
Uje Wine Bar
The perfect hidey hole for a pre-dinner glass of vino. The menu lists a wide variety of wines from the Balkans and your waiter will happily make a recommendation. I would have gladly guzzled another glass (or bottle) of my merlot if we didn't have a dinner reservation. The Uje Oil Bar receives a lot more press and fortunately for you, it is just opposite the wine bar if you fancy sampling some of Croatia's premium olive oils. Uje operates shopfronts up and down the Croatian coast.
Address | Rodrigina ul. 1, 21000, Split
Website | http://uje.hr/
Konoba Ma:Toni
Go where the locals go for mediterranean Dalmatian cuisine. Outside the main tourist thoroughfare, Ma:Toni is approximately a 15 minute walk from Diocletian's Palace. Descend into a large warmly lit tavern-like cave. You'll spy the wine cellar as you enter before being ushered to your table. Selecting seafood dishes this dinner time, our tuna steak and ray fish arrived elegantly plated and with a quick tutorial on how to debone the ray fish. Accompany with Balkan beer or wine and don't forget to visit the dessert menu. The Čoko Mousse is particularly generous.
On a side note, the tasting plate shared by the party of four next to us caught our attention just as we were finishing dessert. It looked like it could have been the "Sirevi"; a mental note to choose this option next time!
Address | Prilaz braće Kaliterna 6, 21000, Split
Opening Hours | Tuesday – Thursday 1.00pm – 11.00pm. Friday – Saturday 1.00pm – 11.30pm. Sunday 1.00pm – 5.00pm
Website | http://www.ma-toni.com/
TIP: You may spot the bakery chain Bobis d.o.o in several places throughout Croatia. When you're feeling peckish at anytime of the day or night, there is a 24hr Bobis shop on the edge of the Old Town (Zagrebačka ul. 23, 21000, Split)
WHERE TO SHOP
KOZA Unikati
The word 'koza' means goat and is the symbol of Istria, a region situated in northern Croatia. Koza Unikati is run by the Zoričić family, a family of Istrian artisans creating beautiful leather accessories for men and women. Natural materials are dyed and combined with chain and metallic details producing a range of bags, purses and belts. Needless to say, I wanted more than one of everything. The head office and main retail shop is in Zagreb, if you happen to be passing through the Croatian capital.
Address | Zadarska ulica 6, 21000, Split
Website | Koza Unikati on Instagram
Studio Naranča
Gallery Studio Naranča is a small family-run art studio in a three-storey house against the northern wall of Diocletian's Palace. The gallery works to promote Croatian and international contemporary artists by showcasing and selling authentic paintings, graphics and jewellery. Pick up a contemporary piece in bold colours that reflect the spirit of the Mediterranean.
Address | Ul. Majstora Jurja 7, 21000, Split
Opening Hours | Monday – Saturday 9.30am – 1.30pm
Website | http://studionaranca.com/
Pazar
Want to know where the locals shop? You don't need to venture far. Split's outdoor market, Pazar, is located right next to Diocletian's Palace. See the colours, taste the flavours and smell the aromas of seasonal fresh fruit and vegetables. You might even take part in a bit of bargaining with one of the street vendors.
Address | Hrvojeva 3, 21000, Split
Peškarija (The Fish Market)
Hrvatska, Obrov ul. 5, 21000, Split
Shoo fly, don't bother me. The architectural monument within which this market runs is world renowned for being the only fish market in the world without flies. This is thanks to the fact that it was built next to the neighbouring City Spa which emits the smell of sulphur. Like Pazar, Peškarija is an integral aspect of city life in Split. Come see where locals and restaurateurs buy their seafood, plucked fresh from the Adriatic Sea.
Address | Hrvatska, Obrov ul. 5, 21000, Split
Opening Hours | Monday – Saturday 6.30am – 1.30pm. Sunday 6.30am – 12.00pm
WHERE TO STAY
Similar to Dubrovnik, visitors are attracted to the historic Diocletian's Palace and many rooms have been converted to accommodate modern-age travellers. Be wary that many establishments will charge city tax upon your arrival.
***Luxury***
Palace Judita Heritage Hotel
You'll find this refined upscale 16th century hotel on the edge of Narodni trg (National Square). Featuring Romanesque, Gothic and Renaissance elements, each of the eight rooms are named after prominent figures who left their mark on the city. Parquet floors hold luscious double beds and sofas while black and white pictures hang on the wall revealing some of the secrets of Split's past. Guests are able to escape the vivacious hustle of the city in the serenity of the hotel's courtyard adorned with its old well. Palace Judita also features a bar, cafe, concierge services and 24-hour room service.
Address | Narodni trg 4, 21000, Split
Website | http://www.juditapalace.com/
**Affordable**
Heritage Hotel 19
Located just outside Diocletian's Palace, Heritage Hotel 19 offers plush double beds in a tasteful modern setting. The hotel offers airport transfer services, 24-hour reception and an on-site bar if you don't fancy the crowds along Riva. A short walk from Matejuška means that you can also enjoy a view of the Split waterfront. Prices start around €140/night.
Address | Solurat ul. 12, 21000, Split
Website | http://www.heritagehotel19.com/
Rooms Lejletul
Rooms Lejletul is situated behind Trg Republike, meaning it is in prime location to nearby restaurants and boutiques. Low double beds sit centrally in modern light-filled rooms. Prices from around €75/night.
Address | Marmontova ul. 5, 21000, Split
Website | Rooms Lejletul on Booking.com
Bed & Atmosphere
Bed & Atmosphere offers four suites accommodating 2 – 4 people depending on the suite selected. The minimalist interior is elegant and fresh with all the modern comforts. Breakfast is included. If you're lucky, enjoy the first meal of the day on your balcony and watch pedestrians bustle along busy Marmontova ulica. B&A will also arrange transfers and tours upon request. Prices from €48/night* in low season and from €120/night in high season.
Address | Tončićeva ul. 2, 21000, Split
Website | https://www.myboutiquehotel.com/en
*Budget*
Goli + Bosi Design Hostel
This design hostel is damn funky. It's the type of accommodation that you'll seek out if you want something sleek, comfortable and without the price tag. Offering bunk beds in dorm-style rooms, suites and small privates, the snazzy snack pizzeria De Belly is also on site if you don't want to go far to eat. Book in advance! Prices from around €16/night (depending on season).
Address | Morpurgova poljana 2, 21000, Split
Website | http://www.gollybossy.com/en/home/
HOW TO GET THERE
---
---
By car
If arriving from the North (maybe not as far as Winterfell), it is super simple to get to Split. There is one main highway (A1/E71) that runs down through the country so jump on this highway and you'll be cruising at 130km/hr in no time.
TIP: There are several toll roads in Croatia and the price differs depending on where you enter and exit. Have cash in kuna ready but most toll booths also accept major credit cards.
Taxis are abundant in the small city centre with the main taxi rank across the road from the Tourist Information Centre and a short walk from the train station and bus terminal.
By boat
Split is usually on the itinerary for the sailing holidays offered by the likes of Sail Croatia, MedSailors or Topdeck. If you don't fancy sharing boat lodgings with the party people, there are plenty of boat options to and from several of the Dalmatian islands including Hvar, Vis and Korcula. Visit this website for the most up-to-date timetables and ticket prices.
By bus
Split is accessible by bus from major surrounding cities including Zagreb (approx 6 hrs), Dubrovnik (3 hrs) and Sarajevo (4 hrs). The bus terminal is right next to Split's train station with one way tickets starting from approximately €14. To plan in advance, check out one of the following local websites:
https://samoborcek.getbybus.com/en/
By train
Train services to Split are few and far between. If travelling to or from Zagreb, it is a possible transport option. But in comparison to the bus, it is not necessarily faster nor a cheaper mode of transport. Tickets can be purchased at the station or online in advance.
By plane
Split's international airport, also known as Resnik Airport (Zračna luka Split), is located approximately 20 kilometres (12.4 miles) from Split. It is currently only open for the summer season (April – October). Unfortunately, the airport is very small and struggles to accommodate the large volume of visitors, particularly when departing. Airport expansion plans are underway but facilities remain limited at this stage. It is highly recommended to seek alternative transport routes to access Split. Upon arrival, the journey to Split's city centre is approximately 25 minutes via public transport (bus numbers 37 or 38), by shuttle bus or by taxi.
WHAT TO KNOW
Watch Your Step
The white washed stone is not only reserved for the buildings but also the ground you walk upon within the palace. After being trodden on by millions of visitors, many are now very smooth and become slippery when wet. We experienced this first hand when we visited. The palace is a pedestrian zone only so make sure to be careful.
Euros = No
Croatia's official currency is Croatian Kuna. While Croatia is an EU member state, the country cannot officially join the eurozone and European Monetary System until it meets certain convergence criteria (unfortunately taking longer than initially forecast). Make sure to purchase your Kuna in advance.
Sunday Snooze
Many boutiques are closed on Sundays so make sure to complete your souvenir shopping on any other day and use this day to relax at the beach.
Go Chasing Waterfalls
Other than the Dalmatian archipelago, another reason that Croatia has become a popular tourist destination is its stunning natural landscapes. If you have longer than 24 hours in Split, consider taking a day trip to one of Croatia's national parks. Plitviče Lakes National Park is the largest in Croatia; known for its series of waterfalls, terraced lakes and limestone canyon. Walkways and hiking trails have been built for visitors to enjoy the park. A boat and coach service is available to transport visitors to and from certain stations. Krka National Park is smaller than Plitviče but allows visitors to swim in the water, whereas Plitviče does not. Tour companies offer return day trips from Split to both national parks. We recommend booking your tour spot in advance, especially in peak season. If you miss out, consider renting a car for the day as this also gives you more flexibility with time. Make sure to note that park ticket prices change depending on the season that you visit. More helpful information can be found at the respective websites.
---
Have you visited Split on your Croatia travels? Tell us about your experience in the comments below.
LIKE THIS POST? PIN IT AND SHARE IT!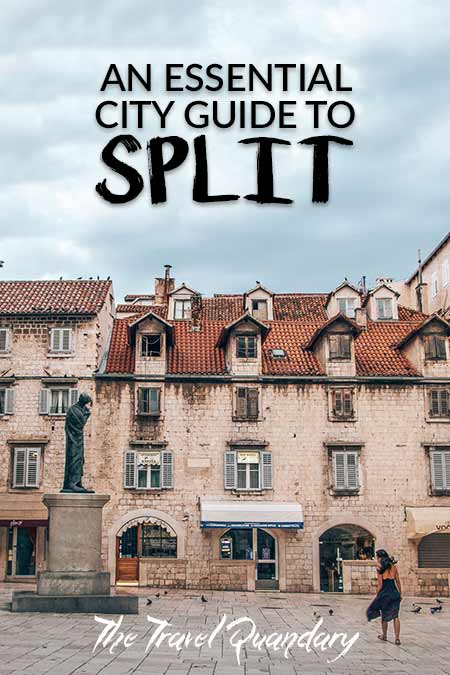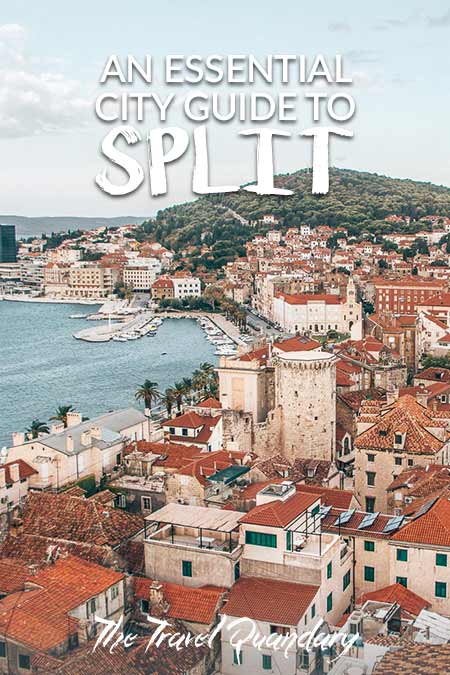 You might also like