A city that has seen the rise and fall of empires. A place where two continents collide and where merchants ended their journey on the legendary Silk Road. Today, Istanbul is a diverse cosmopolitan hub. This ancient city still stands having weathered warring cultures and religions for more than 2,500 years. In the modern day, you'll still see this clash of history and traditions. Come with us and we'll show you how to spend 4 days in Istanbul. Hear the chants of the ezran, drink copious amounts of çay from tulip-shaped glasses and gorge on succulent kebap, warm gözleme and flavoursome mezes. See the minarets loom from the hills, admire the mosaics and frescoes underneath wide round domes and dine in one of the flashy new restaurants in the pulsating entertainment quarter. And don't forget to leave room for thick Turkish coffee and sweet baklava.
---
A COMPLETE ISTANBUL TRAVEL GUIDE
---
WHAT TO SEE
Dolmabahçe Palace
The 19th century Dolmabahçe Palace is the largest palace in Turkey and one of the grandest in the world. It housed the last six Sultans of the Ottoman Empire as well as the founder of the new Turkish Republic, Mustafa Kemal Atatürk, who died in a bedroom in the palace. Take the time to follow the carpeted route and appreciate the intricate ornate details of the 285 rooms, 44 halls, 68 toilets and 6 Turkish baths. Pass through the lavish rooms adorned with embroidered tapestries and Hereke carpets, climb the famous Crystal Staircase and crane your neck to marvel at the gilded roofs. The largest crystal chandelier in the world, custom-made in England, hangs in the main hall. The chandelier and frescos in this main hall will undoubtedly leave you breathless.
Entrance is limited to 3,000 visitors per day and audio guides are provided for free. Visitors are required to wear blue plastic booties over their shoes before entering. Much to my dismay, photos are not allowed inside the palace and the harem. There is also a Clock Museum, Painting Museum and small Crystal Pavilion within the palace grounds, all worth a peek. Closed Mondays and Thursdays.
Address | Vişnezade Mahallesi, Dolmabahçe Cd., 34357 Beşiktaş, İstanbul
Opening Hours | Tuesday, Wednesday, Friday – Sunday: 9.00am – 3.00pm.
Admission | Palace (Selâmlık) – TRY 40. Palace & Harem – TRY 60.
Website | http://www.dolmabahcepalace.com/
The Blue Mosque (Sultan Ahmet Camii)
The Sultan Ahmet Mosque is a majestic historic mosque and one of Istanbul's most iconic monuments. It is more commonly known as The Blue Mosque for the 20,000 plus handmade ceramic tiles and blue paint which decorates its interior. Constructed in the 17th century by Sultan Ahmet I, the mosque has five main domes, six minarets and eight secondary domes. It's difficult not to be amazed at the grandeur of the mosque, both inside and out. The Sultan and his architect certainly achieved their objectives of overwhelming size, majesty and splendour! Visitors are welcome to enter the mosque but not during prayer times (five times a day). Open daily.
Reminder: Women need to cover their heads with a free head covering provided by the mosque at the main entrance or with your own scarf. Hoods on jackets are not permitted.
Address | Sultan Ahmet Mahallesi, Atmeydanı Cd. No:7, 34122 Fatih, İstanbul
Opening Hours | Daily: 8.30am- 11.30am, 1.00pm – 2.30pm, 3.30pm – 4.45pm
Admission | Free
Website | http://www.sultanahmetcamii.org/
Süleymaniye Mosque
Magnificent in name and in construct, this Ottoman imperial mosque is a dominating landmark on the Third Hill of Istanbul. Commissioned by Sultan Süleyman I (Süleyman the Magnificent) in the mid 16th century, the Süleymaniye Mosque was designed as a complex (külliye) offering the full range of public services. This included among other things, a hospital, a primary school, public baths, a medical college and a public kitchen which served food to the poor. The surrounding courtyards offer a moment of respite from the bustling streets. Enjoy a çay and take in a sweeping view of the Bosphorus river. Unlike the Blue Mosque, visitors are able to visit during prayer times but are requested to remain respectfully quiet.
Address | Süleymaniye Mah., Prof. Sıddık Sami Onar cad. No:1, 34116 Fatih, İstanbul
Opening Hours | Daily (except prayer times)
Admission | Free
Website | http://www.greatistanbul.com/suleymaniye_mosque.html
Hagia Sophia Museum (Ayasofya Müzesi)
One of Turkey's most significant monuments, the Hagia Sophia Museum literally has art, religion and cultural history oozing out of every stone. The UNESCO heritage site was a Christian Church for over 900 years until 1453 when the Ottomans conquered Constantinople and converted the Hagia Sophia into a mosque. It remained this way until 1931 when Turkey's first President, Mustafa Kemal Atatürk, converted the mosque into a museum which opened to the public in 1935.
Visitors are welcome to walk freely through the museum which consists of the expansive lower ground level and upper level. There is little published information on-site and several tour guides at the entrance will attempt to win your custom for a guided tour. But if a walking tour isn't for you, take your time to admire the Christian and Islamic elements. Christian mosaics and frescoes have been unveiled on the upper level and the largest calligraphic panes of the Islamic world that hang in the Hagia Sophia are unmissable. Small open windows also allow you a glimpse of the Blue Mosque's domes and minarets in the distance. Given its age and unfortunate construction on a fault line, restorations are continuously ongoing. Sadly, an entire side of the interior was blocked by scaffolding during our visit, however, the need for constant repairs and care is understandable. Visitors are still able to marvel at the sheer size and grandeur of the building and its rich history.
Address | Sultan Ahmet Mahallesi, Ayasofya Meydanı, 34122 Fatih, İstanbul
Opening Hours | Summer (Tuesday – Sunday): 9.00am – 7.00pm (last entry 6.00pm). Winter (Tuesday – Sunday): 9.00am – 5.00pm (last entry 4.00pm)
Admission | TRY 60 & on the Istanbul Museum Pass
Website | http://ayasofyamuzesi.gov.tr/en
Basilica Cistern
Harry Potter fans – it's time to descend into the depths of the Chamber of Secrets! Okay, well not quite but the Basilica Cistern or Yerebatan Cistern is a pretty good substitute. The largest surviving Byzantine cistern in İstanbul, it was commissioned by Byzantine Emperor Justinian I in the 6th century to deliver water to the Great Palace and surrounding buildings. Renovated twice during the reign of the Ottoman Empire, it wasn't until 1985 that the Istanbul Municipality cleaned and renovated the cistern to open it to the public. Visitors now climb down 52 stone steps to admire the 336 marble columns that hold up this subterranean structure. You won't face a Basilisk but rather two heads of Medusa positioned sideways at the base of two columns. It has been said that the heads are oriented this way to avert Gorgon's gaze. Open 7 days a week. Entrance is TRY 20 per person.
Address | Alemdar Mh., Yerebatan Cd. 1/3, 34410 Fatih, İstanbul
Opening Hours | daily 9.00am – 5.30pm
Admission | TRY 20
website | https://www.yerebatan.com/en
Topkapı Palace Museum (Topkapı Sarayı Müzesi)
Mehmed the Conqueror ordered the construction of Topkapı Palace in 1459, six years after the conquest of Constantinople. Topkapı Palace was the main residence of the Ottoman sultans for almost 400 years and also acted as the administrative, educational and art centre of the Empire. The sultans eventually moved to the newer Dolmabahçe Palace. Following the end of the Ottoman Dynasty, Topkapı Palace was transformed into a museum in 1924.
The palace is an extensive complex consisting of four courtyards with assorted buildings interconnected by various galleries and passages. Today, visitors have access to these courtyards, the Ottoman Imperial Harem, the Imperial Mint (hazine), the church of Hagia Irene as well as rooms displaying examples of Ottoman clothing, armoury and manuscripts.
Photography is prohibited in the exhibition halls and visitors need to wear appropriate clothing in the Sacred Relics department. Closed Tuesdays, certain public holidays and religious festival days.
Address | Cankurtaran Mh., 34122 Fatih, İstanbul
Opening Hours | Summer (Wednesday – Monday): 9.00am – 6.45pm (last entry 6.00pm). Winter (Wednesday – Monday): 9.00am – 4.45pm (last entry 4.00pm)
Admission | Palace – TRY 40. Harem – TRY 25. Church of Hagia Irene – TRY 20.
Website | http://topkapisarayi.gov.tr/en
Istanbul Museum of Modern Art
Combine the old with the new and make sure to visit Istanbul's Museum of Modern Art which sits on the banks of the Bosphorus river. The museum features work and pieces by Turkish and international artists in a range of multimedia, some interactive. There is a restaurant on-site with indoor and balcony seating which proffers expansive views of Kadıköy. Closed Mondays.
Address | Kılıçali Paşa Mahallesi, Meclis-i Mebusan Cad. No:4, 34433 Beyoğlu, İstanbul
Opening Hours | Tuesday, Wednesday, Friday, Saturday: 10.00am – 6.00pm. Thursday: 10.00am – 8.00pm. Sunday: 11.00am – 6.00pm
Admission | TRY 60
Website | http://www.istanbulmodern.org/en
---
---
WHAT TO DO
Experience a traditional hammam (Turkish steam bath)
This experience is not one for the shy or body-conscious. To truly experience a part of Turkish culture is to partake in a tradition that dates back to the Roman Byzantine era. Most hamami are have separate male and female bathing quarters. You are expected to go naked (men) or almost naked (bottoms only for women). A typical hammam consists of three interconnected rooms: a hot room (sıcaklık or hararet), a warm room (camekan) and a cold room (soğukluk).
We opted for a traditional bath at Cemberlitas Hamami (Mollafenari Mahallesi, Vezirhan Cd. No:8, 34440 Fatih, İstanbul). A traditional hammam service cost TRY 125 or TRY 200 with an added massage. Reservations are usually not required but it never hurts to ask your hotel concierge for advice or call the hamami yourself.
Other well-known popular Turkish hamami include:
Cağaloğlu Hamami
Kazım İsmail Gürkan Cad. No:24 Eminönü/Cağaloğlu, Fatih, İstanbul
Süleymaniye Hamami
Süleymaniye Mahallesi, Fetva Ykş. No:41, 34116 Fatih, İstanbul
Ayasofya Hürrem Sultan Hamami
Cankurtaran Mh., Ayasofya Meydanı No:2, 34122 Fatih, İstanbul
---
---
Shop at the Grand Bazaar
For the ultimate mix of traditional and modern-day wares, you must make a stop at the historic indoor souks and market streets. With sixty-four streets and over 4,000 vendors, it's a tourist trap and a treasure trove. From carpets to jewellery, fake designer bags and gifts, this sprawling maze bustles with vendors and shoppers. Take the time to browse the stalls, pause for çay and then haggle with the local peddlers. For more information as well as a helpful colour-coded map, refer to this website.
Address | Beyazıt Mh., 34126 Fatih, İstanbul
Opening Hours | Monday – Saturday 8.30am – 7.00pm
Website | http://www.mygrandbazaar.com/
Take a boat ride on the Bosphorus river
A boat ride on the Bosphorus provides prime position for snapping a picture of the city with limited obstructions. If you have more time in Istanbul, this is an option if you feel that you're running out of things to see and do. Many companies will offer a boat ride as part of a day tour or you are likely to find tours that last 1 – 2 hours that start and finish in the Old City at Eminönü. Alternatively, you can easily take one of the commuter ferries as part of Istanbul's public transport network using your Istanbulkart (see the What To Know section below). This is a cheaper option, you're guaranteed a fabulous view of the city and it's an easy way to visit the Asian side of Istanbul.
Climb Galata Tower
This former watchtower looks somewhat like a rocket ship from the banks of the Bosphorus river. Nowadays, Galata Tower is one of Istanbul's most popular tourist attractions offering an uninterrupted 360° view of the city. We queued for 45 minutes in the late afternoon hoping to snap sunset over the city. Unfortunately, many others probably had the same idea. There are two elevators which hold approximately 7 people each that take you most of the way before climbing a short flight of stairs. The number of people of the viewing balcony is not controlled and becomes uncomfortably overcrowded at times. Sometimes timing is everything. We returned to the area a couple of days later and there was no line, however, it was a grey drizzly day and we wouldn't be able to vouch for how the photos would turn out from the top. But if you want to view Istanbul and the Bosphorus from above, this is undoubtedly one of the best spots to capture those panoramas. There is also a restaurant at the top of the tower.
Address | Bereketzade Mahallesi, Galata Kulesi, 34421 Beyoğlu, İstanbul
Opening Hours | Daily 9.00am – 7.00pm
Admission | TRY 25
Website | http://www.galatakulesi.org/
Keen to see more of the country? If you have more time on your hands and the opportunity to explore Turkey further, make sure to check out this 7-day itinerary.
WHERE TO EAT & DRINK
Grandma
Nestled in the chic streets of Şişli, Grandma serves all-day breakfast and all the sweet things too. Choose from omelettes, healthy bagels and an amazing array of not-so-healthy cakes and pastries which greet you as you walk through the door. Squishy seating is available outside on the pavement with few inside tables also available. The coffee menu is extensive serving third wave coffee options (to our pleasant surprise) along with the regular favourites. The menu is entirely in Turkish and staff speak little to no English but don't let the language barrier discourage you. For the courageous, take a lucky dip from the menu. For the safer option, good luck choosing from the cake stands!
Address | Teşvikiye, Ahmet Fetgari Sk. No:38, 34365 Şişli, İstanbul
Opening Hours | Daily 8.30am – 9.30pm
Website | http://grandmabakerycafe.com/en/
Naga Putrika
For a true traditional Turkish breakfast (serpme kahvaltı), a visit to Naga Putrika on the Asian side of Istanbul is a must. With an entrance below street level, the establishment has several outdoor tables down a narrow wooden causeway sheltered by vine foliage. Naga Putrika offers six different serpme kahvaltı with fixed prices of TRY 40, TRY 70 or TRY 95 depending on whether you have 1 – 3 people in your party. All serpme kahvaltı come with a variety of olives, cheeses, honey, bread, up to 3 cups of çay and your choice of eggs. For this meal, we ate the traditional menemen (scrambled eggs with onions, tomatoes and peppers) and sahanda yumurta (fried eggs). The menu is entirely in Turkish and the waiters speak very little English. We'd recommend downloading the Google Translate app on your phone (works offline) to hold over the menu if you want a quick translation. Otherwise just dive in, point at the menu and smile at the waiter.
Address | Caferağa Mahallesi, Moda Cd. 161/A, 34710 Kadıköy, İstanbul
Opening Hours | Monday – Friday 9.00am – 7.00pm. Saturday – Sunday 8.30am – 7.00pm
Website | Naga Putrika on Facebook
Gözlemece
My annoyance at being dragged out to the Beşiktaş area subsided soon after arriving at Gözlemece. Off one of the main thoroughfares in this bustling shopping and dining district, Gözlemece is a no-fuss eatery specialising in gözleme. After a few minutes of pointing at the menu followed quickly by a thumbs-up, the matronly woman set to work rolling the yufka dough, adding the fillings and then cooking the gözleme on the sac griddle. Spinach, potato, minced meat and cheese make up most of your options. Plus, Turkish tea is half the price of that served in the more central Sultanahmet. Simple, heartwarming and delicious food made with laborious love, Gözlemece is (in our opinion) worth the trek. We left a substantial tip and were rewarded with a look of surprise but humble gratitude. Sometimes it's moments like these, when sampling unpretentious traditional cuisine made by locals and witnessing their reactions to your visit, that make travel experiences all that more richer.
Address | Sinanpaşa Mahallesi, Şht. Dursun Bakan Sk. 29/A, 34353 Beşiktaş, İstanbul<
Opening Hours | Daily 9.00am – 10.00pm
Website | Gözlemece on Fourquare
Ortaklar Kebap Restaurant
This two-level restaurant serves low-key Turkish cuisine, with an emphasis on lahmajoun (Turkish pizza) and kebap. Its central location close to several surrounding hotels means that Ortaklar proves to be a popular haunt for visitors to the city. Come for the simple delicious food but also the hilarious menu translations. A picture of a bowl of rice features the description "Findings" while a plate of meat is called "Crushing pain". Swift table service ensures that food comes hot and you can eat whilst examining the world currencies underneath the glass table tops. If you're after fancy, don't come here. For those on a budget, Ortaklar serves up delicious nosh that is more than affordable. A takeaway service is also available if you want to order from your hotel room.
Address | Binbirdirek Mh., Peykhane Cd. No:27, 34122 Fatih, İstanbul
Opening Hours | Daily 11.30am – 1.00am
Soho House Istanbul
Istanbul is the thirteenth location where the Soho House group has made its mark and it's not proving to be an unlucky choice at all. In the hills of Beyoğlu, Soho House Istanbul occupies the 19th-century Palazzo Corpi. The private members' club boasts 87 rooms, 2 hamam rooms, Games Room, Embassy Club and Pantry Kitchen among other things. We originally visited to take advantage of the hotel's rooftop views but were crushingly informed that we had missed our chance as it is closed throughout the winter season. The garden courtyard was a pleasant alternative. Sit on a cushioned chair among the shrubbery where you can sip a Tanqueray cocktail and listen to the low murmur of surrounding conversations.
Address | Evliya Çelebi Mahallesi, 34430 Beyoğlu, İstanbul
Website | https://www.sohohouseistanbul.com/en
Meze by Lemon Tree
Opposite Soho House Istanbul and the decadent Pera Palace Hotel Jumeirah, Meze by Lemon Tree offers a cosy intimate space for diners to feast on modern Turkish cuisine. Dashing inside from the rain for our dinner reservation, we decided on the degustation menu. Five cold mezes appeared in small dishes. Our choices included a beef brisket, cheese-stuffed peppers, sauteed mushrooms, bursali (a mixture of shallots, chestnut, dill, pomegranate sauce and paprika) and tzatziki. Long strips of calamari served with a walnut-tartare sauce soon followed. The main courses certainly didn't disappoint. Succulent lamb chops served with a side of homemade mustard came with an additional "Be careful, it's hot!" warning. The waiter wasn't kidding about the extra kick! The sea bass fillet baked with almonds and apricots and served on a bed of garden salad was also pleasingly tasty. Dessert (bananas topped with honey, nuts and clotted cream) and Turkish çay topped off a delectable feast. Diners can expect swift and friendly service by waiters conversant in Turkish and English.
Address | Asmalı Mescit Mahallesi, Meşrutiyet Cd. 83/B, 34430 Beyoğlu, İstanbul
Opening Hours | Daily 6.00pm – 11.30pm
Website | http://www.mezze.com.tr/
Karaköy Lokantası
Karaköy Lokantası is a family-run restaurant long favoured by local Istanbullus. Located behind the Karaköy shipping docks, we were fortunate to nab a table for two (sans reservation!) at this popular establishment on a Monday evening. A black metal spiral staircase connects the two-level restaurant and teal tiles cover the walls of the brightly-lit rooms. This restaurant is for lively conversation and leaving accidental spills on the crisp linen tablecloths. Karaköy Lokantası's menu is rich in meze options and rakis if you dare sample the anise-flavoured alcohol. With a menu that changes seasonally, the restaurant's tangy homemade yogurt features in a majority of the mezes. We were treated to a heavenly chickpea and tahini paste, an eggplant salad mixed with yogurt and topped with a spicy chilli oil and fried zucchini with more creamy yogurt. Crispy beef dumplings accompanied by tomato relish and yogurt reminded us somewhat of Spanish patatas bravas. As if this wasn't enough, we treated ourselves to the catch of the day which was a lightly grilled bluefish. The menu conveniently features English translations and waiters are on hand for suggestions. Open for lunch and dinner. Reservations recommended.
Address | Kemankeş Karamustafa Paşa Mh., Kemankeş Cd. 37/A, 34425 Karaköy/Beyoğlu, İstanbul
Opening Hours | Monday – Saturday: Lunch 12.00pm – 4.00pm. Dinner 6.00pm – 12.00am. Sunday: Dinner 4.00am – 12.00am
Website | http://www.karakoylokantasi.com/
WHERE TO SHOP
Halt
Around the corner from Galata Tower, you'll find two shops featuring "Halt" neon signs. Go inside. The boutiques stock screenprinted t-shirts by Turkish designers, leather bags, silver and gold jewellery, stationery and homewares. It's the perfect place to pick up a gift or a memento of modern Turkish design.
Note: If you fancy a coffee break, Federal Galata Coffee is located on the same street.
Address | Şahkulu Mahallesi, Küçük Hendek Cd. No:16, 34421 Beyoğlu, İstanbul
Opening Hours | Daily 10.30am – 8.00pm
Website | Halt on Instagram
---
---
Atelier 55
Atelier 55 doesn't quite fit in amongst the vintage and antique stores on the same block. Stocking exclusive high-end and luxury Turkish and international brands, it's a wonder that the boutique isn't located in posh Nişantaşı. Nicholas Kirkwood and Charlotte Olympia shoes sit alongside long silk dresses and funky patterned swimwear. Beaded clutches, felt fedoras, Komono sunglasses and Turkish designed jewellery fill the shelves. It's a must-visit for the sartorial fashionistas.
Address | Şahkulu Mahallesi, Seraskerci Çk., 34420 Beyoğlu, İstanbul
Opening Hours | Daily 10.00am – 5.00pm
Website | https://www.atelier-55.com/
Mae Zae Karaköy
Below street-level, Mae Zae presents an eclectic array of items designed and made by local designers and craftspeople. Mae Zae is a collective design community. The shop space stocks art, eclectic jewellery, leather bags, silk scarves, notebooks, household trinkets and a small selection of clothing. Curated with care, the community also hosts events and workshops. Follow on Instagram @maezae.
Address | Kemankeş Karamustafa Paşa Mahallesi, Hoca Tahsin Sk. No:18, 34425 Beyoğlu, İstanbul
Opening Hours | Tuesday – Sunday 11.00am – 8.00pm
Website | Mae Zae on Instagram
Lunapark Tasarim
Opened in 2004 by two friends with design backgrounds, Lunapark prides itself in stocking and showcasing Turkish designers. Lunapark offers a quirky mix of jewellery, cosmetics, toys, stationery, homewares and accessories with an emphasis on ethically made products. Items available for sale are for men, women and children. Lunapark also has an online store, which is super convenient if you have no remaining room in your luggage.
Address | Şahkulu Mahallesi, Serdar-ı Ekrem Cad. 17/B, 34421 Beyoğlu, İstanbul
Opening Hours | Daily 10.30am – 8.00pm
Website | https://www.lunaparkshop.com/shop/
Nisantaschi
If your style is wacky crossed with vintage, then you best head to Nisantaschi. The screen printed cushions that line the store out the front first trick you into thinking that you've found a homewares store. But delve inside and you'll find a treasure trove. During our autumn visit, down jackets lined the racks. Shelves stock designer jeans and one table displays rows of vintage sunglasses. An array of pre-loved leather jackets hung on one rail and a disarray of knick-knacks fill every inch of space. You won't find anything mainstream in here.
Address | Teşvikiye, Av. Süreyya Ağaoğlu Sk. No:5, 34365 Şişli, İstanbul
Opening Hours | Daily 8.00am – 11.00pm
WHERE TO STAY
You will find many distinct neighbourhoods in the sprawling metropolis of Istanbul. A juxtaposition of the ancient and the modern, the borders are sometimes blurry but each quarter possesses unmistakable qualities that are difficult to resist. Check out some of the hoods that we wandered to plan your accommodation accordingly.
Karaköy & Galata
The former docklands area was once a rough part of town but unstoppable gentrification in the last five or so years has turned Karaköy into a buzzing hive of trendy restaurants, stylish boutiques and fancy galleries. Historic facades have been renovated into swanky lounges and you'll find savvy Istanbullus frequenting the best local haunts such as Karaköy Lokantası and the Galata Simitçi bakery.
Part of the wider Beyoğlu district, Galata is flanked by the prominent conical Genoese tower. This trendy part of town is one of the best areas to get lost among the steep cobbled slopes. Make sure not to miss Serdar-i Ekrem, a street lined with a hodgepodge of chic boutiques and concept stores with many featuring local designers.
Kadıköy
Put your foot down on Asian soil in the hip quarter of Kadıköy. A popular area for local students and families, the streets buzz with restaurants, bars and kick-ass third-wave coffee shops (the main reason we visited!). It's a popular half-day or day trip for visitors. Explore the market area with its fishmongers and green grocers, rustle through bookstores and hang out at cool restaurants and bars. It's super easy to catch a ferry to and from Kadıköy from Beşiktaş, Kabataş or Karaköy ports.
Nişantaşı
Ka-ching! Things are just a little bit fancy In Nişantaşı, where you're likely to hear the clip clop of Louboutins and catch a glimpse of a Hermes Kelly bag. Located in the district of Şişli, this neighbourhood is the fashionable upscale shopping district. You'll find high end international designers and no shortage of leather and fur specialist boutiques. The cafe culture is also strong in this affluent area with many tables set out along the pavement inviting shoppers to rest their feet and credit cards.
Sultanahmet
Arguably the heart of Istanbul, the Old City throbs with most of the historical highlights in Sultanahmet. Centered around the Hippodrome, the peninsula is anchored by the Blue Mosque, the Hagia Sophia Museum (Ayasofya) and Topkapı Palace. The Grand Bazaar and Egyptian Spice Market are also within easy walking distance. You'll hear the calls of the ezran from almost anywhere in the city but if you're a light sleeper, perhaps don't choose accommodation too close to one of the mosques.
The Travel Quandary recommends…
Emin Sinan Mahallesi Piyerloti Caddesi No:57 Old City/Sultanahmet, İstanbul
Cube Suites is a delightful cross between serviced apartments and boutique hotel. Ideally located in Sultanahmet, rooms vary in size with some including a balcony or a kitchenette plus all the necessary amenities. Yusef and his team offer exemplary round-the-clock service. From constantly offering copious amounts of çay and Turkish coffee (and cookies!) to recommending places to eat and sharing wild stories of their encounters with past travellers, rest assured that you will be well looked after. We highly recommend making use of their small hammam – it's free!
HOW TO GET THERE
By plane
Istanbul Atatürk Airport is the main international airport serving Istanbul. It is located on the European side and is approximately 24 kms (14.9 miles) from the city centre.
From Istanbul Atatürk Airport…
By metro
The M1a metro line travels from Atatürk Airport (stop: Atatürk Havalimani) to the edge of Sultanahmet (stop: Yenikapi). The M1a intersects with other metro and tram lines. Use this handy map to check where you need to disembark. For public transport prices, read below in the What To Know section about the Istanbulkart.
By bus
Havabüs operates shuttle services from Atatürk Airport to Taksim Square. Services run every 30 minutes and travel time is approximately 40 minutes (depending on traffic). Cost is TRY 12.
Public buses are operated by the Istanbul Metropolitan Municipality. For more information about routes to and from Atatürk Airport, timetables and prices, refer to their website.
By taxi
There is an official taxi stand at Arrivals at Atatürk Airport. Be prepared to be bombarded by drivers but don't settle for the first price they offer! There is definitely room for haggling. We shared a taxi with another couple to Sultanahmet and managed to bargain our way down from TRY 180 to TRY 100 (approx £20/€20). Cube Suites arranged a taxi for our return trip to the airport which cost TRY 60 (we were informed that visitors are usually overcharged on the taxi journey into the city).
Sabiha Gokcen Airport is Istanbul's other key airport located on the Asian side of the city. It is approximately 40 kms (24.9 miles) to Kadıköy and 50 kms (31 miles) from the city centre.
From Sabiha Gokcen Airport…
By bus
Havabüs operates shuttle services from Sabiha Gokcen Airport to Taksim Square (services every 30 mins, travel time 1.5 hrs, cost TRY 15), Kadıköy (services every 30 mins, travel time 1 hr, cost TRY 10) and to Yenisahra metro station (services every 30 mins, travel time 45 mins, cost TRY 10).
Public buses are operated by the Istanbul Metropolitan Municipality. For more information about routes to and from Sabiha Gokcen Airport, timetables and prices, refer to their website.
By taxi
Rome2Rio is currently quoting a price of approximately €30 (roughly TRY 140) one way from Sabiha Gokcen Airport to Sultanahmet. Again, make sure to negotiate with the drivers!
WHAT TO KNOW
Don't Be Fooled
Travellers are often the victims of pickpockets and scammers. Some are strikingly overt while others cunningly play on the kindness and generosity of mankind. During our visit, we unwillingly fell for the latter category at the hands of a shoeshine boy. As we crossed paths, his bristle brush dropped behind him but in front of us while he was supposedly on the phone. Naturally, we picked it up to return it to him. He insisted on polishing our shoes as thanks for returning his equipment but then requested payment. We left a small tip but no more than what we were willing to pay for and walked off bewildered. Don't lose your humanity but be on your guard and exercise caution.
Istanbulkart
Public transport is well-established in Istanbul, serviced by metros, trams, buses and ferries. The easiest way to travel is by purchasing an Istanbulkart. These can be purchased at ticket machines at tram stops and metro stations. Various languages are available to assist you. An Istanbulkart costs TRY 6. The ticket machines accept cash and card but take note – if paying by cash, the machines do not issue change. Rather, your "change" or excess money is allocated to your Istanbulkart as travel credit. The Istanbulkart is valid on all modes of public transport within Istanbul. One way adult fares are TRY 2.60. For further information, visit this website.
E-Visa
Visitors to Turkey must have a visa before entering the country. This is now a simple online process, however, the Turkish government does allow citizens from certain countries to apply at the airport upon arrival. The validity period of the visa and cost of the visa varies according to the Country of Travel document that you specify in your application. Application and payment can be completed online. For helpful FAQs and the most up-to-date information, check out this website.
---
Have you travelled to Istanbul? Where was your favourite area? What culinary hotspot did you find?
Make sure to share your experiences with us in the comments below!
LIKE THIS POST? PIN IT AND SHARE IT!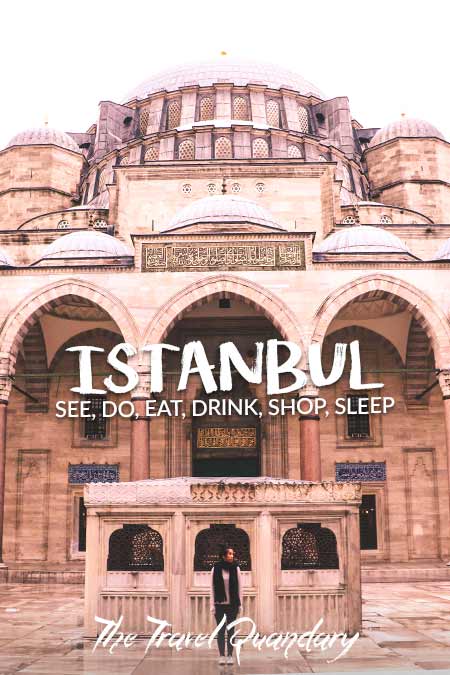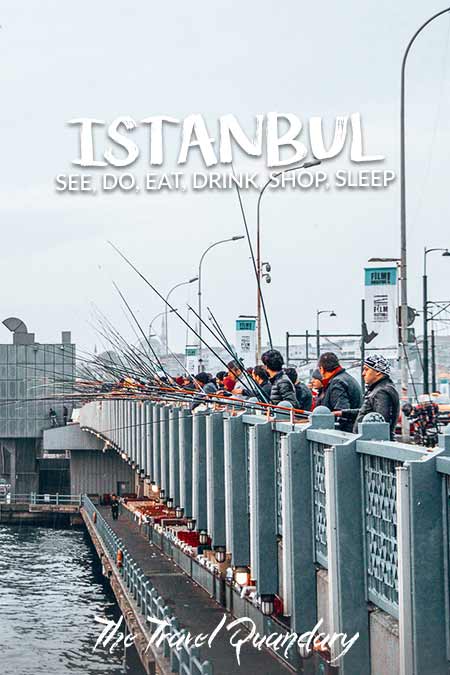 You might also like