War has painted our world's history. Greedy conquerors, cruel dictators and rival dynasties have marched their armies across foreign lands. War has resulted in divided lands and disputed borders. It's seen the displacement of thousands of people, the unnecessary loss of countless lives and the cause of much loss, despair and tragedy.
A trip to Gallipoli for any Australian or New Zealander on ANZAC Day will fill one with a sense of patriotism, unparalleled to any other event I have witnessed or been a part of to date. Having heard stories from my grandpa of his time serving in WWII, it leaves one wondering about the lives of the soldiers and what happened at Gallipoli all those years ago. A coastline that shoots out from the sea. A landing that didn't go to plan. Pinned down on the beach, digging for survival. Steep ascents with enemy fire waiting to pick you off as you climbed the hill. This was life at Gallipoli for our soldiers.
History of the ANZACs
Australia's first call to war came in 1914 at the beginning of World War I. A federated nation for only 13 years, Australia had barely formed its own identity when it answered Britain's call for Allies. The acronym ANZAC stands for Australian and New Zealand Army Corps. ANZAC Day is a national day of remembrance in Australia and New Zealand. Observed on the 25th April each year, it originally recognised and honoured those soldiers who fought at Gallipoli against the Ottoman Empire during World War I. These days, it commemorates all Australians and New Zealanders who have contributed to the defence of their country and served and died in wars, conflicts and peacekeeping operations across the world.
The story of Gallipoli is Australia's underlying underdog story. A part of Australian history told in classrooms and living rooms around the country each year. The ANZAC spirit has forged part of Australia's identity for over a century now. It's mateship. It's the Aussie battler. A story of courage, hardship, sacrifice and pride.
On the morning of 25 April 2015, ANZAC troops set out to capture the Gallipoli peninsula and open the way to the Dardanelles for the Allied navies. The ultimate objective was to capture Constantinople (now Istanbul) from the Ottomans, who were allies with Germany during the war. The planned attack quickly turned into a stalemate which dragged on for eight months. Over 8,000 Australians and more than 2,000 New Zealanders lost their lives in one of the greatest hardships that became known as an ANZAC legend.
My Gallipoli Experience
These days, the journey to Gallipoli is more a pilgrimage than a call of duty. The peninsula is picturesque, a beautiful section of the Turkish coastline with steep cliffs that rise up from the beaches. Walking through the grassy plains of today's memorial park, it is hard to fathom that this was once a bloody battlefield. Visible trenches are still etched into the landscape. Gravestones tell the tales of lives lost. Australians, New Zealanders and Turkish men lie here side by side. Husbands, fathers and sons.
Descendants of soldiers past and other visitors gather on the peninsula on the evening of 24 April. There is a camaraderie amongst the attendees as we exchange views on what the ANZAC spirit means to us. Throughout the night, stories from both sides of the trenches are retold. We hear of ordinary men, strangers at first but bonded in brotherhood in the call of duty to their nation. Stories of sacrifice are told, friends and enemies falling on this very land. It should not be forgotten that Turkey too lost many soldiers on that fateful day, yet their admiration for the ANZACs sounds clear. The evening before the dawn service is as much a history lesson as it is a passing of the baton to the younger generation so that the ANZAC story is not lost.
The Dawn Service
Dawn was a favoured time for launching attacks. Soldiers were woken in the dark of night and prepared to attach at daybreak. In the lead up to first light, soldiers often sought the peace and quiet to gather their thoughts and summon courage.
These days, the half-light of dawn breaking over Anzac Cove signals the commencement of the Dawn Service. Servicemen and servicewomen proceed to commentate the memorial. Dignitaries and army personnel talk of the importance of the ANZAC spirit, the sacrifices made for one's country and how it has shaped our nations today.
The words of Kemal Atatürk's tribute to the ANZACs delivered in 1934 are delivered and resonate wholeheartedly with those in attendance.
"Those heroes that shed their blood
and lost their lives.
You are now lying in the soil of a friendly country.
Therefore rest in peace.
There is no difference between the Johnnies
And the Mehmets to us where they lie side by side
Here in this country of ours.
You, the mothers,
Who sent their sons from faraway countries,
Wipe away your tears,
Your sons are now lying in our bosom
And are in peace.
After having lost their lives on this land they have
Become our sons as well."
The service concludes as the Last Post sounds from the bugle, calling the fallen soldiers to rest. Lest We Forget. A wave of emotions washes over me and I feel deep pride to be an Australian standing here on the peninsula with my fellow countrymen and women, each of us paying our respects.
The Australian Service at Lone Pine
Lone Pine was a battleground where Australian soldiers fought an Ottoman army in August 1915. Over 2,000 Australians lost their lives in this battle. These days, the site is commemorated by white crosses. The Australian service takes place a few hours after the dawn service with a wreath-laying ceremony commemorating the fallen soldiers. Following both memorial services, I spent a few hours walking among the site reading the names on the crosses. It is truly heartbreaking to read of boys so young who died in a war before their lives had barely begun.
More Information
I travelled to Gallipoli with Intrepid Travel on their 2-day trip from Istanbul. As we were attending the dawn service, no accommodation is included. Ensure that you factor this exclusion into your travel plans. We arrived on site and cleared security by 3pm and found some seats in the grandstands ahead of the main ceremony.
Be aware that there is limited shelter on the peninsula and temperatures can drop in the early hours of the morning. It is recommended that you bring several warm layers in case of bad weather conditions. There are food vendors on site for when you're feeling peckish or need a cup of coffee to keep you going through the night.
HOW TO GET THERE
Fly To Istanbul
Qatar Airways, Singapore Airlines, Emirates (in partnership with Qantas) and Etihad Airways (in partnership with Turkish Airlines) operate flights from Australian and New Zealand capital cities to Istanbul (Istanbul Ataturk Airport (IST) and Sabiha Gokcen International Airport (SAW).
Getting To Gallipoli
Many companies operate coach tours to the battlefields from Çanakkale, Eceabat and Istanbul around Anzac Day each year. It is recommended that you allow for 2 – 3 days to visit ANZAC Cove and the surrounding area with the main sites, cemeteries and memorials.
Alternatively, if you wish to see the battlefields at your own pace and your itinerary permits, hire a car from Istanbul or Çanakkale. Total distance from Istanbul to Gallipoli is approximately 340kms. Driving time is at least 4 hours. From Çanakkale, you will need to take the ferry to Kilitbahir or Eceabat before driving on to the battlefields.
---
---
WHAT TO KNOW
Book Early
Places are limited at the commemorative service at Gallipoli. We recommend booking your spot in advance and arranging your transport to the peninsula to avoid disappointment.
Travel Safe
Unfortunately, areas in Turkey have been subject to terrorist attacks and civil unrest. Such events have affected the safety of civilians and travelling visitors. Always check the travel advice issued by governments and consider your need to travel. For Australians, you can register for email notifications for regular travel updates at www.smarttraveller.gov.au
ANZAC Biscuits
During WWI, friends and families of soldiers sent food to the men at the front lines. They had to send food that would remain edible and without refrigeration for long periods of time; this included the ANZAC biscuit. First known as the Soldiers' Biscuit, the name was changed to ANZAC Biscuit, to recognise the ANZAC legend and the importance of the sugary treat as part of the staple diet at Gallipoli. Check out the recipe here.
---
Have you visited an unforgettable memorial site or commemorative service? Share your story with us in the comments below!
LIKE THIS POST? PIN IT AND SHARE IT!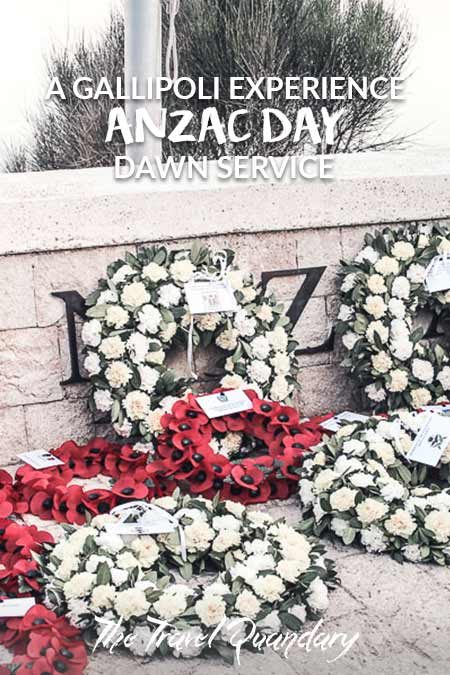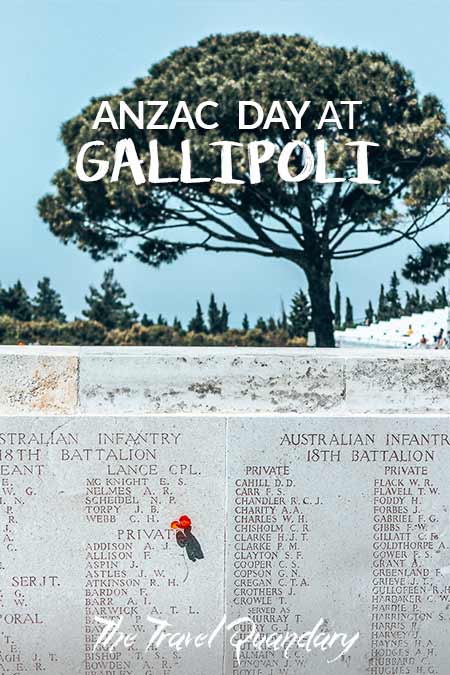 You might also like